Alexis Sanchez strikes twice late to keep Arsenal top four hope alife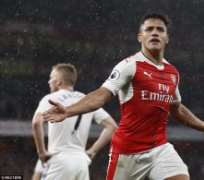 When the crucial first goal came it was a real gem, a pure strike taken straight from the Arsenal vaults. A clever, chipped pass from deep by Granit Xhaka to the breaking Mesut Ozil, a first time pass across goal on the volley and a side-footed finish by Alexis Sanchez from six yards.
When he closes his eyes at night, it is this kind of goal that Arsene Wenger sees. It is this that keeps the Arsenal manager coming back and it is this that, in all likelihood, will bring him back here with a new contract signed next season.
There is mounting evidence that suggests Wenger should not come back. But here at a less than full Emirates Stadium, there were the kind of statistics available that Wenger will no doubt look at to bolster the argument in his favour inside his own mind.
Arsenal now have 72 points, more than they returned in finishing second last season. Last night they had 36 shots on goal, the most in a single league game since the season of the great Invincibles 13 years ago.
They are in another FA Cup Final and four league wins on the bounce means that Arsenal's late dash for a Champions League place will at least keep their season going right until the final day.
So it is not hard to imagine Wenger turning everything in one direction in his head, convincing himself further that a return to eminence lies at the end of the very next season. In life and in sport you can convince yourself of many things if you try hard enough.
Sunday will certainly be more interesting for Wenger and his players than it looked as though it may be. At one time, it seemed Arsenal would be limping home in sixth place.
But their own improvement, coupled with Manchester United's decision to effectively not contest their closing league fixtures, mean that they are not yet out of the Champions League qualification picture.
Decent results for Liverpool and Manchester City will end the discussion this weekend. Liverpool face Middlesbrough at home needing a win and City travel to Watford needing a point. Arsenal, for their part, are at home to Everton.
The dice are loaded against them, it must be said. But their league season is not yet over and they would have taken that during those awful days in March and April when they were losing at places like West Brom and Crystal Palace.
Here last night they played in front of a crowd missing thousands of regulars who had chosen to show their feelings of disgruntlement by staying away. The empty seats were extremely noticeable and that was very sad.
Arsenal could have responded with a performance similarly half-hearted had they been so inclined. To their credit, they didn't.
They didn't break the deadlock until the 72nd minute and at that stage were beginning to look a little fretful.
Sunderland goalkeeper Jordan Pickford was having one of those nights when it appeared he may save everything and Wenger had begun to stalk the touchline, hands deep in overcoat pockets, with the look of a man who had lost his car keys.
Nevertheless, one goal soon became two and, in truth, could have easily turned in to three, four or five. Pickford really is an excellent young goalkeeper and he was kept busy until the end. If he remains at the Stadium of Light beyond Sunderland's relegation this season it will be a big surprise.
At the start of the night it looked straight forward for a strong-looking Arsenal team and Pickford was heavily involved from the get-go. Sunderland manager David Moyes matched Wenger's back three with one of his own and stationed Lee Cattermole in front of it on order to offer protection.
It didn't really work, though, and Arsenal's artistic attacking players passed and moved their way through the massed ranks of visiting defenders with some ease.
Sanchez beat Pickford from distance early on only for the strike to be ruled out for an earlier handball by Oliver Giroud before Pickford got really busy, saving from the Arsenal's French centre forward and then from Xhaka.
During the same period Arsenal also threatened through Hector Bellerin, whose terrific curling shot missed the top corner by a foot, and through defender Rob Holding who burst through only to see his shot blocked by Lamine Kone when it seemed he must score.
Sunderland broke twice late in the first half to go close through Jermain Defoe and Didier N'Dong and then, at the start of the second half, Arsenal defender Nacho Monreal almost put through his own goal from the best part of 30 yards.
We have all seen games swing on the back of such nonsense before and briefly we did wonder if Sunderland were about to do something extraordinary. So the first goal came at the right time and was immediately followed by a flurry of pressure that culminated in Pickford saving Giroud's acrobatic volley at the far post and Sanchez nodding his second of the night in to an empty net from a couple of yards.
So Arsenal will reconvene here on Sunday with hope not quite extinguished. Wenger will doubtless take more from that than perhaps he should.