RMD,STELLA DAMASUS DISPLAY LOVE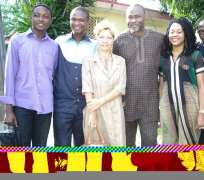 BY MICHAEL ALONGE (nfc)
Charming actor Richard Mofe-Damijo and extremely beautiful actress, Stella Damasus were cynosure of all eyes when the duo stormed the SOS Children Village at Isolo area of Lagos to give their widow's mites to the children in need. The visit to the less privileged home, as I gathered, was borne out of the responsibility on the screen idol's shoulder as the ambassador to the SOS children and also to fulfil their burning desires to help the abandoned children who needs love, care and attention to live.
The two Nollywood personalities, Stella and RMD donated bags of rice and some text books which will in no small measure alienate the suffering of these children who are leaders of tomorrow. Aside the items donated, the movie makers also promised to use their faces to draw attention of the notable people in the society to come to the children's aid. "As an ambassador of these children, I am not going to relent on my oars to make sure that the best attention is giving to these our children. If we fail to do it now, who else will do it for us, we just need to come together and see to the welfare of these children in need." Stella said.
RMD who was listening with keen interest added that "I am going to support Stella in this struggle. Because a lot of us are living comfortably without thinking of the welfare of these children who are orphaned, abandoned or neglected by their parents due to one instance or the other. It's a collective responsibility to create or design an avenue that will bring support for them. In this regard, I come in".