Court sentences Zamfara UBEC chair to six months imprisonment for fraud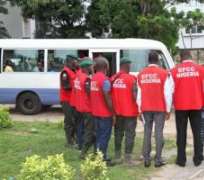 The Economic and Financial Crimes Commission on Friday secured the conviction of one Murtala Adamu, an Executive Chairman of the Zamfara State Universal Basic Education Board before Honourable Justice Zainab Abubakar of the Federal High Court Gusau, Zamfara State.
The convict's journey to prison followed the Commission's receipt of a petition from one Abdullahi Nakura who alleged that the convict refused to pay him alongside many other contractors who executed contracts for the Board.
Upon receipt of the petition, the Commission's investigation revealed that apart from nonpayment of contract, the convict is also in the habit of collecting kickbacks from contractors. It was further discovered that the convict also awarded contract to his own company and processed the payment himself.
In her judgment, Justice Zainab found him guilty for the offence of engaging in private business while still in Public Service.
Accordingly, the convict was sentenced to six months imprisonment or pays a fine of N200, 000 (Two Hundred Thousand Naira Only).
The convict was a two term House of Assembly Member of Zamfara State between 2003 to 2011 after which he was appointed Chairman of the Zamfara State Universal Basic Education Board where he is now serving his second term.
One of the charge read that "You Murtala Adamu Trading under the name and style of MJIE Enterprises ( while being the Executive Chairman of the Zamfara State Universal Basic Education Board) on or about 25th April, 2012, within the jurisdiction of Federal High Court disguised the origin of the sum of N3,000,000 (Three Million Naira Only) paid by Alhaji Yusha'u Sokoto of Alkanci Furniture by way of receiving the said sum into an account you maintain in the name of MJIE Enterprises in Fidelity Bank which sum was derived directly from participation in corruption with the aim of concealing the illicit origin of the money and you thereby committed an offense punishable under section 15(1)(a)(ii) of the Money Laundering Prohibition Act, 2011