Massive 'sea creature' washes up on beach in Indonesia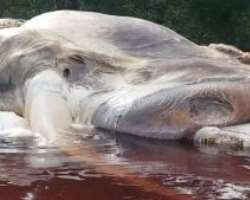 Marine biologists are investigating after the massive carcass of an unknown sea creature washed ashore on a beach in Indonesia.
The Jakarta Global reports that the carcass was discovered by local resident Asrul Tuanakota, 37, late Tuesday evening in Huamal Beach in West Seram District, Maluku.
Tuanakota says he initially mistook the 15-metre-long carcass for a boat in the darkness.
By Wednesday, the massive, still-bleeding carcass was drawing plenty of attention from local residents, who flocked to Huamal Beach to catch a glimpse of the mysterious creature.
In social media posts about the creature, local fishermen seemed to indicate it was some sort of squid.
However, a spokesperson for Indonesia's Ministry of Marine Affairs and Fisheries (KKP) told the Indonesia Tribune that they believe it to be some kind of whale.
"If we look in terms of physical almost the same as the whales," Nasrul Latulanit of the KKP's Office of Marine and Coastal Resources Management told the Tribune. "If the nature of squid is biggest only up to 5 metres, if the whale can be 20 to 30 metres."
Marine biologists are already conducting tests to determine exactly what the creature is.
"We will take the meat samples to be tested in the laboratory. This is to ascertain whether this animal is [of] what type," Latulanit said.
Meanwhile, residents are hoping the government will remove the carcass as it is already starting to decay.
© 2017 Global News, a division of Corus Entertainment Inc