Ex commissioner reveals Osun Owns 14 percent Equity in Omoluabi Garment Factory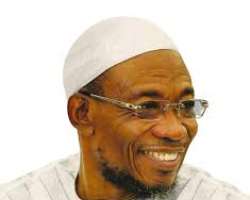 The former commissioner for Commerce, Cooperative and Empowerment, Mr. Jayeoba Alagbada has disclosed that the state government owned 14 percent equity in the Omoluabi Garment Factory in Osogbo.
Alagbada who is also a commissioner-nominee in the state revealed this during his screening at the Osun State House of Assembly where legislators quizzed him.
He said land was the only contribution of the state government to the company known as Sam & Sara Factory Limited.
"Our only contribution to the company was land, nothing more,"
According to him, "The arrangement ensured the building of the biggest garment factory in West Africa in Osun." Alagbada further stated that the company has since moved beyond school uniform making in the State alone.
His words "Omoluabi Garment Factory, is a thriving Private Public Business Partnership between the government of the state of Osun and Sam & Sara Garments Limited. The company now produces uniforms for the Nigerian Military, Guarantee Trust Bank (GTB), Lagos Internal Revenue Service (LIRS), among several others." Alagbada stated.