CREDIT CRUNCH: THERE WILL BE MONEY TO SPEND NOW – AGANGA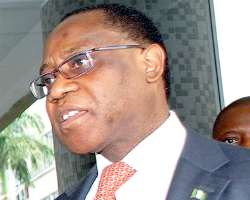 Minister of Finance, Mr. Olusegun Aganga
Concerns have been raised about the lingering credit crunch in the economy and its effects on individual and business welfare. However, the Minister of Finance, Mr. Olusegun Aganga, says Nigerians will now have money to spend. He spoke with YEMI KOLAPO
Don't you feel overwhelmed by the task before you, coming in at a time many experts say the economy is at its lowest ebb?
I think it is fair to say that as people have rightly observed, due to a combination of factors, this is not a normal situation. We have less than one year to deliver and there are just too many challenges that will make this year a little bit unusual. I must say that it has been extremely busy, but that is not unexpected. I don't feel overwhelmed. I'm used to working very hard, so that is not a problem. I came in, expected to work very hard. I came in knowing that this is an unusual situation and that I have to do a lot of work. So I'm not too surprised that there is a lot of work to do within this one-year period.
It is more difficult to deliver on promises in an election year when funds are likely to be largely misused? How do you intend to pull through the situation?
I'm glad you said it yourself, which means that people will understand that this is a difficult period. The trick, though, is to be very focused. We may have a lot of initiatives, things to deliver, but I think there are two or three critical things that Nigerians really want to see. That is why we need to be very focused and make sure that we deliver on at least those two or three things. And I believe if we do those two or three things, the Nigerian people will understand.
What are these two or three things?
Let me start with what Mr. President has always said. Every Nigerian will agree that there should be electoral reform. Then power, every Nigerian wants power, improved power. They are not expecting any magic within one year, but they expect some level of progress. They are not seeing signs of growth in the economy. We should also put structure in place for good sustainable economic growth. And I think we should be able to deliver on those three things, at least.
There have been reports of fictitious projects included in the 2010 budget, among other discrepancies. Can you tell us some grey areas that need to be fine-tuned?
There has been a lot of noise about the budget, but I'm not surprised. It is the biggest budget so far, with a significant capital expenditure. So, it is not unexpected that there will be a lot of commentary on it. There are issues, but what it means is that we have to be very careful with the budget itself and how we implement it. We have to monitor the revenue assumptions. More importantly, it is critical to ensure that whatever we spend is seen as an investment, meaning that we should generate good social and economic returns from whatever we spend. So, how we implement the budget and how we monitor its implementation are very critical.
But do you think the budget can be successfully implemented as it is?
Budget is always implementable, but everyone knows that it is the biggest budget; everyone knows that the revenue assumptions were optimistic, and everyone knows that what that means is that we have to monitor it, and that we have to be decisive in whatever actions we need to take. Here, I can guarantee that we are 100 per cent on top of that. Nevertheless, I inherited a difficult budget, but it is now my responsibility to manage and monitor the implementation. This will of course involve some tough decisions, working closely with the National Assembly, which I must say has been very understanding and supportive.
On the banking sector now, there have been complaints that the actions that have been taken, so far, by the Governor of the Central Bank of Nigeria, Mr. Lamido Sanusi, are slowing down the economy. What is your view on this?
It depends on who you speak to and what you understand reforms to be. If we ask, were the reforms necessary? I will say yes. Every country has gone through the same process. Every major international financial sector has gone through it. The most important thing is to have a stronger, better and stable financial sector that will emerge from the process. However, unfortunately, there are some unintended consequences. There will be job losses; there will be loss of confidence in the financial sector; there may be a strong level of uncertainty. That is where the CBN Governor, the Minister of Finance and the Executive have a responsibility to make sure that we get the right balance.
One point I will like to make, however, is that people talk so much about the bad banks all the time, but they forget that there are about 14 strong, safe and stable banks in the country. We don't talk enough about those banks. We must help the banks to meet both their social and economic responsibilities to the society. We have a duty to build that confidence because the banking sector is crucial to the economic growth of any country.
Would you say that the handling of the crisis has affected the country's image in any way? Has it impacted negatively on investors' confidence, for instance?
That is where we have to be very careful; that is where we have to get the balance right. As I said, every country has gone through it, and they are stronger. You cannot tell me that I can't put my money in banks in the United Kingdom or the United States. In every country, you have good banks and you have bad banks, banks that have made mistakes or that have had poor risk management processes and have failed. It proved that there was no bank that was too big to fail.
But a problem that we may have, and that is my personal opinion, is that we have not talked enough about the ones that have done very well. When we talk too much about all the negative things, we are not necessarily showcasing the true picture of the Nigerian banking sector.
Unfortunately, that is the only thing the foreign investor hears or thinks about. Every country that has rescued its banking sector has done that because the banking system is crucial to the economy. We just have to support the banks, make sure they have the right governance; make sure they have the right supervision. They must have the right capital adequacy ratio, the right liquidity and they have to be able to support the government to fulfil the economic responsibilities.
The problem we have today is that it is not apparent that they are fulfilling those obligations. What we need to do is to focus on those 14 or 15 banks so that they will continue to do a terrific job while we support the rest. We should support them so that they can deliver their socio-economic responsibilities effectively.
There has been so much talk about the Asset Management Corporation of Nigeria, especially now that the bill seeking its establishment has scaled through the Senate hurdle. Can it really solve most of the banks' problems?
It depends on what you mean by banks' problems.
Their non-performing loan problems, largely.
I would say those 14 banks do not have that much problem. We talk about banks, banks, banks, but we only talk about the problem banks. There are problem banks everywhere in the world. So, I refuse to say and accept that (Nigerian) banks have problems.
Let's talk about the problems of the troubled banks then.
Good, troubled banks. They have two or three issues. They have liquidity issues and they have capitalisation issues. The CBN governor has dealt with most of the issues. At the moment, what the AMCON is going to do is to improve liquidity by taking some of those assets. Capital will be injected into the banks but that does not deal with the recapitalisation issues. The whole idea is that it will make those banks more appealing to existing shareholders, Nigerian investors and other international investors who want to invest in those banks. But those 14 or 15 banks have no liquidity problems. They have money. If they have a problem today and you speak to them, it would be that of confidence.
Do you see a bright future for the sector despite all that has happened?
Of course yes. If you don't have a virile financial sector, you can't have a strong economy. To grow the economy, we need capital, we need labour and we need productivity. A lot of the capital comes from the banks, so we must have a framework that allows them to continue their lending process, especially to the critical areas of the economy.
At the moment, what I hear is that they were not lending to the real economy before now and that the lending was mainly to the capital market and to the oil sector. That was not good and this is one of the benefits of the reform. It will reshape lending and let the banks fulfil that economic responsibility. Their job is to provide credit, the capital for entrepreneurs and businessmen to invest in businesses and grow the businesses, thereby improving productivity and helping to grow the economy. That is something that is still missing and those are the things that we need to change and I'm sure they (the banks) are capable.
Many experts are worried that all the country is doing now is sharing and spending revenue as it comes. What is the Ministry of Finance doing to build the Excess Crude Account again?
In the days of Dr. Ngozi Okonjo-Iweala, they did a terrific job with that policy. The law as it stands today, does not necessarily permit that structure because all the income that goes into the Federation Account has to be shared across three tiers of government. So, in order for you to create any excess, you need the consent of both the state and the Federal Government. So that is one of the challenges we have even though it was established.
But in the last two three years, we have seen oil prices go up and down, and I think, over this period, everyone, including the most hostile to the idea of setting something aside, have seen the benefits of having some savings. But the reality is that no matter how poor you are, you don't spend everything you have.
Our parents, when we were young, trained us to save. We had pockets where we put gifts given to us by family friends and others because it was prudent to do that. So, if individuals do that, it looks strange that a country will not do that, more so, that more than 70 per cent of our revenue comes from a depleting asset. When you look at that, what it may mean is that it is not necessarily income; it is actually sale of assets. And that asset belongs to Nigerians today and unborn.
So, it is social responsibility to make sure that you put some aside for the future generation and also for you because you may need it.
But I think the concept is now clear to almost everyone, which is the reason why we have started to engage with the National Economic Council to now develop a more robust institutional framework that will allow us to manage that excess revenue in a way that we can use it to stabilise oil prices if we need to. More importantly, we should use a large part of that as savings for the future and what this means is that you can even then use that to make more money by investing, not only in local and international securities, but also in infrastructure. We will all benefit from the investment and get our returns from it. So, I think it makes sense to everyone that we should do that and that is what we are going to do.
The President has ordered a comprehensive probe of the Nigerian National Petroleum Corporation's accounts and you have been directed to see to that. How far have you gone?
Mr. President directed that we should carry out an audit of the NNPC and we have started acting on that directive. We have invited international firms, local/international firms, to begin the audit. What I have read is that there had been quite a number of audits and that people knew when those instructions were given; they sometimes did not hear when they had been implemented, but more importantly, they didn't get to hear the findings. This time, we will make sure you have the findings.
People's pockets are dry and businesses are not going on as usual. What specific steps are the Ministry of Finance and the CBN taking to ensure that the nation gets out of this phase in the shortest period possible?
The CBN and the Ministry of Finance are working together; there are no two ways about that. The reason why we appear to be where we are is that it appears a large percentage of Nigerians rely on government spending. And if that is the case, given that projects have been approved and that we are beginning to spend, that should not be an issue anymore. There will be more money to spend now because we have to engage contractors and we have to engage consultants here and there. Money will start to flow through the system again. If the problem is with government funding, that process has started. If it is with credit, then we need to get the banks to start lending. And what are we doing? Part of the things we are doing is to make sure that there is certainty in the sector.
However, in most cases, what the banks have said is that the money is there but you need to have the right projects to lend to. If you don't have the right project, the right initiative to fund, then of course, you won't do that because you are afraid of having bad debts. We have a number of initiatives that we will bring on in the next month or two. For instance, we want to give entrepreneurs the technical support to help them develop bankable projects and get capital providers to work on them.
That is one initiative you will be hearing about in the next month or two, and we intend to replicate it in different sectors. We are already working with key stakeholders; we are working with key technical support providers, and we are working with a number of local and international capital providers, who are extremely supportive. This is because one thing we want to focus on this year is job creation. The level of unemployment is terrible. Given the youthful population we have in this country, if you don't create jobs, you are not just slowing down the economy; you are creating something that is going to cause a social problem in the next two years.
Concerns have been raised over increased government borrowing at this time, particularly since this government only has about a year to go. How do you ensure that the country doesn't fall back into the debt trap?
Every Nigerian is right to be concerned about borrowing because we never ever want to be in the situation we were before. So it makes sense for every Nigerian to watch and shout. It's their country; it's their money, they are tax payers, we are accountable to them. But we need more information to make people feel more comfortable. We need to let them know that we understand their concern; we are on the same page with them and we do not want to be in that situation ourselves.
Therefore, we have controls in place to make sure that we never end up in that position. So, whatever they see us doing, it's all about asking the right questions and you get the answers. The loan people have referred to mainly in recent times, is the World Bank's $915m.
That amount again, is not for the Federal Government alone, but for federal and state governments. States are borrowing through the Federal Government and there are 14 states involved in the programme. The second point is that that $915m is supposed to be drawn over five years. It is not as if we have received cash of $915m. The third point is that out of the $915m, only $179m will be drawn this year, 2010. The fourth is that it is concessionary loan, which means that it has 10 years moratorium, which is grace period and repayment of about 40 years. The interest rate is 0.5 per cent, so it is the cheapest source of funding, and every country takes advantage of it. South Africa just did it. China takes advantage of it; they've just begged China not to come back again.
The most important point, based on monitoring or the control of that money, is that the money is not just made available to the country like that. It is from the World Bank and they are monitoring. These are projects that they are involved in, they are monitoring and they are part of. They will only release that money if they see that work is being done. Do you know how long it took for us to take that loan? We kept getting phone calls to say do you want it or you don't? If you don't want it, there are many other countries who want it, we are taking it back. But these are important projects; part of it has to do with power; part of it with transportation in Lagos State.
You have talked about growing the economy in double digits. Is this not a tall ambition, going by the fundamentals on ground?
It's a very simple ambition. We have a great country and we should be disappointed with the level of growth. We did about 6.6 per cent, but this is not the sort of growth we should be doing. Our contemporaries are doing better. However, we are doing well, compared to the developed economies.
Last year, or between 2008 and 2009, we did better than most of them. The only countries that did better than us were India and China, but we should be doing much better. One main reason why we are not doing so well is because of the infrastructure deficit. We don't have power, which means manufacturing is not where it should be and businesses are not where they should be.
This means cost of doing business is higher; cost of food is higher than it should be and everything is higher than it should be. Now, you just imagine that we now have power. Without doing anything, productivity will increase significantly and the biggest factor in economic growth is productivity. If we solve the power problem, you will see a big change.
We've done double digit before, many years ago, so it is not something that is impossible. We are capable of doing far better than we are doing now, so I would say that we are doing 6.6 per cent without trying hard. If we try just a little bit hard, we can achieve sustainable double digit growth. We just need continuity in policy, we need continuity in approach and we need to deal with the infrastructure deficit that we have.