FG PLANS CLAMPDOWN ON EXPATRIATE QUOTA ABUSE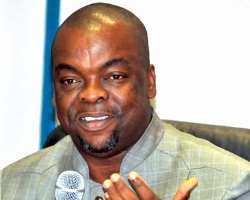 Minister for Labour and Productivity, Mr. Chukwuemeka Wogu.
The Federal Government has accused the multinational firms operating in the country of deliberate abuse of the expatriates' quota.
The Minister of Labour and Productivity, Chief Chukwuemeka Wogu, said that the multinational companies operating in the country were bringing in low level foreign personnel in the guise of expatriates from their countries to take over jobs that could have been done by Nigerians.
Nwogu was said to have made the comment while hosting the Country Representative of the International Labour Organisation, Mrs. Sina Nkadawire, in an electronic mail signed by his Special Adviser on Media, Mr. Emma Aziken, on Sunday.
He said while the government was determined to create employment opportunities for the teeming population of the unemployed, it would, however, continue to move against forced labour, child trafficking and questionable applications of the expatriate quota.
The minister was said to have insisted that ongoing efforts to exploit policy measures to boost employment in the society would take due cognisance of the integrity of the labour laws and international convention to which the country was signatory.
The minister said that the government would stop the movement of low level foreigners into the country to take up jobs in violation of the existing labour laws governing the movement of expatriates into the country.
Nwogu said the Federal Government would look into the issue of migration of people into the country.
He stressed that the arrangement for the admission of expatriates into the country was to create opportunity for their Nigerian counterparts to understudy them in order to take over from them at their departure from the country.
'There are laws that govern migration. One is the fixing of expatriate quota for companies that bring in experts into the country. These laws allow experts, who come in to take certain jobs. Expatriates are not allowed to come in and take up jobs like cleaning.
'We will not allow jobs that will undermine the jobs of Nigerians to be taken away and we certainly frown at the situation, where some of these companies go to the extent of bringing in low level employees into the country, whereas Nigerians can handle such.
'Sometimes when expatriates are engaged, they are supposed to work with Nigerians, who should understudy them and eventually take over from them. This is something that we are going to look at,' the minister was quoted to have said.
Aziken also quoted the ILO country representative as having called the minister's attention to the delay by the country to submit plans for a Global Pact, as recommended by the ILO, said to have been caused by the change in leadership at the labour ministry.