IRS agents raid offices of popular televangelist Benny Hinn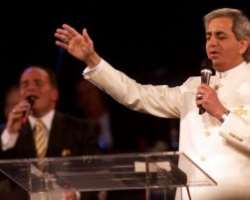 IRS agents have been raiding the offices of famed televangelist and "prosperity gospel" preacher Benny Hinn for nearly two days, raising questions about whether a tax-evasion investigation is underway.
According to the Associated Press , anywhere from 40 to 50 federal agents descended on the offices of the popular televangelist on Wednesday morning in Grapevine, Texas, hauling boxes of evidence out of a building. As of Thursday morning, IRS officials and Postal Inspection Police were reportedly still continuing to work.
Agents at the scene would not detail the nature of the investigation, but told local ABC affiliate WFAA that their unit is tasked "primarily [with] investigating Title 26, which is tax evasion and general fraud against the government."
Hinn was not present during the raid, as he is believed to be in Paris, France .
The pastor is widely known for his energetic preaching style and regular use of "faith healing," an often dramatic spectacle where participants claim to be healed through touch. Hinn is also considered to be a preacher of "prosperity gospel" theology , a belief system that teaches devotees they can achieve personal, physical, and financial success through a combination of Christian faith and giving money to their church.
[An official] told local ABC affiliate WFAA that their unit is tasked "primarily [with] investigating Title 26, which is tax evasion and general fraud against the government."
"[God] is the ultimate Giver!" Hinn declares on his website in a post insisting God will forgive the debts of believers (the post itself is flanked by "donate" buttons). "And as we imitate Him with obedient giving, the potential of the harvest from our seed is truly limitless."
Prosperity preachers like Hinn often accumulate vast fortunes over time, which has made them the subject of harsh criticism from both conservative and progressive Christians who say individual riches are antithetical to Christian teaching. According to an ABC News report, Hinn's ministry rakes in an estimated $100 million annually as of 2009, primarily from donations.
The extravagant wealth of Hinn and others like him — which often includes huge estates and private jets purchased with money provided by congregants — has caught the eye of the federal government in the past. Hinn was one of six televangelists and prosperity gospel preachers who were subject to a Senate investigation led by Sen. Chuck Grassley (R-IA) in 2007. The probe was halted three years later, however, with only two of the six ministries instituting financial reforms recommended by investigators — one of which was Benny Hinn Ministries.
Hinn was also the subject of a separate IRS investigation in 2005, according to the Houston Chronicle.
Prosperity preachers have become increasingly popular in recent years, with pastors such as Joel Osteen boasting some of the largest congregations in the country. "Health and wealth" pastors have also emerged as a political force in recent months: President Donald Trump surrounded himself with prosperity preachers throughout his campaign, and Trump himself helped Osteen launch his Sirius XM radio ministry in 2014.
Hinn was invited to join a delegation of pastors to meet with Trump during the 2016 campaign, but sent an emissary instead. The Daily Beast speculated that his absence may have had something to do with the presence of Paula White, another prosperity preacher and Trump's closest spiritual adviser , who was accused of having an affair with Hinn in 2010 (he refuted such accusations ).
An IRS spokesperson declined to comment for this story, as did a representative for Benny Hinn ministries.