Actress, Mercy Johnson Kneels Down Before Ohinnnoyi of Ebiraland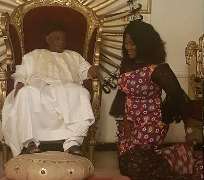 Pretty Nollywood actress, and Special Adviser, Mercy Johnson, has just proven that she is not just an entertainer but a well trained wife and actress.
The actress was recently at the palace of the Ohinnnoyi of Ebiraland and showed respect by kneeling before him.
Unlike where two traditional leaders were not able to acknowledge each other over power, the actress was able to teach her fans that there is not as important as showing respect no matter one's status.
According to her, "Visited the Palace of the Ohinoyi Of Ebiraland,Have no fear he said to me because "I Am With You".