'INDEFINITE' PRESIDENCY MEANS EMBRACING ODDITIES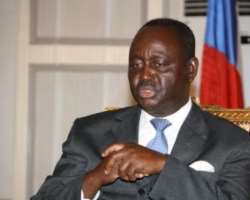 PHOTO: PRESIDENT OF THE CENTRAL AFRICAN REPUBLIC (CAR), MR FRANCOIS BOZIZE.

As Botswana and Mauritius, countries with Africa's best development indicators demonstrate, one of the ways of diagnosing Africa's development is how the respective states' elites think. That's whether their thinking is deep enough to consider the global prosperity ideals, local traditions, history, experiences, the current African development climate and the pressing material wants on the ground. Lack of these have seen some Africa states' either paralyzed, autistic, or largely repeating their ancient mistakes.
Such view came to mind when the Central African Republic (CAR), 50-year old and one of the poorest countries in the world, was arm-twisted, last week, to institute an "indefinite" presidency for the incumbent President Francois Bozize, who came to power through military coup d'état. Bozize had earlier being sacked from the CAR military and had being involved variously in CAR's grubby politics and disorder for long. By Africa's and CAR's political history, the "indefinite" presidency makes Bozize virtually Life-President. The CAR's late President Jean-Bedel Bokassa, also a military ruler, instituted himself Emperor and President-For-Life, ruling from 1966 until his overthrow as Emperor in 1979.
In the CAR, the President-for-Life thing is a development disease that has highly destroyed the country's progress for long and made it disgracefully a mockery of the human situation (No doubt, a CAR student at the University of Ottawa once told me she "wished she is a Ghanaian"). This is against the national view that Bozize is touted as an "intellectual," as the BBC's Lucy Jones revealed in 2003 in an analysis of Bozize when he toppled President Ange-Felix Patasse in March 2003.
If an "intellectual," why hasn't Bozize comprehend the CAR's disturbing situation from within its traditional values, terrible history, and the contemporary African democratic trend, by drawing lessons from Africa's best democracies Mauritius, Seychelles, Cape Verde, Botswana and Ghana, and enjoined his supporters to support the opposition for a limited presidency as the foundation for the CAR's democracy, for now, and then later when CAR's democracy gets roots, the country can institute unlimited presidency.
Bozize is a reminder of Bokassa. With the presidency under his grip for life and consumed with extreme juju-marabou superstition (including juju cannibalism) and deeply infested with African Big Man syndrome, Bokassa killed human rights to the extent of involving in the brutalization of protesting school children to death, freedoms, the rule of law, and set the stage for CAR's long paralysis that has made it among the six worst governed countries in Africa today.
With all avenues for dissent and balances crippled, there were numerous attempts to either overthrow or assassinate Bokassa. This gave Bokassa an excuse to implement even brutally tougher attempts to consolidate power, made himself President-for-Life in 1972 and saw CAR further descending into governance deficit. In CAR, the argument of the quality of governance informing progress is more pronounced, despite being endowed with world-class natural resources.
Under Africa's budding democracy, other leaders had tried to institute the "indefinite" political game but were shot down, because of the vibrancy of civil societies – Nigeria's Olusegun Obasanjo and Ghana's Jerry Rawlings come to mind. Remember that Niger's ex-President Mamadou Tandja, also a military dictator-turned-civilian president, attempted to do what Bozize is doing by arrogantly disbanding parliament, roughened the judiciary and muzzled civil society. But eventually Tandja was removed by a more democracy-minded the military, under pressure from activist citizenry, and in the climate of West Africa's flowering democracy.
The contrast between the CAR and Niger is that, while Niger is in a region where democracy is rapidly flowering and helped neutralized Tandja's anti-democratic tendencies, the CAR isn't, with long history of weak legislature, judicial branches and the Big Man syndrome wheeling in the central African region found itself. The Central African Economic and Monetary Community and the Economic Community of Central African States, where the CAR belongs, aren't as effective as democracy enforcers as ECOWAS (The Economic Community of West African States) is. This is one of the reasons why Bozize's chameleonic practices were able to charm his way through the heavily vulnerable CAR. The country needs more regional, continental and global help to save it from Bozize maneuverings as they did during the Niger situation.
Like Tandja, Bozize demeaned opposition disagreements and the history of the CAR and Africa, which corrections have contemporarily called for principled democratic practices, as continental giant Nigeria is demonstrating, as a way of solving Africa's governance deficit and development challenges. Bozize's background isn't good news for the indefinite presidency. He was a threat during the military dictatorship of Andre Kolingba. Arrested for subversive activities, suffered torture for his subversive activities, Bozize later went into exile in Gnassingbe Eyadema's dictatorial and President-for-life Togo. Bozize have been involved in coups and invasions.
In exile, Bozize and his supporters took over control of the north of Bangui, CAR's capital, before fleeing to Chad with his supporters. Bozize and his men launched several attacks on the CAR from Chad and were responsible for immense looting and banditry.
This makes Bozize and his supporters instituting "indefinite" presidency nerve-racking. You don't need to be a political psychologist to analyze that a power drunk of the likes of Bozize is bad news for "indefinite" presidency, especially of the CAR's, Bozize's and Africa's histories. There is nothing wrong or new, democratically, with Bozize floating "indefinite" Presidency. Matured democracies like France have indefinite presidency that has come over 150 years of democratic practices. But CAR isn't France, its former colonial master. From CAR such practices have been badly treated, paralyzed the country, and are greatly responsible for CAR as a near-collapsed state today.
The central issue isn't only deeper socio-political trust, which is missing in CAR's depressing grand organism, but also the fact that there are disturbing suspicions that Bozize and his associates will hijack the democratic system, as Bokassa and others have done in Africa, and run a virtual dictatorship, as Gabon's Omar Bongo did in his 42 years rule. Any "indefinite" incumbency will further undermine CAR's fragile security and development, as its low attrition civil war indicates.
What is also disquieting is Bozize, really blinded by Africa's Big Man syndrome and the activities of juju-marabou spiritualists, not informed by the CAR and Africa's political history, and over-riding the democratic process by using the "indefinite" presidency to suit his whims and caprices against popular democratic participation and make twaddle of the current African democratic trend. For this motive, the African Union, regional bodies, aid agencies and the international community should reject CAR's "indefinite" presidency inserted into its new constitution by cutting it off from foreign aid and the comity of nations till a limited presidency is instituted, as they did to Tandja's Niger.
Disclaimer:

"The views/contents expressed in this article are the sole responsibility of the author(s) and do not necessarily reflect those of The Nigerian Voice. The Nigerian Voice will not be responsible or liable for any inaccurate or incorrect statements contained in this article."
Articles by thewillnigeria.com