Artist creates mural of Michelle Obama and nobody's happy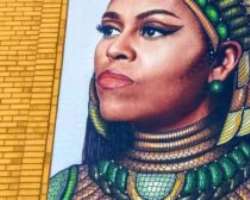 A new mural of former first lady Michelle Obama, painted on a building in the Chicago neighborhood where she lived as a child and remains popular, would seem like an innocuous project.
But the mural, by Chicago artist Chris Devins, has sparked intense debate — and not for the usual political reasons.
Shortly after Devins finished the mural last Friday, criticism began bubbling up online. People accused him of copying the image from Rhode Island art student Gelila Mesfin, who had posted a nearly identical portrait of Michelle Obama on Instagram last year.
News of the mural's existence came as a huge surprise to Mesfin, too.
"How can you just steal someone's artwork… someone's hard work and claim it like it's yours…" she wrote Saturday in an Instagram post .
"How can you go on record and say you designed this… this is so disheartening and so disrespectful on so many levels…" Mesfin added. "It's one thing to share or even profit from someone's work but to claim it as yours is just wrong!"
In an interview Tuesday with CNN, Devins denied any wrongdoing. He said he didn't know who Mesfin was prior to last week and only learned of her artwork after someone on Instagram notified him of her accusations.
"I credited Ms. Mesfin for her work immediately. I've taken the heat and will gladly do so as long as the kids have a mural they can look up to," he said.
The mural is on a building a few blocks from where Michelle Obama grew up.
Devins said he got the idea for the mural from an image he found on Pinterest that depicted the former first lady as an Egyptian queen. He said he didn't know where it had originated.
Devins, who calls himself an urban planner as well as an artist, is known for painting large outdoor murals and installations around Chicago. He said he chose the mural's location — across the street from an elementary school Michelle Obama once attended on the city's South Side — because "I wanted a mural that would serve as an inspiration for the young ladies on Chicago's South Side and young ladies everywhere."
Devins launched a GoFundMe page and raised nearly $12,000 before completing the mural.
In recent days he has been careful to credit Mesfin in all his social media posts. He said he has not spoken directly to Mesfin about the controversy but has offered to pay her a licensing fee and is negotiating with her attorney.
"For me, this is a time for learning and self-reflection, not justification. Though I did not receive any funds based on Ms. Mesfin's work, I was granted money based on a socially responsible message about Black women," he said in a statement. "She has accepted my extended hand of friendship and collaboration."
Devins is certainly not the first artist to appropriate someone else's work. In fact, Mesfin herself adapted her Obama portrait from a photograph by Collier Schorr that appeared last fall in the New York Times' magazine . She has consistently credited Schorr in her Instagram posts.
CNN has reached out to Mesfin for comment but has yet to hear back.
But in a statement posted on her social media accounts, Mesfin said she has been in contact with Devins in hopes of resolving the issue "in a professional manner."
"I only ask that everyone keep this positive towards him; I preach love, not anger or hate of any kind," she added.