NGE demands apology from CSO over expulsion of Punch reporter from State House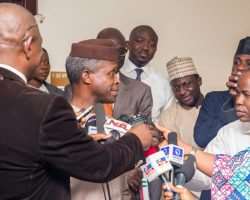 The Nigerian Guild of Editors (NGE) condemns in very strong terms the expulsion of Mr. Olalekan Adetayo, the State House correspondent of Punch Newspapers from Aso Rock by Bashir Abubakar, the Chief Security Officer (CSO) to President Muhammadu Buhari.
In  a statement by the President of the Guild, Funke Egbemode, the body of editors said that while it notes that the CSO may have acted outside his brief and not on the orders or prompting of President Buhari as was explained by the Senior Special Assistant to the President on Media and Publicity, Malam Garba Shehu, the Guild demands an unreserved apology from the CSO to Mr. Adetayo and Punch Newspapers.  As deterrence to others, the Guild urges Mr. President to discipline the CSO for over-reaching himself and acting in a manner that tended to gag free speech.
The Guild urges the Presidency to take steps to ensure that such disrespectful and despicable treatment of any journalist covering the State House or any other beat in the country by security operatives does not happen again.
Mr. Adetayo was expelled on Monday, April 24, 2017 by Abubakar but has since been recalled. While we acknowledge the recall of Mr. Adetayo to the State House, the Guild hereby registers its displeasure at the manner he was treated and the circumstances of his expulsion.
The Guild considers the action of the CSO a clear affront on the media and an attempt to muzzle the Fourth Estate of the Realm from discharging its Constitutional duty of being a vehicle for the dissemination of information.
The Guild notes that the media has been a strategic partner of the Nigerian government and a pathfinder in the building and sustenance of democracy and on no account should the media and its practitioners be subjected to harassment and humiliation in a manner that tends to undermine their ability to discharge their duties in the public interest.
The treatment meted out to Mr. Adetayo is not only reprehensible, it is despicable and runs counter to the tenets of freedom of expression as enshrined in the Nigerian constitution and the African Charter on Human and People's Rights.
The Guild notes that the Nigerian media has made tremendous sacrifice in the fight for the birthing of democracy in the country and it is making even greater sacrifice in its sustenance; it cannot at this point succumb to any form of gorilla arm-twisting to abdicate its duty. Enough is enough!