Osita Chidoka Joins League of PEFON Professional Distinguished Fellows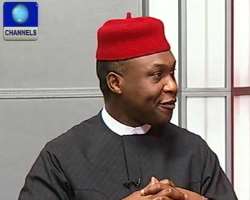 Professional Excellence Foundation of Nigeria (PEFON) in line with its mandate of recognizing professionals who have excelled in their chosen fields have chosen on merit Osita Chidoka (Ike Obosi), for the Distinguished Fellow Award. the young Nigerian patriot whose innovative strides as the Corps Marshall of the Federal Road Safety Commission where he transformed the agency to an award wining organisationthat won various international awards and became, according to the World Bank, a model for other road safety organisations across Africa for the Distinguished Fellow Award.
The Distinguished Professional Fellow Inductee, Osita Chidoka, was until recently, the Minister of Aviation, Federal Republic of Nigeria.
Osita Chidoka obtained a Bachelor of Science Degree in Management from the University of Nigeria, Nsukka and a Masters of Public Policy degree from the prestigious School of Public Policy at George Mason University in the United States of America. He has a Certificate in Global Strategy and Political Economy from Oxford University, UK and a Graduate Diploma in Maritime & Ports Management from the National University of Singapore.
The induction ceremony will take place at The Hotel Victoria Palace (Smridu Nigeria Ltd), Victoria Island, Lagos, on Thursday, the 27th of April, 2017.
Professional Excellence Foundation of Nigeria (PEFON), a non-profit and a non-Governmental Foundation was established primarily to mitigate the dire shortage in the supply of professionally qualified and competent manpower for the various sectors of Nigerian economy. The Foundation was an initiative of Chief (Dr.) Dipo Bailey, Founder and it is an off shoot of Bailey Professional Training and Development Center (BPTDC) which was established in 1998.
The Foundation is superintended by a Board of Trustees comprising of Distinguished Professionals including Sir. (Engr.) Edet Amana, Alh. Mohammed Hayatudeen, Mr. Akinbayo Adenubi and Dr. (Mrs.) Stella Okoli. The Board is headed by Prince Julius Adelusi Adeluyi, MFR, OFR.
PEFON's major strength as a Foundation lies in its Board of Trustees, the Council and Distinguished fellows who are accomplished industrialists', technocrats, qualified professionals in diverse areas, Present and Past Presidents of Professional Institutes and other core professionals who have excelled in private and public administration and who have distinguished themselves in various fields within and outside Nigeria. These distinguished professionals under the umbrella of PEFON periodically organize Fora to deliberate on policies for promoting development of Nigeria economically and industrially.
After a stellar and award-winning public career, Chidoka joined Mobil Producing Nigeria, a subsidiary of Exxon Mobil Corporation, as a Senior Adviser on Government and Business Relations. It was in this role, in 2007, that the then president of Nigeria, President Olusegun Obasanjo, sought him out and appointed him as the Corps Marshal and Chief Executive of the Federal Road Safety Corps (FRSC).
His leadership of the FRSC led to the transformation of the Commission to a functional Lead Agency in Road Traffic Administration and Safety Management in the country driven by information and communication technology. His visionary leadership and pursuit of global standard at FRSC led to the certification of the Commission by the Standards Organization of Nigeria (SON) which conferred the Quality Management System Certificate (ISO 9001:2008 Certification) on the Commission on 15 April 2013.
In recognition of Osita Chidoka's enormous contributions to national and community development, he was invested with the traditional title of Ike-Obosi (Strength of Obosi) and a member of Ndi-Ichie, the highest decision making body of Obosi Traditional Council of Anambra State in May, 2009. He bagged the Chartered Institute of Taxation of Nigeria Merit Award on 27 November 2010, and the Institute of Logistics Management of Nigeria Fellowship Award in July 2011.
He was conferred with the Distinguished Alumnus Award for Good Governance and Model on Road Safety by the Faculty of Social Sciences, University of Nigeria, Nsukka on 12 November, 2011. And in recognition of his patriotic disposition to his fatherland, the President and Commander-In-Chief of the Armed Forces, Federal Republic of Nigeria, Dr. Goodluck Ebele Jonathan, GCFR on 14th November, 2011, conferred him with Nigeria's National Honour of Officer of the Federal Republic, OFR. He won the Sun and Hallmark Newspapers Public Servant of the Year 2012 awards and under him FRSC won Leadership Newspapers Government Agency of the year 2012 award.
The Fellow Award Inductee, Chief Osita Chidoka (Ike Obosi), was born on 18 July 1971
Signed: Ikechukwu Okafor (Media Assistant to Chief Osita Chidoka OFR, NPOM)