Celebrity Cleanup To Make History With The Largest Sign-On Banner In Africa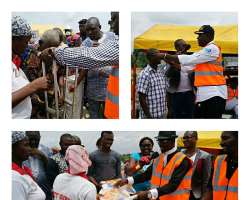 In celebration of World Environmental Day, over 100 celebrities and their Fans are set to make a historic statement at the season 3 of the Celebrity Cleanup scheduled to hold in Abuja on the 17th of June, 2017.
It will be recalled that the season 2 of the event gathered high profile personalities from Sports, Media, politics, Technology, entertainment, oil and Gas and many more sectors. During the events, the celebrities got their hands dirty by cleaning Duste Bokuma, a suburb area on the outskirt of the FCT. Aside the sanitation, free medical and eye tests, free eye glasses, mosquito nets, wheel chairs, crutches and many more items were distributed freely to the community.
"Season 3 of this edition promises to be different as we intend to make yet another history with the largest sign-on banner in Africa. We are also working hard to make this year's edition more significant for our host community by extending our freebies to accommodate more items apart from the free Medicare, wheel chairs, crutches, mosquito nets, eye glasses, food and material items." says the project director, Amb. Babalola Omoniyi. In addition, Eno Praise, Project Media and Public Communications director added "we are excited and humbled by the interests and love shown by celebrities who have indicated their participation and support. Together, we will make history by giving back to the society that made us.
For participation and enquiries: 08133433308