Suspended NIA boss weeps in Aso Rock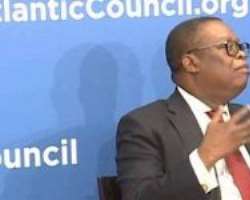 The suspended Director-General of the National Intelligence Agency, Ayodele Oke, could not hold back emotions on Wednesday in Abuja, as he wept freely in Aso Rock being denied access to President Muhammadu Buhari and Vice President Yemi Osinbajo.
Ambassador Oke wanted an audience with Vice-President Yemi Osinbajo shortly after his suspension was announced but was turned back. In the process, of avoiding journalists, he was driven towards the Service Chiefs' Gate from where he was turned back.
Oke was also suspended from office over the discovered funds in Ikoyi, Lagos, equivalent to over N13 billion.
Suspended NIA boss Ayodele Oke weeps as he is barred from Aso Rock (photos) Suspended Nigeria Intelligent Agency (NIA) boss Ayo Oke arriving the State House for a meeting with the Vice president Photo credit: Abayomi Adeshida
The NIA boss later left the Presidential Villa without seeing the Vice-President at that particular moment.
Buhari's spokesman Femi Adesina, had in a statement earlier said "The President has ordered a full scale investigation into the discovery of large amounts of foreign and local currencies by the Economic and Financial Crimes Commission (EFCC) in a residential apartment at Osborne Towers, Ikoyi, Lagos, over which the National Intelligence Agency (NIA) has made a claim.
"The investigation is also to enquire into the circumstances in which the NIA came into possession of the funds, how and by whose or which authority the funds were made available to the NIA, and to establish whether or not there has been a breach of the law or security procedure in obtaining custody and use of the funds.
"The President has also directed the suspension of the Director General of the NIA, Ambassador Ayo Oke, pending the outcome of the investigation."