Finally, Buhari wields the axe, suspends SGF, NIA chief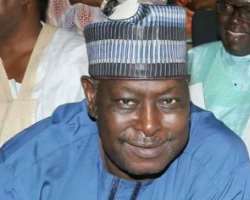 President Muhammadu Buhari on Wednesday suspended the director-general of National Intelligence Agency, Ambassador  Ayo Oke and the Secretary to the Federal Government, Engineer Babachir David Lawal, both who a mired in controversies bordering on financial crime..
Ayo Oke has been at the centre of the recent the shocking discovery of $43.45million in a private apartment apartment at Osborne Towers, Ikoyi, Lagos.
Oke  claimed the money belonged to his agency and was approved by the former president Goodluck Jonathan for some covert operation, a claim which has been widely disbelieved by a cross section of Nigerians.
President Buhari was said to be furious with the claim as he had never been briefed about the fund by the DG who was appointed by Jonathan and was kept on the job by Buhari.
The action on the two key officials of the president was announced in a statement by the Presidential spokesman, Mr. Femi Adesina.
Senate recently found Lawal guilty of complicity in the finances meant for the welfare of the Internally Displaced persons, IDPs in the north east and called on the president to remove him.
The president set up a panel to be headed by the Vice President, Yemi Osinbajo to investigated both persons.
The statement reads as follows: "President Muhammadu Buhari has ordered an investigation into the allegations of violations of law and due process made against the Secretary to the Government of the Federation (SGF), Mr David Babachir Lawal, in the award of contracts under the Presidential Initiative on the North East (PINE). The President has also directed the suspension of the SGF from office pending the outcome of the investigations.
"In a related development, the President has ordered a full scale investigation into the discovery of large amounts of foreign and local currencies by the Economic and Financial Crimes Commission (EFCC) in a residential apartment at Osborne Towers, Ikoyi, Lagos, over which the National Intelligence Agency (NIA) has made a claim.
"The investigation is also to enquire into the circumstances in which the NIA came into possession of the funds, how and by whose or which authority the funds were made available to the NIA, and to establish whether or not there has been a breach of the law or security procedure in obtaining custody and use of the funds. The President has also directed the suspension of the Director General of the NIA, Ambassador Ayo Oke, pending the outcome of the investigation.
"A three-man Committee comprising the Hon. Attorney-General of the Federation and Minister of Justice, and the National Security Adviser, headed by the Vice President, is to conduct both investigations. The Committee is to submit its report to the President within 14 days. "The most senior Permanent Secretary in the SGF's office, and the most senior officer in the NIA, are to act, respectively, during the period of investigation."