Photos of Obamas in super yatch goes viral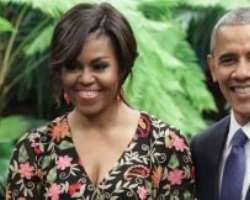 During her time as the first lady of the United States, we saw  Michelle Obama in lots of hairstyles — sleek and straight, wavy, permed, with bangs , in a chignon, you name it. And she looked amazing in each and every one. There's one style we've been dying to see, though, and that's au naturel.
Luckily, now that she's off-duty, she's finally letting her hair down — literally. She and her husband, former President Barack Obama , were spotted on a super-yacht near the French Polynesian island of Moorea, and Michelle's hair was curly and free, and we loved it.
They were onboard billionaire David Geffen's 450-foot yacht, and were joined by Bruce Springsteen and his wife, Tom Hanks and Rita Wilson, and possibly Oprah, according to the AFP and Getty.
The magic happened when Michelle and Barack hopped onto the deck to take pictures, because even the president had to capture the moment when they stepped onto a super-yacht. Michelle let her usually perfectly placed hair fall around her shoulders, all bouncy and beautiful. She wore a pair of white shorts and a flowy black tank top, and carried a brown leather bucket bag.
The couple posed for a photo, and then Barack, in an off-duty chic ensemble of a mint green shirt, white pants, and white sneakers, lovingly took photos of his gorgeous wife, and the crowd — and by that we mean social media — went wild.
The Internet cannot get over how adoring and doting he is , and how normal they are for capturing these moments.