CONFESSION OF ABUJA BUS DRIVERS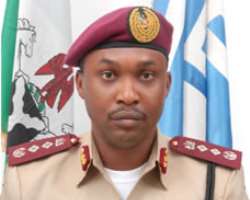 FRSC boss, Chidoka
'We fear Road Safety and VIO because they are very strict but Police are our friends. When you give a traffic policeman N100 or N200 they will allow you to go if they find you guilty of any traffic offence.
'If you are taken to a police station, you will pay N1,500 before your car can be released. This one is non-negotiable. Every commercial driver in this Abuja knows this. That is why when the small ones arrest us we don't argue with them.'
These were the words of an Abuja commercial bus driver when asked why he and his fellow commercial bus drivers do not obey traffic rules in Abuja.
The driver who identified himself as Ochigbu said the relationship between members of his profession and the traffc regulatory agencies was akin to that between a mouse and a cat. He confessed that they are yet to divise means of handling the Federal Road Safety Commission (FRSC) and the Vehicles Inspectorate Department, otherwise called VIO. Due to non-availability of bus stops in the city, he said, 'these security agencies especially VIO, FRSC and police are always at loggerheads with us. Efforts to pick or drop passengers always resulted in contravening traffic laws.'
Despite the heavy presence of traffic regulating officers such as the police, FRSC and VIO, traffic situation in most parts of Abuja has for sometime now been a nightmare. It is a problem that has continued to defy all solutions as traffic congestion has remained apermanent occurrence, especially in the peak hours of the morning and evening. Ordinarily, one would expect that traffic congestion, being one major reason why the nation's seat of power was relocated from Lagos to Abuja, would be easily managed,
Unless something is urgently done, Abuja's traffic situation might be worse than that of Lagos in the near future. It was a hell of an experience when Daily Sun went round some places in Abuja where the problem is worst hit, especially during peak periods. Commercial drivers appear to be a major factor in the problem blamed the situation on government and attitudes of some security agencies charged with the responsibility of traffic regulation. Ochigbu said the traffic problem in Abuja was caused by those who designed the city who failed to make provision for bus stops and motor parks in the city:
'You can see that the city centre has no bus stops. That is the more reason we commercial drivers find it difficult to drop passengers at a place after loading from the satellite towns to their places of work. 'Passengers from Mararaba, Nyanya, Karu, Kubwa, Gwagwalada among others coming to work in the metropolis find it difficult to drop at their various destinations due to lack of bus stops.
'To load passengers outside the city centre is a problem. As a result of this, we are forced to drop these passengers at places where the FCT authorities regard as illegal bus stops. 'Sometimes, when we get to some bus stops like Julius Berger Junction, Wuse Market, Area 1 Junction, AYA and Nyanya, before the bridge bus stop, we send our conductors to drop and walk to the policemen standing and the traffic control point and give them money. When your conductor settles police, you can carry or drop passengers anywhere you like. So I don't blame police for this or drivers but the government for not providing bus stops.'
However, a taxi driver who simply calls himself Ayo, said: 'FCT authorities don't want poor man to survive in this town. We drivers suffer a lot on daily basis because when they see us, VIO, FRSC or Police, they will stop us that we have committed offence of wrong packing, overloading, or one thing or the other and you must part with money.
'Now in Abuja, we don't have bus stops. We can stop anywhere at our risk. If you are caught by any of these security agencies, you will pay for it. So, we do anything even stopping at the centre of the road to pick or drop passengers. If any of the securitymen catches you he must find you guilty. We don't care whether we commit an offence or not.'
FCT Police Command spokesman, Jimoh Moshood, who declined comments on the driver's allegations promised to call on the reporter at a later time. He never called back at the time of filling this report.