British Airways Cabin Crew Strike Begins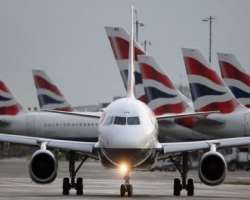 San Francisco, May 24, (THEWILL) -- The British Airways cabin crew today started a five-day strike after Unite union and the airline management failed over the weekend to reach a deal over pay and improved working conditions for crew members.
According to a CNN report, two other strikes are scheduled soon afterward, but Tony Woodley, the joint secretary for the Unite union, is willing to call off the strike if the management would reinstate travel perks for staff.
A BA representative has indicated the airline's desire to continue negotiations even as it has put in place contingency plans that will allow it accommodate at least 70% of its scheduled flights and customers, during the five day strike.
THEWILL gathered that BA will operate all its Flights from Gatwick and London City Airports and more than half of its scheduled flights from Heathrow, its main hub.
Unite and British Airways management have been at loggerheads since the first quarter of the year. The union which represents almost all of BA's 15000 cabin crew had gone on strike twice this year over pay and working conditions, crippling BA's operations and leaving thousands of passengers worldwide stranded.
Both parties have been unable to reach a deal ever since.