Easter: Senate Deputy Whip Invoke Common Values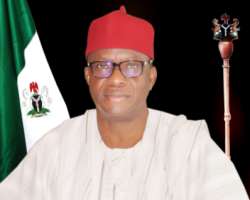 As Christians all over celebrate the Easter season, the Deputy Whip of the Senate Senator Francis Alimikhena has outline common values of the season. He described selflessness sacrifice, Love, Unity, Restoration of Glory as well as Renewal of Faith as the common values that characterise the death and resurrection of Jesus Christ. He urged Christians to always remember the price of redemption and the purpose of resurrection in order not to be taken unaware.
Senator Alimikhena a devout Catholic enjoined Christians to be strong in the face of challenges and utilise their differences in Ethnicity, Religion and Political divide for the overall stability and Unity of the Nation. He called on Christian all over the Nation and beyond to shun personal and parochial considerations and be ready to make sacrifice in their service to humanity and to God.
He maintained that Easter is a time of renewal and awakening. It is a time of reflection on the death and resurrection of our lord Jesus Christ. According to him, this is a period for us to be committed to the ideals of Nationhood by putting the Nation first in all our endeavours and forgive ourselves, our family, Political associates in other to come together to nurture the Hope and Unity that has always bind us together as one great nation.
The Edo North Senator in his Easter message by his Personal Assistant Benjamin Atu, urged all Nigerians to be alert and defend our Democracy against political jobbers and terrorists who are determined to truncate our democracy by disregarding democratic institutions of government for their personal enrichment against the growth and development of the Nation. The statement therefore express the need for unity of purpose and collective commitment by all Nigerians in overcoming the challenges confronting us as a nation.