CHIEF RAYMOND DOKPESI; AN ICONIC BRAND FOR VALUE & INTERGRITY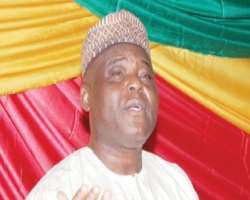 PHOTO: CHAIRMAN DAAR COMMUNICATIONS, CHIEF DR. RAYMOND DOKPESI.

Many have wondered how Chief Raymond Dokpesi succeeded in breaking the jinx of exclusive ownership of electronic media to Nigerian Government, after many years of full dominance of the industry. Apart from this, his unique expertise in entrepreneurship albeit investment risks and challenges in the broadcast industry in those years are also steps worthy of commendation. Despite envy and harsh criticism as well as tantrums from detractors, today Chief Dokpesi has inexplicably avail self as a phenomenon to be reckoned with as a result of value he has successfully added to broadcast business in Nigeria, his immense contribution to human capital development both in Nigeria and in the diaspora are also phenomenal.
Even as we are aware after fifty years of the advent of broadcasting in Nigeria following the government promulgated Decree No. 38 which deregulated the ownership of the electronic media in the country, there were no investor bold enough to engage favourably in privately-owned electronic media, some that tried initially bowed out prematurely; although today a number of them are now holding sway, but DAAR communications is still irrevocably a pathfinder in that regard.  For records, apart from breaking this barrier in the world of broadcasting DAAR Communications (owners of AIT and Ray Power 100.5fm) did not start broadcast operation until 1994, six years after incorporation.
Following this piece of legislation which ushered in a new era of private ownership of Radio and Television stations, DAAR Communications applied for Radio, Television and Direct Broadcasting by satellite license. The license was subsequently granted. It began full commercial broadcast operations on September 1, 1994 on its high profile radio channels with the call sign, Raypower 100.5, the first private independent radio station in the Federal Republic of Nigeria. Initial funding of Daar Communications Ltd came from Daar Investment & Holding Company and the founder of the conglomerate – High Chief Aleogho Dokpesi, (PhD).
Without being hyperbolic with these sheer undisputable facts, AIT's audience is global with general viewership. Its appeal is to a broad cross-section of popular tastes. To those seeking authentic and authoritative information about the Africa, Caribbean and Afro-American experience, AIT provides the natural programming choice. AIT beams quality programs round the clock which are down-linked and redistributed in Africa, the whole of Americas, Mexico and the Caribbean. AIT's in-depth coverage aims to keep global viewers fully in tune with the soul of an African broadcaster offering premium quality service. DAAR Communications Limited broadcast stations are on air 24 hours daily. The internet company also provides a 24 hours service.
Away from Chief Dokpesi's success in investment and triumph in the broadcast industry, (unknown to many) he is also a motivator, an orator and good public speaker. I was mesmerized sometime in April 2010, when he delivered a speech at a breakfast meeting organised by the School of Media and Communication, Pan-African University when he said Nigeria's leadership is the deadweight slowing down the pace of development in the country. ''Nigerians, being naturally passionate about their ambitions have all it takes to be the best in any endeavour, "only if we get rid of these deadwoods in the leadership [position]."
Chief Dokpesi further marshalled his points on "the pains and gains of establishing a world class media enterprise," recounted the ordeals he had to contend with in the hands of Nigerian leadership before his African Independent Television could attain its current status. Chief Dokpesi made it public that the policies of the Nigerian Broadcasting Commission are not only weird when compared to global best practices but are designed to "kill private media houses before they even start." For example, the license fee in 1994 was N750, 000 but it is now in excess of N100m."In the US, two or three networks can collaborate to share a license but not in Nigeria," he said. He passionately condemned the means of funding private and government-owned media houses, describing it as a death sentence for private media houses.
As he explained, private media houses are funded through advert subscriptions while public media houses are funded through government's subventions. In essence, public media houses should air no advert since they are funded with taxpayers' money. "But in Nigeria, NTA receives between fifteen to twenty billion naira annually from the government and still collect adverts," he said. Here lies the death sentence: advert rates on public media houses are at rock bottom low forcing their private counterparts to adopt economically nonviable advert rates and "if you try to increase your rate, NBC will say 'no, you can't go beyond this price'.
So after a media house has paid the huge license fee and bought equipment, it can only run for about three years before it stars having financial problems," he said. Annual return to the NBC is another deathblow in the form of policy. "They said Section 14 [of the NBC act] empowers the commission to collect 2.5 percent of revenue of media houses annually, a levy that no public media house is forced to remit," Chief Dokpesi stated.
The fearless and dogged Dokpesi pathetically described Nigerian broadcast technology as half a century behind current technologies, even though the country started broadcasting well ahead of many other African countries. "These people spend their estacodes in hotels when they travel abroad instead of exposing themselves to technological developments in the industry," he said while narrating how the NBC "arrogantly" turned down his proposal for a pilot digital transmission. They asked if he really thought Nigerians are as freaky about technology as he was. "Ben Bruce, while at NTA spent more than N60 billion buying 'analogue' transmitters - new equipment but obsolete technology. And today, those equipment are useless," he said. Chief Dokpesi pleaded with Nigerians to support ambitious and credible media houses so they do not die. "What we need is accurate and timely information about ourselves and the opportunities around us. But most Nigerians know next to nothing about their country not to talk of other African countries."
Chief Raymond Aleogho Dokpesi, PhD, OFR a Marine Transport Engineer was born in Ibadan, Oyo State on 25th of October 1951. He hails from Agenebode in Etsako East Local Government Area in Edo State of Nigeria. He attended Ebenezer African Church School, Ibadan, Loyola College, Ibadan and Immaculate Conception College, Benin City. He worked briefly with the Nigerian Ports Authority as Marine Office Cadet in 1969 before proceeding to Poland for further studies. He attended Wyzsza Szokta Morska Gdynia and University of Gdansk Sopot for his Bachelor, Masters Degree and Doctorate Degrees.

He made a first class with distinction and was also the best graduating student in fifty years in Poland in Marine Transport Engineering. He lectured in the University of Gdansk, Poland as Assistant Lecturer in Marine Transport Economics before proceeding to Nigeria on the invitation of the then, Nigerian Head of State who was on State visit to Poland. While schooling, he held the following positions; President, Nigerian Students Union Gdansk Poland (1972 - 1974), President, African Students Union, Poland (1973), President, International Students Association, Poland (1974), President, Nigerian Students, Eastern Europe (1974).
Moreover, he worked with the Federal Ministry of Transport and Aviation as the Head of Water Transport Division on Secondment from Nigerian Ports Plc (NTCC) between1978 - 1983. He was the Chief of Staff of the Gongola State Government from October to December 1983.Managing Director of African Ocean Line Limited from 1984 - 88, Chairman of Baldok Shipping Lines Limited from Feb. 1989 till date. Executive Chairman - DAAR Holding Company Limited and Rimat Properties Limited. Founder/ Chairman- DAAR Communications Limited: Proprietor/operator of the first Independent Radio Station in the Federal Republic of Nigeria, RayPower , Africa Independent Television (AIT); the first Afrocentric Global Television Station, DAARSAT, a fully Nigerian based DHTV and DAAR Investment.
High Chief Aleogho Dokpesi's remarkable role in broadcasting in the federal Republic of Nigeria apart from pioneering private radio and global satellite broadcasting, he also revolutionized the sector through the introduction of 24 hours transmission on both radio and television right from inception, introduction of cyber and chroma-technology for television operations and digitalized audio and video signals on both radio and television. Through his efforts Africa Independent Television (AIT) became the first African broadcast station to transmit from and into the United States of America (USA).
To his credit and exceptional scholarship prowess are the following publications: Optimal size of Tankers for International Trade (1974), West African Shipping Range (1975), Technology Change in Shipping and its impact on Ports (1976), Consultation Machinery in Shipping - The West African Experience, International Multi-modal Transport System - Implication on Nigeria Economy (1980), Thoughts on Nigeria National Shipping policy (1980), Fiscal and Financial Arrangements to Encourage Investment in Shipping in Nigeria (1986), Security in Cargo Handling - The Nigerian Experience Bulk Fleet Development (1986), The Issue of a Shipping Agency in the Maritime Industry (1987), The role of the Seaport in the Structural Adjustment Programme, Problems of Liner Shipping Policy and the review of the United Nations Convention on a Code of Conduct Linear Conferences - Present Status and Prospects (1991).
He is a fellow of several professional and management institutes: the Nigerian Institute of Shipping, Chartered institute of Transport, Institute of Transport Administration, Nigerian Institute of Management, Nigerian Institute of Public Relations and the Institute of Directors. The following are some of the National Assignments that he had been called upon at various times to perform for the Federal Republic of Nigeria: Member - Presidential Committee on Long Term Measure to solve Piracy and Security Problems in Nigerian Sea Ports and Territorial Waters (1981), Member - Chief of Defence Staff Board on Boarders and Harbour Security Force (1982), Member - Committee on Decentralization of Nigeria Ports Plc (1983), Member - Shipping Policy Implementation Committee (1987).
He is a recipient of several national and international awards amongst which are: Dr. Kwame Nkurumah Africa Leadership Award and Gold Medal for Excellence in Business Practice, awarded by the Foundation for Excellence in Business Practice, an organ of the United Nations based in Geneva, Switzerland. He is also the recipient of the prestigious Institute of Directors (10D) 2007 Entrepreneurial Award. In recognition of High Chief Dokpesi contribution to the Nigerian communities where DAAR Communications Plc stations are cited, Local Governments, State Government and the Federal of Nigeria through employment generation, mass socio- cultural, political and economic education/mobilization/emancipation of the citizenry, the President/Commander-in-chief of the Federal Republic of Nigeria; Late Umaru Musa Yar'Adua, GCFR on Feb 14, 2008 conferred National Merit Award on him; Officer of the Order of the Federal Republic (OFR). He holds the following chieftaincy titles: Ogieorumoa of Weppa Wanno - 1986, Araba of Osooroland 1987, Osese of South Uneme - 1990, Gbobaniyi of Ilawe-Ekiti-1994,Oganigwe Umu Orji Ako Nibo-1999, Sardaunna of Kpaduma, Abuja 2002 and Ezomo of Weppa Wanno Land, 2003. He is a member of Island, Ikoyi and Apapa club. He is an avid reader, researcher, philanthropist and humanitarian. He also loves sports, travelling and music.
However, in appreciation to these tremendous achievements and enviable records, Chief Dokpesi has been consistently persuaded by many well meaning Nigerians to run for the most exalted elective position in Nigeria, but the High Chief has declined to tell anyone whether or not he would want to be Nigeria's President, though many political observers have said his track records can seamlessly stand for him to score the required simple majority under any political party. Interestingly his good name has recently featured prominently in the newly constituted PDP reform group.
It is an open knowledge that Peoples Democratic Party Reform Forum has unanimously called for total dissolution of the party's National Working Committee, they also said there was need for internal democracy in the party, where members' view would be respected, and that the finances of the party must be handled in a most transparent and prudent manner. This laudable initiatives became evident when these reformists/interventionists met on Thursday (20thMay, 2010); they include the immediate past Minister of Foreign Affairs, Chief Ojo Maduekwe, a former minister of the Federal Capital Territory, Mallam Nasir el-Rufai, and a distinguish (former) Minister of Aviation in Chief Obasanjo's regime, Chief Femi Fani-Kayode. Also present at the event were a former Attorney-General of the Federation and Minister of Justice, Chief Kanu Agabi, erstwhile minister of Transport, Abiye Sekibo; Alhaji Bello Masari (Former Speaker House of Reps) and Obasanjo's former special adviser, Prof. Julius Ihonvbere. Others are former governor of Rivers State, Dr. Peter Odili; ex-minister of State for Justice, Alhaji Musa Elayo; Prof. Femi Otubanjo; and the immediate past National Secretary of the PDP, Chief Bernard Eze, erstwhile President of the Senate, Chief Adolphus Wabara were also in attendance. For those who do not know Chief Raymond Dokpesi is a core progressive and true democrat that can stand the test of time.
Disclaimer:

"The views/contents expressed in this article are the sole responsibility of the author(s) and do not necessarily reflect those of The Nigerian Voice. The Nigerian Voice will not be responsible or liable for any inaccurate or incorrect statements contained in this article."
Articles by thewillnigeria.com