Aregbesola Insists He Is Not Running The State Affairs As A Sole Administrator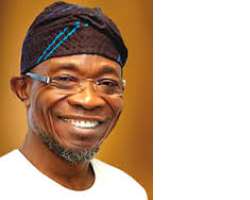 The governor of Osun State, Mr. Rauf Aregbesola yesterday informed a High Court sitting in the State that he is not running the State affairs as a sole administrator.
Aregbesola was dragged to court by Barrister Kanmi Ajibola over his refusal to constitute the State Executive Council since November 2014.
The plaintiff, Barrister Kanmi Ajibola insisted that Aregbesola is not only a sole administrator but is ruling the state despotically in a way not envisaged by the constitution of Nigeria.
Aregbesola, in a counter-affidavit deposed by Barrister Ibikunle Iyanda filed in opposition to the originating summons of the plaintiff, explained that the governor has been discharging his duties in line with the constitution in the last two years effectively.
He stated that there are permanent secretaries and heads of the parastatals manning various ministries in the State.
Iyanda explained that he was briefed by the governor's Assistant Deputy Chief of Staff, Mr. Gbenga Akanno that the "the defendant is still within the time frame to appoint commissioners to form his cabinet".
Besides, the governor according to his lawyer has not erred in law because the 1999 constitution "does not state the time frame for the appointment of commissioners".
While contending that the defendant will appoint commissioners before the expiration of his tenure next year, he stated further that at no time did Aregbesola after his swearing-in in 2014, said he would not choose members of the state executive council.
The counsel wanted the case to be struck out, saying the plaintiff did not show any interest, right or obligation in the matters he was complaining of in his suit.
However, Ajibola noted that as a legal practitioner, political and human rights activist and one of the people who fought for the enthronement of democracy, he has the responsibility of upholding, promoting, fostering and observing the rule of law.
He stated that the governor has turned "democratic governance" in Osun state to "administratorship" and that the governor has "applied the operation of the constitution with disdain in contravention to his oath of office."
His words,"Since 27th day of November 2014 till date, the governor of Osun State has been determining the general direction of the policies without the advice of the state executive council which is contrary to the constitution."
While supporting his arguments with several constitutional provisions, he asserted that he has the locos standi to challenge the governor since it is a constitutional matter and that the court has jurisdiction to hear and determine the suit.
In her ruling, the presiding judge, Justice Olayinka Ayoola said the hearing notice be issued and served on the governor and adjourned the matter till April 27, 2017.