Over 1, 347 suspected kidnappers apprehended in past one year: Police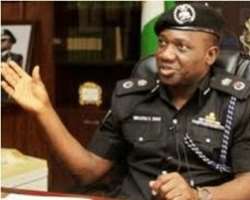 The commitment of the present Nigerian Police management to curb the spate of kidnappings in the country is paying off as its efforts has resulted in the arrest of 1,347 suspected kidnappers in 1,177 cases recorded in about the last one year, a report to the presidency reveals.
According to the report, "a total of 525 suspected kidnappers were prosecuted with 652 others under investigation while 228 cache of arms and 4, 375 assorted ammunition of different calibre were recovered during the same period."
Going by the previous incidents of kidnappings across the country, the efforts of the police in collaboration with other sister agencies could possibly reduce the prevalence of the crime in the society.
The police authorities, the report indicates, believes that its efforts would be enhanced with the introduction of the 'Safe City Project' by installation of CCTV cameras in public and strategic locations across  cities in the country
The police force, it is learnt, is not relenting in its efforts to ensure a crime free society as it has initiated actions across the country including increased presence in black spots and highways.
In addition, the force has increased patrols, stop and search operations within towns in tracing/rescuing victims and arresting kidnappers, and raiding of black spots and criminal hideouts.
According to the document, "the police listed economic and financial gains, quest for quick money, proliferation of small arms and light weapons, flamboyant exhibition of wealth, poverty and terrorist financing, as some of the causes of kidnapping."
There are however other causes of kidnapping in the country some of which include lack of security consciousness on the part of the victims, lack of strong legislation and inadequate personnel and equipment needed to properly patrol the riverine communities and creeks.
The present police management, it is gathered, is advocating for a strong Federal legislation that will discourage kidnapping and other contemporary crimes militating against society's progress.
It would be recalled that the spate of kidnappings across Nigeria assumed an alarming proportion with the abduction of the old and young including students and their teachers, necessitating presidential instructions that the Police intensifies its effort and come up with further recommendations to enhance public security across the country. (NAN)