WE ARE WORKING TO RESTORE CONFIDENCE IN BANKING INDUSTRY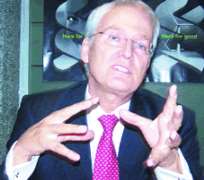 Knight
Standard Chartered is the fourth largest British banking group by market value. Its Nigerian subsidiary, Standard Chartered Bank, is rated among banks with strong management discipline and good corporate governance.
Industry watchers have wondered why the bank has not been open to Nigerian ownership, just as others are eager to know the secret of the bank's success; springing out of a group that has been in existence for more than 150 years. The Chief Executive Officer, Mr. Christopher Knight, in this interview with Daily Sun cleared the air on these issues. He also spoke on other burning issues in the Nigerian banking industry, suggesting steps to a safe banking environment in the country.
According to him, there are business reasons behind getting quoted on the Nigerian Stock Exchange. In the case of India, for brand awareness and business development, the bank is opening up to Indian ownership through Indian depository receipts this year.
''Nigeria is a dynamic business. We are growing rapidly and we would want to essentially maximize our control. Right now, we don't have a business reason and as I said, it is a new business here and the bank is still actively running the business, looking to maximize returns,'' said Knight.
Selling points of the bank
In Standard Chartered Bank Nigeria, management discipline is paramount in delivering on our brand promise of being the right partner to our stakeholders. These stakeholders include: Shareholders, our customers, the regulators and the community where we operate. One of the things we leverage is our international network because we have a presence in more than 70 countries and have developed products for other markets that are applicable for Nigerian customers. Another important thing is to foster diversity and inclusion. Globally, we have a gender mix of 55 per cent of men and 45 per cent women. We seek to foster their growth as individuals and as bankers. So for us, training is an important part of what we deliver to our employees.
Consistency with our key selling points enabled us maintain about  14 million customers and clients across more than 70 markets.We provided our staff with 341,793 learning or training days globally in 2009.Our staff are also given two volunteering days to assist the communities in which we work. Commitments to our stakeholders -customers, people, communities, investors and regulators - remain the same.  And this commitment is at the heart of our new brand promise - to be 'Here for good.'
In these communities, we have a number of Corporate Social Responsibility (CSR) initiatives that we deliver. With regulators, it is absolutely critical for us to deliver exemplary governance and ethics. We recognize that good governance is fundamental to our reputation and brand; and that the relationships that we have with Nigerian  businesses, the Central Bank and the Government gives us the opportunity to help support the development of good governance in Nigeria.
In addition to the application of group controls, we have also taken stringent measures to strengthen, simplify and standardize risk management and assurance frameworks in our business in Nigeria. All these are to maintain exemplary standards of international compliance.
We are continually committed to being the right partner to all our stakeholders. The application of our Group's risk management standards in Nigeria provides us with a strong and sustainable foundation for well-managed growth. Our voice and our new brand promise is: 'Here for Good'. Here for good is not just a three- letter word under our logo. It is what we will stand for in the next 10 years and more. We have been able to deliver our promise of being the right partner and now 'Here for good' is our new brand promise.
We also support our clients to make informed financial decisions that match their risk and investment experience profile. Our group result increased 9 per cent in 2009, up to 15.2 billion US dollars. Our profits increased 13 per cent, up to 5.2 billion dollars. And in Nigeria, despite difficulties in the Nigerian market, our revenues increased 15 per cent to N 30.2 billion on which we delivered N7.4 billion in profits.
Management of unsecured loan portfolio before the advent of credit bureau
I think one needs to look at Standard Chartered's conservative and disciplined approach to doing business. First point that comes to mind is that we were created back in 1850 and we have operated in many markets. We have been in Africa, Asia and more recently in the Middle East. These are markets that we have operated in and we know very well. We haven't offered products that we haven't understood. Some banks went into products like sub-prime mortgage that created problems in 2008 and 2009.
People did not fully understand all the risk dynamics in that area and as a result, when the mortgage market suffered in the United States, they lost money. In Nigeria, we have very strict underwriting criteria. When we consider a lending decision, we look at the person or the company and we also do a due diligence to understand that company's business management, sources of income and so on. At the same time, we try to understand the industry in which it operates.
Based on these, we then decide whether or not we are comfortable with the loan. We want to make sure that we always have the right risk- return dynamics. By that I mean, sometimes when we analyze a loan, we are willing to grant it but we see that perhaps this loan or this company has more risk than normal. So we would want to have slightly higher pricing on the loan. If through negotiation, a company does not agree to pay that, we then willingly will walk away from that loan because it doesn't meet our criteria and I think banks have to be willing to do that. We also use a lot of stress testing on our portfolio.
Here we look at our portfolio as a whole and look at the environment in which we are. Then we ask what is happening? It could be rising inflation or the price of oil going up. What will be the impact of those changes on our borrowers? We assess each borrower to know what the impact would be. If there are those we think may suffer because of the changes, we proactively take action to protect the portfolio.
To date, the bank has provided 500 million US dollars of credit and financial instruments to microfinance institutions in 14 countries in Asia and Africa; giving 3.3 million people an opportunity to start on their path to financial independence.We have been able to manage operational risks through a management assurance framework that ensures a more robust system of controls.
Unlocking credit to SMEs through credit bureaux
Well, depositors in a bank do not have any interest in the bank lending out money to bad risks. When they put their money in a bank, they expect the bank to manage their money well so that whenever they want their deposits back, they can get it back. So credit bureaux play an important role in this. There is something called asymmetric information in the market. That means a borrower who comes to a bank to borrow money knows his or her repayment ability and also intention to pay the money back.
They know this much better than a bank knows. Therefore, credit bureaux help right the balance a little bit because a credit bureau is supposed to be receiving information from all kinds of lenders and borrowers, past and present on the amount of loans, and how those borrowers paid the money back. Now, if some borrower comes in, that the bank doesn't know, the borrower can authorise the lender to go to the credit bureau and obtain information on his or her past borrowings, and see how much they have borrowed and what kind of track record that they have.
This will help SMEs who typically don't have the same management skills and also the same quality of financial reporting. So now, a bank can go to the credit bureau, ask for information on Mr. XYZ and see how he has dealt in the past. With this information, a bank will be more willing to lend if the information is good. Another important thing which is a big issue in Nigeria, if somebody has demonstrated that he or she has borrowed and paid back well, a bank would most probably be willing to charge less (interest); because the risk will be seen as a better risk than others.
Possibility of lending without collateral
It all depends. Right now, collateral is required most often because the bank does not have the ability to find out how somebody paid off prior debt. The credit bureau will answer that question. But it is critical that all the banks be mandated to supply their borrower information because if they only include some of the banks and not all, the information is close to meaningless. A banker who wants to lend will be saying well I don't know what other banks' experience may be, who haven't given their borrower information.
SMEs account for between 30-60 per cent of Sub-Saharan African GDP and we predict that SMEs will be a key driver of sustainable economic growth in Africa over the next 10 years. We believe we can create huge value to this sector and have placed great emphasis on driving our unique SME Trade Corridor initiative, assisting African SMEs to do business with China. This is done through the provision of our award-winning financial services.
Traditionally, the SME sector is a risky area of business as they do not have the same management skills as big corporates and they do not have the same kind of financial reporting. These two elements make it difficult for banks to lend, especially without collateral. If all banks provide transparent data on loans to the credit bureau, the bureau will solve the problem of asymmetric information and this will help in banks looking at new transactions. Only the credit bureau can provide such information on past loans and that transparency will invariably help banks start lending to SMEs.
Lessons from the financial crisis for the Managing Directors of banks
I think in one of the questions you asked before, I touched on some of the points. And that was: deal in products, services and markets that you understand. Have a strong credit culture. But there are some other things that I would add. Looking at balance sheet management, it is important that a bank manages its liquidity and its capital very closely. To give you an example, Standard Chartered Bank has a target tier one capital ratio between 7 and 9 per cent. We, on purpose, increased our target to 111/2 per cent in 2009.
And to a large extent, because of what was happening in the global environment that brings about more risks and uncertainties. So, you need to manage your balance sheet conservatively. Another thing is that cost control is critical. This is because costs are something that the management of the bank has entirely within its own control. It is your cost. Revenue is something that is not in your control totally because you have got competitors out there, you have to sell your organization so that customers will want to borrow from you or buy a service from you. The final aspect has to do with identifying and minimizing operational compliance and control issues. Very often, if one is not on top of procedures, errors can be made and they can have a big impact on the bank and become potential losses. So, one has to be really on top of those kinds of issues.
Corporate Social Responsibility (CSR) of the bank
We want to be a good citizen in the communities we are operating. As such, we have a lead programme known as 'Seeing is believing'. This is a programme where we seek to provide cure or prevent curable blindness. We also have our 'Living with HIV' programme. We have Saint Kizito's Clinic and Hearts of Gold Hospice which we support as well as 'Nets for life. 'Through Seeing is believing', the bank's flagship community programme and only fund-raising initiative, worldwide, we have impacted 7.2 million people with treatment to cure or prevent blindness including 1.5 million cataract operations.
We have equally treated 3.8 million people for river blindness and vitamin A deficiency; and 600,000 refraction and other eye care treatments. In Nigeria, we have raised more than 500,000 US dollars for 'seeing is believing' in the last five years and funded the cataract operations of more than 9,000 people. Our 'Nets for Life' malaria prevention program, executed in conjunction with Exxon Mobil and the Coca Cola Africa Foundation has been very successful. We have provided Anambra, Benue, Edo, Plateau states and FCT with malaria education. Our HIV/Aids awareness partnership with the Lagos State Government has also been quite successful and over 250,000 people have benefited from this program.
Technological expansion plans to reach the unbanked population in Nigeria
Standard Chartered Bank has significant expansion plans in Nigeria. On one hand, we have expanded our branch network significantly. We have also invested heavily in technological information, because this is a critical part of customer service delivery. Technological products provide other means of bringing the bank closer to customers electronically. So far, we have delivered electronic statements, SMS banking, Internet banking for our corporate customers. We also have a cash management platform called 'Straight2bank.'
This has been a highly successful product and much appreciated by the corporate segment in Nigeria. Mobile banking that you mentioned is something that we offer in a number of other countries. In Nigeria, we intend to offer that. But there are some software compatibility issues that we first need to solve with the mobile phone companies to make that banking platform possible. Kenya, for instance, is one country in Africa where we offer that and it's a highly successful product.
We believe the future of banking in Africa is by increasing choice and increasing sophistication. We have invested heavily in our systems, in our products and services, and in our distribution channels. Over the past few years, we have focused on building our proposition in Remote and Proximate Banking channels; introducing internet banking and e-statements into a number of our markets. These new products will enable us to significantly enhance our service to our customers and provide them with the choice and products they require.
Restoring foreign credit lines: role of credit bureaux and AMC
There are a number of facts that you are seeking to clarify in the question on credit lines. What have been in the press in the past have been international credit lines from other banks that have been cut to Nigerian banks, because of the financial difficulties in Nigeria. The financial difficulties in Nigeria, were really indirectly affected by what is happening overseas. The problem in the country comes down to a number of banks which did not have sound management.
They were lax in managing the risks, had significant concentrations in certain sectors of the economy, such that when those sectors were hit, they were abnormally impacted. A good example of that is the margin lending or the lending to the oil import sector. Credit bureaux have a role in facilitating the flow of information within Nigeria and will help the granting of loans to individuals who may not have in-house capabilities. But credit bureaus do not help with the international credit situation that will be much more driven by the local banks becoming healthy again and the local banks increasing their capital because they have a lot of capital that was written off for loss as a result of bad loans. It is then critical that the proposed Asset Management Company (AMC) be constituted quickly so that it can buy the bad loans on the banks' portfolios. Once this is done, those banks would be looking at new business and not just trying to collect loan that have turned bad.
The credit bureau is one of a number of things that needs to happen in Nigeria. The Government also has a role to play in addition to the AMC, by putting in place government support to some of the sectors that are weaker. For instance, the Credit Guarantee Scheme that is put in place to help SMEs. While the global financial crisis has contributed to the country's credit freeze albeit indirectly, the recent banking reforms have also contributed to this. On many levels, the reforms have been successful. Troubled banks were identified, ring fenced and given liquidity support.
There is little doubt that this was Nigeria's most significant banking sector crisis to date. Unlike during previous crises, no bank has been allowed to fail, and no depositor funds have been lost. There is ample liquidity, but with banks not yet lending, the liquidity is not moving around. Urgent action, aimed at cleaning up banking sector balance sheets in order to allow banks to lend again, is now required.
Current position of foreign credit lines, cut to banks and businessmen
I am not in a position to comment on this because I do not know what other banks in Nigeria are receiving from banks internationally. All I can say is that for Standard Chartered Bank, that has not been an issue. Throughout the whole period, we have been lending and are open for business. From the regulators perspective, the regulators know that we are one bank they don't have to worry about.
Did the bank foresee the crash and played safe, not being quoted in the Nigerian stock market?
I wish we had a crystal ball which your question implies, where we can anticipate and know what the stock market will do or not do over time. There is no link between the Nigerian Stock Exchange performance and how much Standard Chartered owns in Standard Chartered Bank Nigeria. In Standard Chartered Bank Group, we like to manage the businesses we own in different countries: the more the percentage that we own, the more we can guarantee the performance of that organization.
Secondly, and this is the case for Nigeria; Standard Chartered Nigeria is a relatively new business. As a result, Standard Chartered Group took all the risk to invest in Nigeria. Therefore, once the bank starts producing and earning money, Standard Chartered really looks at maximizing its return on investment. We have been in business for 150 years and in some of the mature markets there are business reasons behind our getting quoted on the country's stock exchange. In the case of India, for brand awareness and business development, in 2010 we are opening up the ownership in our Indian business to Indian ownership through Indian depository receipts.
What about Nigerian ownership?
Right now we don't have a business reason and as I said, it is a new business here and the bank is still actively running the business, looking to maximize returns.
Where is the bank quoted?
Standard Chartered stock from the group is on the market in London and in Hong Kong. We have some subsidiaries that have their stock traded locally; Ghana and Kenya are two examples. Standard Chartered has invested in Nigeria and we are still reaping the benefit of that investment having taken the risk. But this is not to say that we would not consider opening up to Nigerian ownership when the time is right. Nigeria is a dynamic business. We are growing rapidly and we would want to essentially maximize our control. We have been in India for over 150 years and last year we generated over 1billion US dollars in profit.  We have a huge profile there and the bank recently decided to sell some equities into the local market. This is a classic example and like I said, when the time is right, we may go public in Nigeria.
Credit flow in the Nigerian economy
I think I have to come back to some of the points I have already made. One is that the banks have a significant amount of bad loans and are focusing on collecting those bad loans. This is where the AMC is critical. To create this entity that will buy those bad loans from the banks, so that the banks' management can then focus on lending. The lack of proper credit information is also a hindrance to borrowing.
How I relax
It's not always easy to manage work schedule, family responsibilities and recreation but when I have an opportunity I try to be home at night with my family, so that I can spend two or three hours with them. Then if I need to do extra work, I try to do it earlier in the day when the family is still sleeping or whatever. I enjoy golf and I do that with my wife when I can. I enjoy reading and when I am at home, I enjoy gardening and just tinkering, fixing things in the house. |
Best author
Well, right now, there is no author that I can say is my best. I am more interested in history; particularly the civil war in the United States: because about 10 years ago I lived in a country which was going through a civil war. That stirred my interest in what we in the United States went through over 150 years ago. So, as a subject matter that is the one I am particularly interested in.
Categorized/specialized banking
Our position on that is that we don't think the solution lies in a 'one size fits all' approach. We think that it is more of a capital issue for the type of business that a bank does. If a bank is engaged in a high risk activity, there should be a regulation that forces them to have a greater amount of capital than otherwise. To prevent banks from dealing in certain activities, by having this kind of licence or another, is something that we don't think should be as important as understanding the risk and having the right level of capital for that kind of business.
We do believe that capital is important and at times it is understated. So, that needs to be managed. Liquidity is another issue, because with all the banks that have difficulty, when confidence isn't there anymore, people take their money out. That is what has happened internationally as well as in Nigeria. It is not just the lack of capital, it's liquidity. So, those are the parameters that need to be managed in order to have what we feel is a safe banking environment.
We believe in competition and different strategies. Different banks have different strategies and there is no one right strategy. But with every strategy a particular bank chooses, they have to set up the right structures to manage the kind of risk that may arise there from. That is really the key thing.
Confidence level in the banking industry
Confidence is not like a switch that can be turned on and off. It takes time for confidence to be lost and it takes time for confidence to come back. So I think that the Central Bank has taken appropriate action. They have ring-fenced the banks that have difficulties. They have injected liquidity to help those banks. No depositor has complained about not being able to get money out of the troubled banks. So, it's all part of the beginning of a turnaround. The establishment of the AMC is the key to this process and this will in the long run restore confidence. The confidence itself will enable other things fall in place.