U.S. hits Syrian with more than 50 Tomahawks cruise missiles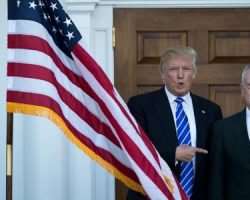 The United States launched more than 50 Tomahawk cruise missiles against the al-Shayrat military airfield near Homs, Syria, on Thursday night, in response to Tuesday's chemical attack that killed dozens of people in Idlib, including several children.
There is no word on any casualties, the targets included runways and aircraft, and this appears to be a one-off strike, NBC News reports. Trump was briefed on his military options by Defense Secretary James Mattis before he had dinner Thursday night with visiting Chinese President Xi Jinping in Florida.
The U.S. has blamed Syrian President Bashar al-Assad's regime for Tuesday's attack, and believes the al-Shayrat airfield is where the planes used to drop the chemicals took off from; the Syrian government denies responsibility. On Wednesday, Trump said the chemical attack "crossed a lot of lines for me" and his "attitude toward Syria and Assad has changed very much." Catherine Garcia, The week