Osun 2018 - Stop Adopting APC And PDP Candidates, Build Your Own Party HDP Tells Osun Political Parties
...Unveils 5 Plan Revolution Blueprint for a New Osun State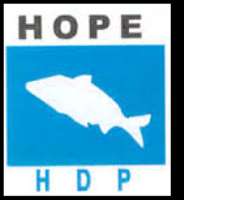 The Osun State Chairman of the Hope Democratic Party, Mr. Wole Adedoyin through a press release sent out today has urged his fellow party Chairmen in Osun State to stop adopting and working for PDP and APC Candidates.
According to Mr. Wole Adedoyin, Both Parties have failed us. Innocent Osun state citizens are suffering and living in Poverty. Individual parties were registered with different vision and mission likewise party ideologies and philosophy. Samething during electioneering campaigns when candidates started showcasing their manifestoes and plans. There are parties and there are parties. Osun State election is one year away, parties should be preparing themselves by now not to be beggers or stooges for either APC or PDP.
Adedoyin further unveiled his party's 5 PLAN REVOLUTION BLUEPRINT for a new osun state, which are (1) Agricultural and Industrial Revolution (2) Health and Educational Revolution (3) Economic and Political Revolution
(4) Infrastructuraland Leadership Revolution (5) Cultural and Security Revolution.
HDP developed this five plan Revolution Blue Print for its envisioned new Osun State. The execution of this well-articulated welfarist programme is expected to reverse in positive light the current or prevalent overtly negatively adopted capitalist tendencies that has over time bred corruption in Osun State and which also has over time grown into a cankerworm permeating all spheres of the life of our people in the state thereby stalling any sustainable developmental projects such as funds for world class infrastructuraldevelopment, good roads, Steady jobs and general well fair of the Osun State citizenry are channeled to private accounts breeding social injustice in the land, mass poverty and disparities between the poor and the rich and which in turn breeds social misfit and ready hands for crime, terrorist, recruitment leading to insecurity in the land.