Fire: No document burnt in Ebonyi govt House, Accts Dept – Official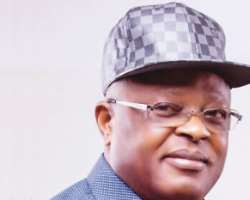 The Ebonyi State Government on Saturday denied media reports that its Accounts Department was gutted by fire.
It  added, in a statement by Emma Anya, the Chief Press Secretary to Governor David  Umahi, that no shred of paper or document was  torched  by   the  'minor fire that was caused by electric surge.'
'The reports that  the Account Department of the Government House was gutted by fire are pure falsehood. There was electric surge in the office of the Chief of Staff that resulted in the partial burning of a chair and some curtains there,' the statement   read in part.
It went on to add that  'No shred of paper nor document  was  burnt in the office of the Chief of Staff.  The  minor fire outbreak did not spread to the Accounts Department  and therefore no document was torched there.'
The statement explained  that 'a cleaner had  after  cleaning  the office  of the COS   turned on the Air conditioner  and left to join her colleagues in the routine Government House joint morning devotion. But when   the workers in the office of the COS returned, they  found out that electric surge from the Air conditioner had burnt some curtains and a chair.
'The fire was however quickly contained  by the workers   who deployed  water mixed with detergents. This was before the arrival of fire fighters. '