Ndume played nicely into Saraki's hands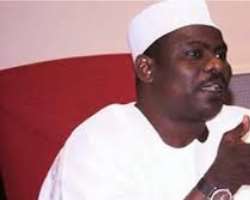 Ali Ndume has been suspended from the Senate for six months. He played right into the hands of his 'enemies'.
The Nigerian Senate has just suspended Senator Ali Ndume (APC, Borno South).
It happened so fast, we are still dizzy from it all.
During plenary on Wednesday, March 29, 2017, Senate President Bukola Saraki made way for his Deputy, Ike Ekweremadu, to carry on with proceedings.
It was a sign that drama was brewing anew.
This class of lawmakers are drama kings and queens.
Ali Ndume during plenary (Y Naija)
The Senate committee on ethics, privileges and public petitions had cleared Senator Dino Melaye of charges bordering on not graduating from University.
The committee also said Saraki is innocent of charges bordering on persecuting the Comptroller General of Customs, Hameed Ali, because Customs had seized a bullet proof SUV that was on its way to being delivered to the national assembly.
It has to be said that both accusations first appeared on Sahara Reporters.
But it was Ndume who added weight to the allegations by raising them on the floor of parliament.
In Senate books, that's a cardinal offence.
You dare not raise allegations against the leadership of the Senate or allegations against a friend of the Senate President.
The ethics committee usually moves at snail speed, but it was swift this time.
According to the Senate's Twitter handle which often relays memorable moments and voices during plenary; "Dino Melaye graduated from Ahmadu Bello University and passed his courses.
"The Vice Chancellor of the Ahmadu Bello University also says Melaye was admitted and graduated in the year 2000. He presented his results and served. He changed his name from Daniel to Dino Melaye and the VC ABU confirmed it".
On the allegations linking Saraki to a seized SUV, the Senate said: "The (car) dealer said he was not consulted by Saraki or the Nigerian Senate to import the car.
Day Melaye showed up in his academic gown (Twitter)

"The car had been cooked up and the allegation on Bukola Saraki is cooked up".
And then, Ndume's sins were spelt out for all to hear: "Ali Ndume being a former Senate Leader failed to conduct proper investigation before his allegations".
The ethics committee thereafter suspended Ndume.
"When we see anything against another Senator, we must bring it to the floor of the Senate before making hurtful statements", blurted Senator Barau Jibrin from Kano State.
"Ndume relied on what was carried in the papers. Senate should ask him to apologise to Saraki", Senator Yusuf Abubakar demanded.
Ndume was first suspended for 181 legislative days before Senator Mathew Uroghide pleaded that the length of punishment be reduced to 6 months.
Majority of the Senators approved of the leniency.
"Lessons have been learnt from this", lectured Ekweremadu,"and going forward we should investigate matters first before drawing conclusions", he added.
The only lesson Nigerians have learnt today is one that says you don't go after the Senate President or any of his cronies.
You get punished.
Ndume didn't commit the rule to memory.

Saraki and Melaye are buddies (Punch)
As a member of the 'hallowed' chamber, he should have known what was coming.
He's long been marked for a take-down.
In January, Ndume had stepped on Saraki's toes and those of his other powerful colleagues, when he publicly disagreed with the rejection of Ibrahim Magu as President Buhari's substantive nominee for the position of EFCC Chairman.
Ndume said the Senate had not rejected Magu but had only suspended deliberations on the fate of the anti-graft czar, pending security clearance.
Days later, Ndume was axed.
He couldn't understand it.

Senator Ali Ndume (Linda Ikeji)
"What I said was that for us (Senate) to claim to have rejected a nominee sent to us by the President, we have to follow the right procedure, and observe our rules," the Senator said at the time.
"The nominee should have been called into the chamber and presented before senators who will then openly vote on whether to accept or reject his or her nomination.
"In the case of Magu, that was not done. We only had a closed-door session and when we emerged, the Senate spokesperson claimed that he had been rejected. I had to set the record straight by saying we never rejected the nominee. This is because you don't accept or reject a nominee at a closed session.
"Our votes and proceedings are there as evidence of my claims.
Melaye and Saraki (File)
"I was surprised that such a simple and harmless clarification could rattle and anger some of my colleagues.
"The other day, somebody mentioned to me that the Senate President had commissioned Dino Melaye to collect signatures to remove me. I didn't pay much attention to the information because I actually thought it was a joke or a rumour.
"I didn't feel that disagreeing with colleagues, and sharing my understanding of what transpired at our closed session was an offence, grievous enough to cause my removal".
That was two months ago.
Ndume was naive then and is still naive now.
Ndume's cup got filled up and brimmed over in March.
They have been plotting and waiting patiently for him to slip before hanging him on the stakes to dry.
Senate in session (Daily Post)
He should have known.
When he defended Magu again earlier this month and raised those allegations against Saraki and Melaye, Ndume opened up his defenses for the Senate cabal to take aim.
And they duly obliged.
He had played into the hands of his traducers rather nicely.
He fell on his own sword, literally.
This is not punishment for demanding clarifications on the corrupt allegations levelled against his colleagues in March.
This was payback time for 'offences' that have been piling up since the turn of the year.
And today, Saraki and his boys have got back their pound of flesh from Ndume.