CLINTON WANTS FOREIGN FIRMS TO HAVE MORE CHINA ACCESS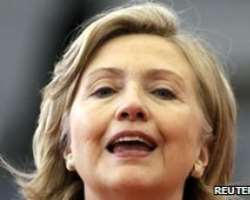 China needs to adopt a domestic "level playing field" for Chinese and foreign companies, US Secretary of State Hillary Clinton has said.
Reiterating long-held US concerns about Chinese protectionism, she said international firms should be able to compete "freely and openly" in China.
Ms Clinton was speaking in China ahead of two days of talks with China's leaders that start on Monday.
A recent US report said China had erected new hurdles for foreign firms.
Ms Clinton will be joined in the talks by US Treasury Secretary Timothy Geithner.
The two sides will discuss both trade and security issues.
The US and China have long been in dispute over a number of trade issues.
In addition to accusations of Chinese protectionism, the US says China unfairly keeps its currency, the yuan, undervalued to make Chinese products artificially cheap in foreign markets.
The US instead wants to see China allow the yuan to trade more freely on foreign exchange markets.
China has pledged to allow the yuan to trade more freely in the future, but says it will not be rushed for fear of harming an economy that remains predominantly export-based despite a big rise in consumer spending in recent years.