Kanye West 'would love more Kids' but 'he'll support whatever' Kim Kardashian decides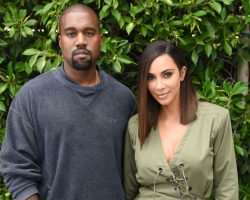 Kanye West  and  Kim Kardashian West are open to welcoming a new addition to their family — but both understand the dangers the reality star could face due to her previously difficult pregnancies .
"Kim had definitely said in the past that she would never have another kid. She didn't want to go through the pregnancy experience again, and that coupled with the high-risk factor made it a clear cut choice in her mind," a source close to the Kardashian family tells PEOPLE.
"That said, Kanye would love to have three or four kids. He would love more kids if it was up to him. But at the end of the day, it's her decision and he'll support whatever she decides," the source adds.
AKM-GSI
The mother of two revealed that she and West, 39, are open to conceiving again in a recent promo for Keeping Up with the Kardashians . "I want my kids to have siblings, but the doctors don't feel like it's safe for me," she said in the clip, which dropped Sunday evening.
Kardashian West, 36, previously shared that her health would be at risk if she were to get pregnant again after she underwent multiple IVF treatments and feared placenta accreta would force her to have a hysterectomy  during her pregnancies with daughter  North , 3, and son  Saint , 1.
Another option for the Wests could be surrogacy , which Kardashian West previously discussed  with her sister Kourtney Kardashian . "Obviously, I do want to have my own baby, you know, but I feel like I truly don't know if my body can handle it one more time," she shared in a November 2016 episode.
A separate source told PEOPLE this is  not the first time Kardashian West has gotten baby fever. "Whenever things are going great with Kanye, Kim talks about having another baby," the source said of the couple, who seem to have  gotten back to a good place  after a few months of marital strain .