Buhari, Osinbajo exemplify teamwork – Tinubu?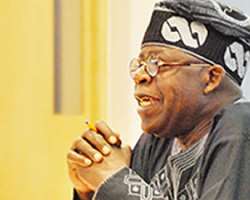 A national leader of the All Progressives Congress (APC), Sen. Bola Tinubu, says the duo of President Muhammadu Buhari and Vice President Yemi Osinbajo have shown themselves as selfless leaders, exemplifying teamwork and unity of purpose.
He spoke in Lagos at the 9th Bola Tinubu Colloquium` organised by his friends and well-wishers, to celebrate his 65th birthday coming up on March 29.
The colloquium had the theme, 'Use What We Make, Make What You Use'.
Tinubu applauded Buhari for briefly transferring power to Osinbajo during his medical vacation in London.
He said the president, by so doing, had acted in line with the constitution and demonstrated true leadership.
The APC chieftain noted that Buhari`s vacation did not affect the running of government as the Vice-President did very well while holding forth for the president.
'I want to applaud President Muhammadu Buhari for meticulously following the constitution in temporarily transferring power to his deputy, Professor Yemi Osinbajo.
'As such, these two excellent men exemplified teamwork and the true meaning of unity of purpose.
'Buhari set the pace by giving strategic direction to the VP and Osinbajo performed excellently well while the president was away by putting action into what the president told him to do,' he said.
Tinubu said the good working relationship between Buhari and his deputy, despite their different backgrounds, was a lesson in exemplary leadership.
Speaking on the theme of the colloquium `Use What We Make, Make What You Use`, Tinubu urged the Federal Government to create a national industrial policy with national infrastructural plan to reform the nation`s economy.
He said that such reforms would promote economic prosperity capable of creating jobs and manufacture of goods for domestic consumption and export.
'There is widespread poverty, gross inequity, and high unemployment. I don't see why this nation should continue to be poor with all its human capital and resources.
'Our challenges as a nation are manifold, but so are our capabilities, talent and resources, therefore we need to revolve the political economy in a manner that will put our huge population into productive use.
'If we do nothing to reform our economy, we are doomed as a nation.
'I know this administration has begun the process of salvaging the economy through reforms, but we need to create that enabling environment and make credit facilities accessible for creative individuals.
'Not only must we use what we make and make what we use, we must make what the world values,'' he said.
Tinubu said it was gratifying to mark his 65th birthday with the colloquium, but the event was not about him.
'It is about that which a people united in purpose must do to improve their beloved country.
'We must cast aside prejudice of yesterday; we do not have any choice but to achieve our destiny as a nation,'' he said.
Tinubu thanked Prof. Yemi Osinbajo and all friends that put together the annual event.
'Leading a group of fellow commissioners who worked together during my time as governor of Lagos, Yemi and this creative group have turned this event into an annual reality.
'Each year, they assemble creative minds to address the issues that stand in the way of our national greatness. As result, the colloquium gets better by the year,'' he said.
12 Governors, ex-governors and Minister were present at the event.
There were presentations by small scale business owners of Made-in-Nigeria products on their successes and challenges. – NAN.