OGBULAFOR'S ARRAIGNMENT NOT GOOD FOR PDP – OKWUAKA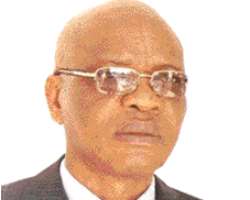 Okwuaka
Prince Obinna Okwuaka, a chieftain of the Peoples Democratic Party (PDP) contested the 2007 Orlu Senatorial seat in Imo State. He is one man whose voice rings a bell among politicians not only in the south East geo-political zone but Nigeria as a whole.
In this interview, the former Imo Commissioner for Finance bares his mind as usual on various national issues including the ambition of President Goodluck Jonathan to contest the 2011 election, the politics of zoning in PDP and the recent changes in the management of the Independent National Electoral Commission (INEC).
Excerpts…
As a chieftain of the PDP, how do you feel about the resignation of your Chairman, Vincent Ogbulafor over allegations of corruption?
His resignation is unfortunate. What is very glaring in this issue is that he was arraigned in court on charges of corruption. This is not very good for a big party like PDP where a lot of its members are calling for internal reforms and waiting to go into elections next year with other political parties.
Much as any person can insinuate ulterior motive, I do not subscribe to the fact that he was asked to resign based on the alleged presidential ambition. l will rather say that that was deemed necessary to set or define a new moral tone for the present administration with a view to achieving credibility.
What is your view on the controversy over the issue of zoning in the Peoples Democratic Party (PDP)?
I hope l am truly competent to talk on this issue. There are various versions of newspaper reports on it. Whether there is written agreement or no written agreement, the time has come for Nigerians to reap the fruit of democracy. We need to straighten the institution of democracy by enthroning merit and not mediocrity. I want to believe that this is one of the issues that have taken the front burner in the party's discourse and say that zoning is an anathema to genuine democracy. It breeds mediocrity. In an ideal democracy, you do not talk about it. Democracy is all about competition and asks for better alternative. You can see that when you zone, you sacrifice merit. Honestly, PDP, as big as the party is, has an internal mechanism to address this issue.
From your vantage position, do you think President Goodluck Jonathan should run in the next election?
Would you subscribe to his contesting in 2011?
The truth is that Jonathan's intimidating academic background and sound political experience make him the candidate to beat if he decides to run. I already see him garnering a lot of support and popularity the way he is going ahead of the election. The point has been made clear that Jonathan by every right and as a decent Nigerian has all it takes to run the next election. I want to believe that if the institution of democracy is strengthened and we are also said to be practicing democracy, there should be no need to exclude anybody from running in an election.
Based on all these factors, l see his people in particular compelling him to run believing that this is an ample opportunity for them to do so. Remember that South-South people have always agitated for the presidency of this country to the extent they embraced armed struggle and sounded tantrums of national disintegration. Believe me, there are people who will join them believing that his presidency will bring economic boom and curb armed struggle, kidnappings among others.
What is your take on the removal of Iwu as the INEC Chairman?
I do not want to talk about that now. Suffice it to say that no chief electoral umpire has made it to a second term in office. That is very unfortunate. Prof Iwu should thank his God that his tenure has come to an end or coming to an end and should be happy that he achieved a lot within the circumstances he found himself whether it is appreciated or not.
The successful conduct of various bye and re-run elections, especially in Akoko Edo, Anambra State Governorship election and the recent FCT Area Council elections proved that INEC was ready to improve on its 2007 performance. l am particularly impressed by various internal reform measures introduced by the Commission. The Commission has stopped the recruitment of ad-hoc staff during elections. Members of National Youth Service Corps with known identities should now take their place. INEC achieved a feat in Voter Registration, Voter Education with a clear department and Electoral Institute in charge. There is now a measure to ensure transparency in elections, procurement and distribution of election materials, collaboration with security agencies among others.
With the change of leadership in the Independent National Electoral Commission (INEC) and electoral reform yet to be done, don't you think that the challenges which bedeviled the 2003 election could also characterize the 2011 poll?
I cannot say there are no fears but I think we have a capable team in the Presidency. We have a team of knowledgeable and experienced Presidential advisers. And the President himself is quite serious and has made a lot of promises. But just like you rightly asked, we still have a long way to go. I want to commend Mr President for sorting out the problem we have in INEC. That problem of who to succeed Prof Maurice Iwu would have rubbished whatever measures we would have put in place to conduct a credible election in 2011. Since Iwu proceeded on leave, it appeared that there was no leadership in INEC. That was capable of bequeathing crisis to the system.