HOW PDP ADOPTED ZONING – OGBEH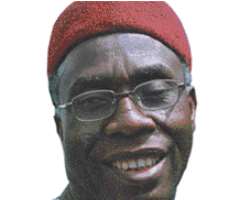 Ogbeh
Former National Chairman of the Peoples Democratic Party (PDP) has confirmed that he indeed presided over a meeting in 2002 where it was decided that the South should have eight years after which power would be rotated to the North. He believes that jettisoning it at this point in time would certainly create serious problems in the future.
In an exclusive interview with Sunday Sun at his residence in Abuja, Ogbeh who at first was reluctant in granting the interview bared his mind on various national issues including when and how the zoning idea was first mooted in 1995, his relationship with Obasanjo, Atiku's return to the PDP and his dream for Nigeria. Excerpts…
You appear withdrawn from political activities in recent times, what is responsible for this development?
It is a bit of disillusionment with politics generally. The many failures of political system in Nigeria, those things are keeping me away obviously.
Can you share some of these failures with us?
We have never as a political group engaged in any robust debate on the issues which concern our country. The political class has never engaged in a debate on education, on housing, on agriculture, security and even the general well being of our people. All you hear is who wants to be governor, who wants to be President, Senator, Council Chairman and then the chaos that follow and then wrangling. That is not why the people elect us as leaders. And there is no sign this trend is going to change.
Are you sure you're not saying this because you have lost out?
No, it is not about loosing out. I have played my part. I came into politics at the age of 30, I'm 62 now, I have covered some distance, it is not about loosing out. I can always get in if I want to, but I am just telling you that somewhere along the line, we have not been able to get those issues on the front burners.
Do you really feel you're still relevant politically in this country?
It is a matter of choice really. I do not see politics as the only business to do in life. However, I have reasons to feel that it is not delivering the goods; I have a choice to do something else. I was not anointed a politician from birth. I am a farmer really, and I like what I do. I go home and I see two to three hundred women working on my plantation earning a living and praying for me, it gives me far better satisfaction than contesting elections.
What is your immediate reaction to the position by former President Olusegun Obasanjo that there was no agreement that the north was going to produce the President in 2011?
First of all, let me place it on record that I am no longer in the PDP, I am in the AC. I was a bit surprised to hear that, and I thought it was either a problem of loss of memory or something else which I would not like to name. Because in October 2002, it was either in October or early November, we had what we always organize in the PDP quite often then.
We call it the Expanded Caucus of the PDP. It included all our governors, all the party leaders in the legislature, Speaker, Senate President, his deputy and many other leaders like Anenih, Adamu Ciroma, and others, including Solomon Lar. All of us met in the Villa, and each time the Expanded Caucus met, I chaired it as Chairman. And in this particular meeting too, I chaired it, to my right sat Obasanjo and to my left sat former Vice President, Atiku Abubakar, and in front of us sat the rest.
And then the issue came up because by that time, Atiku was also angling for the job as well, and he has some following. So, we tabled this matter, the debate was how do we deal with this issue of the President. After about an hour or more of arguments, we decided that it would be eight years north, eight years south. And when we finished, I said let's put it to vote, there are some members who said there was no need to vote, since it was an overwhelming majority's decision. But I said no, we must vote and we voted. In the end, it was 47 votes in favour and two votes against. I always like to do this voting business to keep some record. Vincent Ogbulafor was the party Secretary then and he was present at that meeting; that is why he said recently that the zoning arrangement still remains in the north.
There was a vote, and there was a decision and President Obasanjo was there, sitting by my right that night.
With benefit of hindsight, can you tell us how this zoning thing was introduced into our politics?
Now let me go back a bit to this business of zoning and how it came about.
After the June 12 fiasco and the annulment and all the trauma it generated, Obasanjo left office (in 1979), Shonekan came in, briefly and then Abacha came in. And when Abacha came in, I was sitting in my house one day in Lagos when I heard my name as one of the 19 men to organize the National Constitution Conference. For almost one week, I refused to come to Abuja, until I was advised against it. I came to Abuja, began drawing up the agenda together with people like Shehu Malami, Alhaji Sule Hamman, Dr. Joseph Wayas, General IBM Haruna (rtd), current ACF Chairman, and many of them were all there.
We drew up the agenda, and the conference began in 1995. As soon as the conference started, the issue of the presidency came up. And the debate began among many northerners, saying that the next time around, it might be fair to allow the south a chance at the presidency. It was not an easy topic. Because many northerners felt that no, we should not give up the presidency because the south controls economic power, how can we give them the two?
And some of us said to them that it was not as if the south took the economic power from you, they built it. So you can as well build your own. But then, we cannot hang on to political power, endlessly. If we continue to do so, one day the south will revolt and there will be no Nigeria to govern. We were meeting sometimes in late Shehu Yar'Adua's house, and sometimes in Dr. Saraki's house, sometimes in the house of the former IGP, Adewusi. We moved around, talking about this issue, I am talking about 1995 and 1996. The conference finally ended in 1996 and so people left. In 1998, Abacha died, and Abdulsalami came in, as he was about to leave, the debate continued. And finally, northerners decided that in the 1999 election; let no northerner contest for the Presidency.
People don't remember that it was the only election in the history of Nigeria, where no northerner was a candidate in the election. And it came about by agreement, not by any luck or strength. So, the candidate that came out were all from the south. They include Dr. Alex Ekwueme, chief Obasanjo and Olu Falae. Umaru Shinkafi even became running mate to Falae. No northerner was a candidate in 1999.
The idea was to clear the way for other members of the big family to participate, because issues of kingship and chieftaincy are very sensitive in Africa. If they tell you your ethnic group cannot be chief or king in a place, you're being reduced to a slave. So that is how it began. And then Obasanjo emerged at the primary in Jos. Abubakar Rimi wanted to contest by all means, party members persuaded him not take part, and he stopped.
But Rimi and Gemade contested in 2003.
Yes, I was coming to that. Now in 2003, when the issue came up again, some people argued that the discussion with Obasanjo earlier was that he should spend four years and leave. Again, others said there was no agreement to that effect, nothing was written down. Some of us then said okay, let's allow the South -West its full eight years term, so that there will be peace. Let not the north be accused of greed, of wanting to control political power, because over the years, the south had started complaining bitterly that the north manipulated and controlled power.
When I became chairman and the issue of Obasanjo's impeachment came up, I pleaded with Na'Abba and the group in the House. I told them yes, you can push your issue but you can't impeach him, if you do, the south may not take it lightly. Even though the argument then was he was not popular in his zone, and I said 'don't tell me that story,' the day you kill a mad man, you realize he has relatives too. So don't touch him. Because there are people in the South west who did not participate in the Abiola election, somebody like the late Bola Ige, who said he was doing 'sidon look', he became a chieftain of NADECO, which championed the June 12 struggle. It became an issue, of 'hey, you're telling my ethnic group we don't exist. So, this zoning issue is not as trivial as people make it.
Even when governors came here (to my house) 15 of them in the middle of the night, saying they don't want Obasanjo as candidate in 2003, I pleaded with them, just like I pleaded with Na'Abba to soft-pedal on the impeachment issue, so Obasanjo made his second coming.
Now, in between, Barnabas Gemade, former chairman and Rimi, insisted on contesting. I said to them to withdraw, they said no, that they had the right. Most of them were acting out of frustration with Obasanjo at the time. I said well, I have no powers as party chairman to force you out of the race, if I did, they will go to court and the court will say I have no authority.
So, I said fine, I'm not going to waste money to go and hire SAN to go to court and argue, knowing very well that at the end of the day, the court will say the party has no right to stop anyone from contesting. So, they participated. People now quote that, and say after all, they (northerners) participated. But you see the entire party knew where we were heading. When we got to the convention ground, there were four people: Abubakar Rimi, Gemade, Olusegun Obasanjo and Ekwueme. Between Rimi and Gemade, they got 240 votes roughly. The rest of the votes of almost 4000, were shared between
Obasanjo and Ekwueme, which further proves the point that the party knew what it wanted.
Obasanjo came, and continued his administration. Now in 2007 when he was leaving, as he admitted publicly recently, he was shopping for a successor, it became a personal issue. The PDP became his personal organization, Nigeria became his private estate, and he was now shopping for his successor, after the failure of the third term. He zeroed in on someone whom he knew and all the PDP members knew had a serious health challenge. And he insisted and forced everybody out of the race, and gave the office to Umaru Yar'Adua, and this is where we are. Unfortunately, the ill health has not allowed Yar'Adua to do the job successfully. That has created a new dimension to the business of zoning.
Zoning is good, since it allows the power base to move around a bit but it has its own demerits. It is not really democratic and it doesn't allow you to pick the best, especially, when an argument seems to be developing in some quarters that when it is our turn, what we do with it is not your business. Now that is absolutely unacceptable, because even though it is zoned to a particular area, the performance or non-performance of the individual, affect your life and mine, whether I am from that zone or not. It could slow Nigeria down, compromise governance, create doubt in the ability of the State, and create economic hardship for the people, just because the individual chosen did not do his work properly.
Two, it does not necessarily prove that because I am from that zone, I earn any additional benefit because the man is from that zone. Really, it doesn't. And how many can argue that because the President is a northerner, as northerners we are living better than the average Southerner, it is not true. So, if zoning must strive, the zone which is their turn must strive to bring their best, not sit and allow somebody else to do their choice for them.
You seem to be blaming Obasanjo, but why blame him now, when no one raised eyebrow when he was deciding for the north in 2007?
When I wrote my letter saying some of the issues going on are not good for the country, I was declared a renegade, and the party members rose up against me in large numbers, saying who is he to write such a letter to our President. I was told. 'Is he the only one there? I say but I can see the danger. The problem is, and I am sorry to say it, 98 percent of the persons in politics today are not men any more.
I am talking of men with courage, because often time, these days women are even more courageous, they can stand up to you, dress you down even if they go and weep later and apologize, they can. Most of the men are too weak, too fiddle to even stand up and say this is not right, and as a result, nobody has the guts to say I can do this or this is not acceptable, we are gone.
Talking about guts, knowing Obasanjo for who he is, supposing he succeeds in foisting another Southerner on Nigerians, what happens?
I am not in PDP anymore.
But you are a Nigerian, the decision will also affect you, don't you think so?
What that will create is a serious problem in future, it will, I can assure you. Because if it means when we have it, we keep it, it can't move, then a suggestion is being made to the northerners that 'you're bunch of fools, for agreeing to do it in the first place.' If the northerners had insisted, Obasanjo will not be President in 1999. They brought him, the Yoruba said clearly 'we don't want him,' that is true, the northerners, south-south and south-easterners got together and elected him. And talking about his selection, he was even in prison when the whole arrangement began, that is the truth, he knows it, everybody knows.
So to that extent, my suggestion to the PDP is this, go back to the methods we were using before, call your Expanded Caucus or your stakeholders' conference, shut the door and sit down and discuss this issue. There are too many instances of volcanic eruption of what I call very toxic ideas coming out from different sources, a cacophony of voices coming out of the same party, as if there is no leadership.
Sit down and discuss it, are you changing zoning, convince one another on it if you want to, if you are not changing it, then take a position and stand by it. One of your members cannot say one thing today, and another one says different thing the next day, you are upsetting the polity. You are over-heating the system. And in the final analysis, whoever you bring should be the choice of the party, not the choice of one person. But let such a person have the capacity to govern Nigeria, Nigerians want to be governed well by persons who can address their fundamental problems: food, housing, security, education and health.
Most people have argued that the Obasanjo that ruled Nigeria from 1999 – 2007 was not the same Obasanjo that was a military Head of State in 1976. What is your take on this position?
I don't know much about that but we were friends. May be, because we share the passion for agriculture, and I used to be a member of the farm house dialogue in Otta. The Obasanjo I knew then was a man with a great deal of passion for Nigeria, at least he exhibited it in his speeches and concerns and somebody who also felt very strongly on African issues. Beyond these, I also see him as somebody who has a great deal of capacity for work; strong energy for work. I don't think in our life time, we would see anybody with that kind of capacity and energy. He would play his squash 3 a.m, come back, pick up a file and still work. But the tragedy was, after all that, he diverted to a great deal of mystery and vengeance.
So, all what he does now have some vengeance in them?
That propensity has always been there according to people that really know him. They say he's always been pursuing enemies without relenting. My own dream for him was to leave that office and become Mandela the second. A great patriot and a person who forgives, who with Mandela would literally own the continent and resolve issues and be a great father figure because there are only two of them of that age, may be Kenneth Kaunda. If Mandela was seeking vengeance, all the whites in South Africa would be in the ocean by now. My advice to some of our leaders who have left office is to practise some silence, so Nigeria can develop leadership figures. So, don't talk too much because by your speeches, you are denying many Nigerians decent sleep in the face of the hardship they are facing.
Recently, it was speculated that the Presidency wanted to give Vincent Ogbulafor the kind of treatment meted to you by the PDP. What is your take on that?
It is up to them. I was not given an opportunity to resign. The President then said he could no longer work with me and I said, give me thirty minutes and I will hand in my resignation. I have no intention hanging on to a job, when the man I am supposed to work with, said 'we can't work together,' because my job meant seeing him twice or thrice in a day. We were clearly divided on many issues.
One quiet issue then was the third term. I can't be the chairman and sponsor the third term. But in Ogbulafor's own case, there are some crises and they were saying resign or something, it was up to him. I don't really have much advice to give him because I don't know much and I am no longer in the PDP.
But you all left as a group.
I left before him. When I left, he was still Vice President.
But then it was clear that he was…
(Cuts in) He was fighting his court battles then and it was at the end he saw that he wouldn't be able to stay.
Talking about your party, the AC, everyday the rank and file of the opposition is being depleted, especially now that everybody is going back to PDP. In your own opinion, when are we going to have a robust opposition?
It might be quite some distance, but there is a construction going on. People are leaving but will definitely come back. There is storm now in many parties even the PDP.
We are running an economy where government is the only real business where if you want to survive, you hang on with the government and look for contracts. If you stay out, you run the risk of getting nothing. So people are realistic about it. Most people would prefer to flow along with the river instead of flowing against the current.
These economies by the grace of God would not remain locked forever, it would open up and people will be free to do their own thing and think freely without having recourse to the government everyday of the week apart from fulfilling the regulations and paying their taxes. We have a country where the private sector is almost not in existence, you know why? Your interest rate is still at 29 per cent, your deposit rate at 2 per cent, you can't generate electricity on your own and make any profit and compete with a manufacturer in China or Ghana.
A day would come when these economies would open up when everybody would have job, a house or take mortgage, crime rate would drop, food would be available, electricity is table. We have no reason as a nation to be in these troubles, what has God not done for us? Resources, human beings, climate, instead we import everything because local manufacturing is not possible, we import rubber band, pencil and matches all the way from China.
What is your take on the move by the retired Generals from the north to return to power at a time when the South-south is expecting Goodluck to run?
I will make a general comment, first of all, every Nigerian is free to aspire, but Nigerians will finally decide who they really want. Within the PDP, I can foresee a tough primary, if the PDP are unable to settle a lot of issues which are bothering them now, the primaries will certainly not to be a very smooth affair. That in itself has the capacity to shape the democratic process substantially since the PDP is still the biggest and the strongest party on ground. Beyond that, I don't want to make any comment about any individual candidate.
Having said that, Jonathan has appeared on the scene by force of circumstance and in many ways, by divine providence, he is performing. At least, giving Nigerians a feeling that government is in place and certain decisions are being taken with INEC, election rigging which he is vehemently opposed to, an attempt by an individual to instill morality into governance. Because democracy strives very well or very poorly depending on the adherence of the practitioners to moral and ethical principles, that is why in Western Europe, they screen their leaders almost to their bedrooms. Here, they would tell you, it doesn't matter. A man will have more than 20 children all over town and say it's not an issue.