LADOJA LACKS MORAL RIGHT TO FAULT OYO PDP EXCO – ADETORO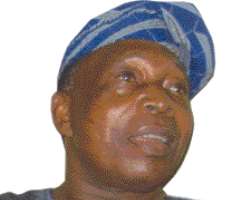 Adetoro
Let's know a bit about your background
I was the leader of Ladoja's faction of the PDP when there was a parallel congress. I was the chairman of the Hospital Management Board for some time. At the time of Ladoja's impeachment; I was the one that held the seven honorable members from Oke-Ogun to the extent that they did not take part in the impeachment.
How come there was a disagreement over the legality of the Oyo PDP Exco?
We in Ladoja group were not part of the PDP when the Exco was being constituted. We went into several parties like the ACD, AC, LP, and ANPP. It was while we were going about that the congress was held. We have no right to claim that the congress was illegal because we were not in PDP then.
Ladoja was not in the party then. We were not part of the party then; I was outside the party until recently when we came back to the PDP.
All the talks of dividing the Exco and Ladoja taking a percentage is wrong because Ladoja was not part of the party when they were doing the congress. That claim is very wrong, and I have told them that the most important thing is for us to be part of the party first before we start asking for things.
What will you say about those saying the Exco should be dissolved?
I cannot say the Exco is illegal because I was not in the party when they were doing the congress. If they say the Exco is illegal, on what basis are they saying that? Some people went to court and I heard the court gave them an injunction, but we later found out that the injunction was never given. They boycotted the congress and now they are saying the congress is illegal. When you boycott you lose you right to complain.
Do you think the PDP cannot suffer in 2011 polls in view of this crisis?
I really don't see how the party can be affected in 2011 because in 2007, the party faced an election and won without the Ladoja group and leaders of some of these groups. We in the Ladoja group used LP and ANPP to contest and it was in my constituency that we won the only LP seat in the House of Assembly.
I along with Mrs Jaiyeoba, and Chief Adigun have since returned to the fold of the PDP but no one from the PDP has joined another party. The implication of that is the party is getting stronger by the day and it will win the 2011 polls hands down.