I TRAINED MY CHILDREN AS IF THEY LIVE IN ILE-IFE – BOB DEE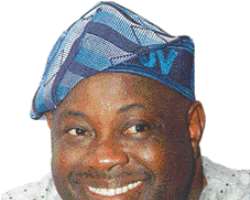 Dele Momodu
He may be living on two continents, four different cities or spending his time flying from one end of the globe to another because of the demands of his job, but no matter how far he travels or how long he is away from his four young men, Dele Momodu is always with them - thanks to technology.
Momodu, publisher of Ovation magazine, may not be your regular stick-around-dad but the man is very grateful for new digital communication technologies, which now enable him stay in touch with his four young men no matter where he finds himself on the surface of the globe. And like his dad, who he lost early in life used to tell him to remember whose son he is, Momodu has stridently told his children to work hard to achieve success in life.
He has never kept his children in the dark about how he struggled to succeed, but more importantly he has trained his children to know that frugality is a worthy virtue that pays lifetime dividends. In this chat with Sunday Sun he parts the curtain a bit on his peculiar experience of fatherhood. Excerpts…
You do a lot of travelling, Monrovia today, Jo'burg tomorrow. How do you make out time for your family? Is your family based here in Nigeria?
My family is based both in England and Nigeria. Two of my kids are in boarding schools in London. My wife moved back with the other two who are schooling in Nigeria. You can see I am a great patriot. While people are running away, I am bringing my children back home. My kids love Nigeria and they can see that I work very hard and technology has also made it easy for me to keep in touch with my family. We can talk 50 times a day if we want. The kids can phone me, even my last born who is going to be 6 calls me all the time.
Do you have a girl?
No, I have four boys.
Do you miss not having a girl?
Oh yes I do, in fact that was why we had the last one because we tried one more time. I had warned my wife that I didn't have a girl in my system but she didn't believe me. (Laughs)
Was it the same thing in your family?
No, in my family we had sisters. So my wife and I decided to try one more time and a boy came again.
How old is your eldest child? And considering that you are not there most of the time, how do you keep them in check?
He is 16. He is in school, and for me, my biggest investment is their education. While other Nigerians are busy amassing wealth all over the place, I am busy giving them good education. My first two kids are going to some of the best schools you can think of in the world and it really costs me a fine sum. People say 'you don't have a house here or there' and I'm not ashamed to admit that I don't have.
What I pay on their school fees in a year is enough to buy a house if I want to buy a house but I am happy that they are going to these schools. I can't afford it but the white men are wise; what they have done for us is that they allow us pay by direct debit; so every month we must work hard to make enough money to pay in installments, that is what I do. So people who see me, think they are looking at a big man who has access to a lot of money. I don't have access to a penny of government money.
I don't do deals; I just live my life peacefully. I am a very happy man. One of my kids scored 100 percent in Japanese language recently. I want a child who can survive in any part of the world. The other one got a gold medal in Mathematics. That is our pride in our family. My elder brother has a Ph.D in Physics from Stanford University, California, USA.
Can you imagine someone coming from a rural background like Ile-Ife, Modakeke and going all the way to Stanford University, which is one of the biggest and best universities in the world and get a PhD? That is where my brother got his PhD. I am the last child of the family; my sister is a teacher and everyone of us is practically a teacher. I wanted to teach professionally myself and I think it is same thing I am doing with my kids - telling them that education is the only thing they need in life.
You said you preferred your wife to stay home and look after the kid. Why?
One of the things we used to do in my family is what we call division of labour. My wife has been a full time housewife looking after the kids. The kids are too important to me; I don't like parents who abandon their kids in the hands of their nannies. No, you must grow them properly. If you see my kids, you would not believe they were all born and bred abroad.
If they come in and say 'hello daddy', I say hmm, is that how you will greet your father? They know what to do - they go straight on the floor. If they are speaking their English - talking through the nose, I will say to them, can you speak like human beings. So they know that I am a strict disciplinarian. I love them but I won't spoil them. If my kids ask me for a penny, you will be shocked that I will ask them what they want to do with it. They can't just think that the money is there. I have trained my kids to know that it is not easy to make money.
And if my kids are going to ask for money, you will be very surprised at the kind of things they will ask. My kids will ask and say; please lend me £30 when some other children could be asking for as much as £1000. My kids will never ask for such ridiculous amount of money. They know that I have to work for it. Anytime they ask me for something and I say I can't do it, they ask why? And I tell them because I have to go and look for it. I don't have a bank or vault in my house where you can just open and take money and they understand. They know how difficult it is to make money.


•Dele Momodu and family
You lost your father quite early in life. Can you recall the best advice he ever gave you?
It is, 'Remember the son of whom you are' and it is written in all my books and I will never forget it. You must always remember the son of who you are and till today it instills a lot of confidence in me. If you ask me the secret of success, I will tell you that confidence is a major component of it. You must never be intimidated by anybody. I just do my own thing.
Now that you are a father, what do you tell your own children?
Haa! They have to work hard; I beg them in the name of God, in the name of everything that is good because I cannot afford to waste all that money on their education. I can't, it is so difficult for me paying their school fees, and in fact if you ask me my biggest pain today is how to pay their school fees. I have to struggle and sweat to pay it and I am proud to say it anywhere, I am not a pretender.
I won't pretend that I am a rich man but I am telling you that I am proud that I am able to send them to school. If I don't do anything else, I am able to do that. I am looking forward to the day when I can stop paying school fees and then they too can stand on their own. For me that is the best investment. All the stocks that people kept in the bank have been wiped off, all the property that people bought for their kids, the same kids have sold those houses to buy cocaine and indulge in all kinds of vices. So I pray everyday to God Almighty to please spare me this agony and let me be able to give them good education.
Do you encourage your kids to do odd jobs during summer to earn some money?
Oh no, they are too young now to do that but very soon they will be doing that. Oh certainly they will do it. In fact, my kids are looking forward to go to Germany, Brussels or wherever for exchange programs; I won't discourage it. They go on summer camps and all those other similar things.
Do you go for PTA?
Yes. When I am available and I have ample notice then I attend.
Do you make time out with the kids?
My kids know that I make time out.
What do you do?
We travel together once in a while. Like there was a time I traveled with them without my wife to Belgium for holiday. We went with their friends, the Olunloyos and their dad Gbenga Olunloyo. So it was a case of two fathers and their kids. They said they wanted us to see how it feels to look after the kids. I enjoyed it; I am a very adventurous person and they were very happy. We did some shopping because they were all men anyway. Now that they are big enough, they are able to wear my shirts, shoes and other things, so we bond very well.