SUPPORT BOKO HARAM AND GO TO JAIL, SHETTIMA WARNS LG CHAIRMEN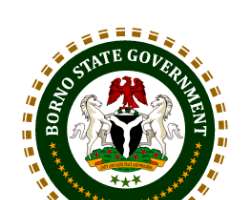 The Borno state governor Hon. Kashim Shettima has warned the newly sworn in caretaker chairmen to desist from supporting the Boko Haram terrorists group or be disowned and face legal action.
Governor Shettima gave the warning while swearing in the newly appointed caretaker chairman of the 27 Local Government Areas of Borno state, at the Multi-Purpose Hall of Government House, Maiduguri.
Shetiima said, "We will not only disown such caretaker chairmen but we will in fact take legal steps towards making such a person unfit to hold any public office associated with Borno state".
The governor called on the newly appointed chairmen to always be ready to carry everybody along and give a sense of belonging to all subordinates and lieutenants, especially their councilors, technocrats and bureaucracy of the local councils.
He also said that they should consult with all critical stakeholders especially the traditional institutions, the Ulamas, aid workers, armed forces and all security agencies, including the Civilian JTF and vigilante groups in carrying out their assignments.
"Whoever shows any form of support or empathy for Boko Haram insurgents is an enemy of Borno people and an enemy of humanity. You must in all your conducts do nothing to subject that you treat matters affecting the insurgency and other forms of insecurity with any basis of suspicion or levity", Shettima further warned.
He directed the caretaker chairmen to extend their full unconditional and ceaseless support to the armed forces and other security agencies as they continue their patriotic duties of prosecuting the war against terror so that everlasting peace and stability can be restored to Borno state.
"I therefore charge you to go out there and serve the people and deliver to them dividends of good governance and democracy. Deploy the resources of your councils in such a manner that you will earn the external confidence of your people, enough confidence so that we can serve as a spring board to bring unity to our people and development to our communities,", Shettima emphasized.
Responding on behalf of the newly sworn in caretaker chairmen, the Caretaker of Maiduguri Metropolitan, Alhaji Garba Saje, said they will listen attentively to the technocrats at the local government areas and at the ministry levels to benefits from their wealth of experience so as to implement all policies as directed.
He called on stakeholders to kindly assist them and guide them in the discharge of their task and pledged their inflicting support to the Borno state government.