I Don't Regret Blocking Elite's Access To Waivers On Imported Items – Hameed Ali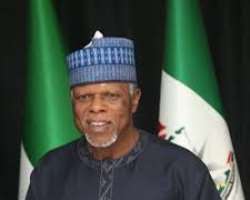 SAN FRANCISCO, March 22, (THEWILL) – The Comptroller-General, C-G, of the Nigeria Customs Service, NCS, Col. Hameed Ali (retd) has explained why he insisted that all import duties must be paid without giving undue advantages to businessmen and influential Nigerians as was the case in the past.
This was as he confirmed the suspension of waivers, reduction or non-payment of duties on imported items to highly-placed Nigerians and influential politicians.
Speaking with journalists in Abuja on Tuesday , Ali asserted that there was no ambiguity in the position of the law regarding what should be paid by the rich who mostly import exotic cars and luxury goods with the belief that their status will always avail them waivers.
He said many of such cases have been stopped and the items impounded because the affected importers decline to pay appropriate duties.
According to him, "With regards to the importation of high valued goods, including cars, it happened in the past. Our big men from the political arena used to bring in vehicles. In some cases, it is cleared for them. They just dump the Bill of Lading and walk away and the vehicles are cleared and delivered to them.
"There is no way we can allow it to happen. I am sitting here, by virtue of Section 171 of the Constitution which gave Mr. President to appoint anybody. If my coming will not add value to what Customs does, then I have no business being here. I don't think the President would have appointed me if he knew that my coming will create an avenue for business as usual.
"There is an idea behind my posting to Customs. It is to make sure that those ills that have been identified are blocked as much as possible. So, I have done that to the extent to which we can with the cooperation that I have gotten from the management and officers.
"But I must say also that there is no way that I can beat my chest and say 100 per cent all customs are compliant. The true position is that yes, when I came in, one of the most difficult task was to deal with our own big men in quote, not only in the line of import but also area of vehicle importation but also our big time business men.
"We discovered that they have in the past, created a situation whereby they are the beneficiaries of waivers and concessions. Huge amount of money is lost through waivers and concessions and when I came in, that was one area I felt we should not let go because if John is allowed to hoard things as a trader and he is made to pay duty, why should Ali, because he is a big business man that has status in the society be given waiver when the law is clear about it?
"And so, we decided we were going to face that area squarely and make sure that everybody is made to pay duty and I think the President agrees with us and the political will is behind us. As at today, apart from the statutory waivers which the law allows, the President since his arrival has not approved a single waiver. And so we have been able to stop it."
Admitting that systemic corruption is yet to be done away with, Ali however assured that everything was being done within his power to eradicate it. This was as he professed having a 'robust' working relationship with his supervisor minister, Mrs. Kemi Adeosun of the Finance ministry.
He said: "We have corrupt officers amongst us up till tomorrow and that is my pain because these are people who refuse to accept that things must change. There is still connivance with these people and that is why we get to see what we see. If you remember, the 661 pump action guns were seized not at the port.
"It was cleared by our own officers. It was only when it was being driven to the final destination that the second layer of our defence accosted the vehicle. If it had escaped the layers, it would have gone to the final destination. So, in the last two years, it would be impossible to say we have changed the attitude of our officers.
"We are working on it and doing everything we can. I have discovered that it is difficult to change people. You must come in all dimension and 17,000 people can't just change in one day . I will like to admit that up till tomorrow , there are still big men who bring exotic cars and connive with our people and in some cases, pay nothing at all or pay less and get their vehicles out.
"We have accosted some; we have some under our jurisdiction and we are working on it. I need your support because information is critical to what we do. If you have information like this, you let us know and be rest assured that we will bring the law to bear on anyone that goes against it," he said.
On the payment of Customs duties on old vehicles and the decision to enforce the law, Ali said the policy has been suspended until when the NCS reaches an agreement with stakeholders on the modus operandi, adding that he never envisaged the kind of protest that greeted the decision to enforce the law on vehicles brought into the country in the last seven years with the payment of Customs duties.