Managing Disasters in disastrous era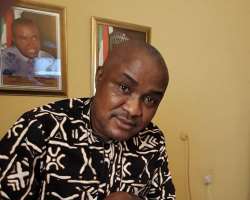 There is no gainsaying the scientific and evidence -based facts that Nigerians are passing through troubling and disastrous era from the economic, social, environmental and humanitarian perspectives.
Because government exists in the first place to implement strategies to better the existential situations that confronts the citizenry like a hydraheaded monster the Nigerian government was perceptive enough to establish the National Emergency Management Agency (NEMA).
Many years after this agency has now transformatively changed to become one of the key agencies that government has established in its determination to protect lives and property irrespective of whether the threat to such life or property is mam made or natural.
A presidential statement obtained in 2008 indeed summed up the essence of this very important organ of the Federal Government when government affirmed that we seem to live in a world where hardly a month passes without us receiving reports of disasters in the form of hurricanes or earthquakes; landslides or flashfloods; accidents and other unfortunate losses that affects our common humanity.
It further affirmed that as a country, Nigeria has no option but to put in place the enabling infrastructure that will help our people respond swiftly and effectively to disaster whenever and wherever it may occur.
"Disasters threaten national development, poverty reduction initiatives and the attainment of the millennium development goals of government".
That important Presidential document obtained by this writer asserted that while Nigeria has been spared the occurrence of major disasters, with devastating socio-economic consequences, as witnessed in other parts of the globe, we can not afford to be complacent. We should continue to build on our capacity for effective and prompt response so as to reduce our vulnerability. This capacity is crucial today more than ever before of daunting challenges.
The document went down memory lane to recall that disaster management in Nigeria started as far back as 1906, when the fire brigade (now federal fire service) was established, with the mandates to amongst others, "save lives and property and provide humanitarian services during emergencies."
"The devastating drought of 1972/73, during which the country suffered huge losses in life and property however became the catalyst for the eventual establishment of the national emergency relief agency (NERA) in 1990".
NERA, the document argued was charged with the responsibility of disaster victims. "This precursor of the national emergency management Agency has a narrow mandate and its function was equally limited in scope." NERA later transformed into NEMA when the National Emergency Management Agency (NEMA) was established in March 1999 via Act 12 as amended by Act 50.
From my findings the federal law conferred NEMA with the functions and powers of amongst others to: Formulate policy on all activities relating to disaster management UN Nigeria and coordinate the plans and programmes for efficient and effective response to disasters at national level; Co-ordinate and promote research activities relating to disaster management at the national level
This government agency which has become an integral part of a typical Nigerian's daily lexicon was also set up to effectively monitor the state of preparedness of all organizations or agencies which may contribute to disaster management in Nigeria.
It is a universal fact that the best way to prevent disasters that are essentially man-made is the dissemination of functional disaster prevention knowledge since knowledge is power.
In this wise, the Nigerian government then decided that NEMA should collate data from relevant agencies so as to enhance forecasting, planning and field operation of disaster management; Educate and inform the public on disaster prevention and control measures; Coordinate and facilitate the provision of necessary resources for search and rescue and other types of disaster curtailment activities in response to distress call..
Information gleaned independently from the headquarters of NEMA shows that in general terms, emergency management can be divided into four categories mitigation, preparedness, response and recovery.
"But these categories are not strict-there are some overlaps. Proactive disaster management, though more focused on mitigation and preparedness, embrace a holistic approach to disaster management, with initiatives on all fronts. One of such initiative achieved a major breakthrough in the area of search and rescue and epidemic evacuation, with the signing of the instrument by stakeholders", so revealed the highly Knowledgeable and competent source.
This writer was informed that the search and rescue and epidemic evacuation plan was conceived in 2006, a period that witnessed unprecedented scale of air disasters, thereby exposing the inadequacy of search and rescue operation in the country.
"Search and rescue operations were bedeviled by inter-agency conflicts and distrust, wasteful duplication of efforts and unwarranted competition. NEMA took the initiative to work out strategies towards achieving a sound and efficient response plan which all stakeholders in disaster management, we should have a system in place whereby we could all draw on our collective strengths to build a formidable group of highly mobile. Motivated, dedicated and competently trained workforce of disaster managers", the source concluded.
Past and present governments have always prioritized the disaster management, mitigation and prevention mandates of this agency because of the aforementioned universal knowledge that one of the constitutional roles of government in the contemporary period is to put in place mechanisms for making life prosperous, safe and to spread happiness to the greatest percentage of the populace.
In places like the United kingdom and United States all levels of government have also put in place efficient mechanisms to mitigate and manage disasters.
In Nigeria the current administration under President Muhammadu Buhari has even stepped up measures to ensure that the multitude of disasters afflicting Nigerians receives both domestic and international support.
The endorsement by President Muhammadu Buhari of the Paris Climate change United Nation's treaty is the clearest demonstration of the kind of emphasis the administration gives to management of disasters of all types in Nigeria.
Fortunately, President Muhammadu Buhari has a competent and formidable management team in place at that agency headed by the Kaduna born respected technocrat Alhaji Sani Sidi that works virtually 24/7 to mitigate disasters in Nigeria.
The international community has even scored high the managerial competences of NEMA with a monumental disclosure that the United Nations has begun to solicit funds from international donors, developed countries, private sector for the provision of humanitarian aids for Internally Displaced Persons in the North East.
The UN Deputy Humanitarian Coordinator, Peter Lunderg during a press briefing in Abuja disclosed that the Humanitarian Emergency Directors required $1billion to meet the needs of over 6.9 billion people in the North East.
He said that with the knock-on effect of oil crisis on the country resulting in recession, no national government alone would be able to cope with such massive numbers of people in need of urgent humanitarian support, adding that based on the humanitarian imperative, the international community was ready to further support the Nigerian people in the region.
He stated that "together with 75 partners, we are seeking $1 billion to deliver life saving assistance and prevent further hardship for the children, women and men in Borno, Adamawa and Yobe states."
While soliciting assistance especially from the Nigerian private sector to contribute to what the international communities have been doing, he said we ask for commitments throughout 2017 to prevent the disaster from escalating into widespread catastrophe.
"Our aspiration is to assist those who want to return home to do so in safe and dignified manner with sustainable restoration of livelihoods and access to basic services," he stated
The UN official noted that reaching all people in need remains the biggest challenge to humanitarian operations.
The goal of this intervention is to ask for improved budgetary allocations and if possible let the National Assembly legislate into being a mechanism whereby big multinational corporations doing profitable businesses in Nigeria are compelled by law to make mandatory contribution of atleast 5 % of the profits after taxes for the purposes of supporting the nationwide disasters' management by NEMA and other sister agencies like the Refugees commission to reduce human miseries. I'm sure NEMA is aware of the Federal chatacter nature of disasters and that all component parts of the country that faces the challenges of disasters are professionally attended to.
Let all the budgets of NEMA not go into rendering assistance to the internally displaced persons in the North East of Nigeria. For instance in much of the South East of Nigeria there are issues of environmental disasters such as flood erosions and other man-made disasters like fire disasters in commercial centers like Onitsha, Nnewi and Aba. These persons inhabiting. The South East of Nigeria are peace loving and industrious so NEMA should equip their offices in South East with adequate manpower and resources to deliver efficient services to millions of Nigerians in the South East of Nigeria and other parts. Places like Southern Kaduna facing mass killings from a combination of armed hoodlums including herdsmen are yearning for those kinds of services that NEMA has being rendering to fellow citizens in the North East of Nigeria. Equity and equality must prevail.
* Emmanuel Onwubiko is Head of HUMAN RIGHTS WRITERS ASSOCIATION OF NIGERIA (HURIWA) and blogs @ www.huriwa.blogspot.com ; www.emmanuelonwubiko.com .
Disclaimer:

"The views/contents expressed in this article are the sole responsibility of the author(s) and do not necessarily reflect those of The Nigerian Voice. The Nigerian Voice will not be responsible or liable for any inaccurate or incorrect statements contained in this article."