Nigeria Launches New Immigration Regulation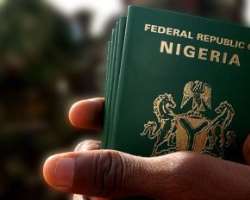 The Minister of Interior, Abdulrahman Dambazau, will on Monday officially launch Nigeria's new Immigration Regulations, 2017 to ensure better security and Immigration in the country.
Sunday James, the spokesperson for the Nigeria Immigration Service (NIS), disclosed this in an interview with the News Agency of Nigeria (NAN) on Saturday in Abuja.
He said the Immigration Regulations, 2017 is a vital document that seeks to operationalise the Immigration Act, 2015.
"The honourable Minister of Interior, Lt.-Gen. Abdulrahman Dambazau, (retired) will officially present the Immigration Regulations 2017 to the public on Monday, March 20, 2017.
"The Immigration Regulations 2017 is a vital document that operationalises the Immigration Act 2015 and provides the legal framework for the effective implementation of the Act," he said.
He further said the new immigration regulation is a product of robust discourse that involved legal and migratory experts, including serving and retired immigration officers.
Mr. James expressed optimism that the document if properly implemented, would go a long way in transforming the operations of NIS in line with international best practices.
NAN reports that the Immigration Act, 2015 contains updated structure and functions of NIS in relation to immigration, passports, deportation, visas, resident permits and general immigration offenses.
The Act also gives effect in the Federal Republic of Nigeria to the provisions of the protocol against the smuggling of migrants by land, sea, air which supplements the UN Convention Against Transitional Organised Crime.
The Act was enacted by the National Assembly in May 2015 to the Immigration Act, 2004.
Source: Leadership