GOV. CHIME IS BEHIND IT! – COMMISSIONER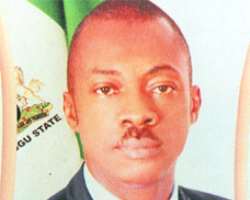 Gov. Chime
Enugu State Commissioner for Youth and Sports, Honourable Idu Matthew Anene, has described Governor Sullivan Chime as God sent messiah for the good people of the Coal City State.
In an exclusive interview with Sunday Sunsports, Hon. Anene reiterated the governor's commitment to reposition sports in Enugu State by empowering all sportsmen and women in the state. Excerpts:
Under-17 World Cup
When His Excellency, Sullivan Chime, came on board, he carried all facets of development along, and sports is one of the areas, which one can use to develop humanity and equally empower them, thereby keeping the youths away from social vices. So, the secret of the success you are seeing in Enugu now is as a result of good governance.
It was his good governance that gave us the hosting right of the FIFA Under-17 World Cup. And having hosted the event well, sports in Enugu State picked up. There is no longer the issue of neglect of athletes as it was observed in the past administration. Today, if you ask any athlete in Enugu State, the answer you will get is that Governor Chime has done extremely well.
Again, we have standard sporting facilities at the moment that can be compared to the ones you see in Europe. Governor Chime does not believe in making noise through the media, he is an action man.
Apart from the rain that disturbed the progress of two games during the Under-17 World Cup, Enugu State recorded one of the highest spectatorship at the stadium because of the love we have for sports. Everybody that came to the Enugu Centre fell in love with our state.
The hospitality our people gave to the visitors is still a reference point. And when you think of the sportsmen of the olden days of in this nation, you will know recall that they came from here; the Okochas, Christian Chukwus, Nwobodos, the Okalas and so on had their roots in Enugu State and that legacy has not left the state. We are still in the business of producing world champions for Nigeria, hence Governor Chime's commitment to sports development.
Rangers FC
Rangers International FC of Enugu has brought laurels to the entire country, the club used to be the apple of all eyes when you talk about club side football in Nigeria, and I want to tell you that we are still there to make the people of this state proud.
Rangers is one club that has not gone on relegation since it came into existence. And for the fact that we are where we are now, does not mean that we have gone under, we are coming up. If you follow the current league, you will notice that we are not doing badly because we have a good man handling the affairs of the state and with him, every other thing will follow.
Sports festival
At the last National Sports Festival in Kaduna, Enugu did not do well, but I want to tell you that we have started preparations for the next edition. As the commissioner for Youth and Sports, I have set up a committee that has submitted its report to me. From the recommendations of the committee, we wish to conduct a state sports festival here in Enugu to fish out young talents from all the local government areas in the state, put them together in camp on time and train them well. After that, we will go to the next sports festival in Port Harcourt and give states like Edo, Delta, Lagos, Ogun and others a run for their money. There is definitely going to be a remarkable improvement in the next sports festival.
Boxing
We are giving everything about sports development in the state a face-lift. We are already working out plans to organise talent hunt in boxing in the state. The ministry, in conjunction with Lion Boxing Club, which has Ikechukwu Okoronkwo as president, will soon be going round the local government areas for Operation Catch Them Young show. And the state is going to play an active role in it. We have raw talents in the state, so it is our responsibility to harness these talents into usefulness.
Talented sportsmen and women in Enugu State must be given their rightful position. We must use sports to keep them completely out of crime.
We have got all it takes to train boxers, so we are totally committed to the development of the state in all areas of human endeavour.