NDLEA, WHERE ARE THE SEIZED DRUGS?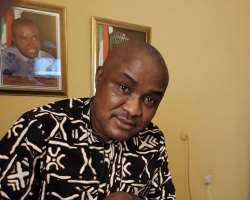 Ever wondered constructively what happened or happens to the tons of hard drugs that are on daily basis seized by men and officers of the National Drugs Law Enforcement Agency?
Have you ever reflected on why the boko Haram terrorists have waged a seemingly unending insurgency against the Nigerian State which has so far claimed over thirty thousand innocent Nigerians and the destruction of properties put conservatively at over $100 bn? I will give you a home truth- intake of hard drugs by members of Islamic fundamentalism called BokoHaram terror campaign network increases the severity of their involvement in bloodshed and violence.
Have you ever given a thought to the indubitable scientific fact that hard drugs' consumption increases the potency of violence and terrorism? Do you also know that most suicide bombing attacks are instigated in whole by the overwhelming influences of hard drugs?
These questions have become increasingly forceful given the porous record keeping character of bureaucrats and civil servants in Nigeria and especially officials of law enforcement agencies.
Let me give you an example- few days back when Alhaji Ibrahim Magu the acting chairman of the Economic and Financial Crimes commission (EFCC) appeared for his second confirmation hearing before a session of the Nigerian Senate and he was asked just a simple question to tell Nigerians whom he serves the total worth of seized or forfeited assets and funds and this man at the helm of affairs in EFCC feigned ignorance. His response: " i don't know", he stuttered to the shock and consternation of Nigerians.
Some observers see his cynical response as a deliberate ploy to conceal such a weighty information from Nigerians but others believed that Ibrahim Magu has no grapse or clues of the extent of assets seized on the interim and/or finally forfeited assets from the numerous Nigerians in conflict with the anti-graft laws. Ibrahim Lamorde a disgraced erstwhile chairman of EFCC was dragged before the National Assembly for allegedly diverting some forfeited assets belonging to Nigeria. Assistant Inspector General of Police, Mrs. Farida Waziri who once held office as Chair of EFCC even accused her predecessor- Nuhu Ribadu of deliberate poor record keeping.
Another example will suffice for the purpose of establishing our first Premise that NDLEA may not be in the best of position to render complete and transparent account of the quantity of hard drugs and assets of suspected drug lords captured by them in the past few years.
This example is the sad scenarios that play out in most criminal trials across the Country whereby police officers charged with documenting and securing exhibits such as cash and physical assets like cars mostly pilfer or divert these items or even replace them with forged currencies and completely depleted cars.
In some very disturbing instances, even judges are known to have diverted exhibits like cash kept with the Courts. These ugly things do happen in Nigeria- a country whereby accountability and transparency are total strangers in most government offices.
The logical question that flows from the above unfortunate scenarios of pilfering of exhibits by government officials is to inquire into the strategic auditing of all the seized hard drugs by the NDLEA.
In those days, NDLEA was always seen on public televisions burning what they claimed to be hard drugs seized from suspects even without any independent forensic confirmation from a third-party but gullible Nigerians clapped for these anti- hard drugs operatives.
But since 1999 till date one can count on the finger tips how many times these sorts of public burning of seized hard drugs have happened. Is it that match boxes are no longer available in the markets or what?
So where are all the hard drugs seized and why has violence associated with intake of hard drugs such as kidnappings, armed robberies, terrorism and thuggery on the rise? Why are cases of domestic violence on the increase?
Why and from where do all the suspects the NDLEA keep arresting daily getting their wares or are they recycling the seized hard drugs with the connivance of some evil operatives?
This last question is possible because even in the United kingdom whereby record keeping is very scientific and accurate, a Police officer was arrested for diverting exhibits of hard drugs worth millions of cash into his refrigerator for his own use which he usually supplies to the streets.
We will return to make reference to that story of the rogue police officer in the United kingdom who stole from the exhibits.
But lets even look at the account of how much volume of drugs seized in a given year by the NDLEA.
In this instance, we recall that the National Drug Law Enforcement Agency said it intercepted various narcotics weighing 903,624.56kg with a street value of over N22bn in 2015.
The NDLEA, in a statement by its Head of Public Affairs, Mr. Mitchell Ofoyeju, said the agency arrested a total of 8,778 suspected drug traffickers, comprising 8,143 males and 635 females in 2015.
The anti-narcotics agency also said the 903,624.56kg worth of narcotic drugs seized from drug trafficking cartels included cannabis, 871,480.32kg; psychotropic substances, 30,652.93kg; ephedrine, 785.10kg; methamphetamine, 410.82kg; cocaine, 260.47kg; heroin, 30.09kg; and amphetamine 4.83kg.
The NDLEA also claimed to have won 1,690 cases prosecuted in 2015, the statement added.
The Chairman/Chief Executive of the NDLEA, Col. Muhammad Abdallah (retd.) was quoted as saying this as Nigeria joins the world in marking the International Day Against Drug Abuse and Illicit Trafficking, which holds on June 26 yearly.
He said, "Concerted efforts are needed against the threat posed by narcotic drugs and psychotropic substances."
Abdallah, who spoke on the state of drug control in Nigeria, noted that the threat of narcotics was real.
He said, "The threat of illicit drugs is real and concerted effort is required to halt the activities of drug trafficking cartels. The agency in 2015 seized drugs weighing 903,624.56kg with an estimated street value of over N22bn."
"Drug control is an important campaign that affects national security and public health. We must collectively rise up against drug trafficking organisation. The effects of drugs on children, youths, families and communities are unimaginable. There is the need for a greater understanding of the effects of drugs by members of the public."
According to Abdallah, Nigeria is in the vanguard of the global crusade against illicit drug production, trafficking and abuse.
This claim is ridiculous and unbelievable because hard drugs are easily bought on the streets of Nigeria.
Sadly too, the hierarchy of NDLEA stopped short of informing Nigerians about the whereabouts of these hard drugs seized and what the agency is thinking of doing with them.
Who keeps these exhibits and what are the steps in place to secure these hard drugs from being diverted and recycled for trafficking and/or distribution within Nigeria?
The fact is that hard drugs are said to have become so easy to procure on the streets of major towns like the way pure waters are sold and bought.
The rate at which most youth get hooked onto hard drugs tells a disturbing story that there may be some official channels from where these hard drugs are supplied to the streets with ease.
In Abuja for instance most of these top politicians suffer the misfortune of having some of their kids getting hooked on hard drugs because of the ease which they lay their hands on ill gotten wealth of their Parents.
So the NDLEA must be subjected to critical inquisitions on the exact volumes and whereabouts of the seized hard drugs.
If even soldiers and police steal exhibits to help their avarice, who says some itchy fingers within NDLEA will not be diverting seized hard DRUGS to sell off on the streets or even return them to the drug barons since in Nigeria most suspected drug trafficking agents arrested are lowly rated agents whereas hardly do we hear that the real owners of these drug trafficking chain of businesses worth billions of dollars ever arrested?
Except once that a car dealer in Lagos was arrested and labelled a drug baron and efforts made to extradite him to USA although unsuccessfully pursued before tge Abuja division of tge Federal High Court, at other times those usually arrested are petty traders and grandmothers who are promised small stipends but yet those who commissioned them are moving freely on the streets of Nigeria living extra largely. So, NDLEA where are the seized drugs?
My interrogation is imperative because Yesterday, British newspapers reported that just as his colleagues were fighting to keep the drugs off the street, Keith Boots was stealing them from work to sell on.
A police inspector responsible for destroying seized drugs was found with £700,000 of drugs at his home - including 11kg of cocaine "jammed" in his washing machine.
Keith Boots, 55, was in charge of a police store where confiscated drugs were kept to be later destroyed.
But Leeds Crown Court heard that instead of disposing of them, he stole large amounts to re-supply to the streets.
When officers raided his Bradford home in December 2014 they found 11kg of cocaine in his washing machine, as well heroin, ecstasy, crack and cannabis.
"Keith Boots was a criminal masquerading as a police officer who stole class A drugs from the force which he then intended to resupply to the criminal fraternity," said Detective Superintendent Simon Bottomley from West Yorkshire Police.
"The actions of Boots were simply inexcusable. Whilst his hardworking and honest colleagues were doing all they could to take illegal drugs off of the streets he was stealing them back and seeking to redistribute them."
Officers raided his home after finding drugs had gone missing from the police store.
"What was found on the ground floor would have kept a 1970s rock star, as well as his band, entertained for weeks," prosecutor Paul Greaney told the Leeds court.
Boots, who had been an inspector for 10 years, was found guilty of various offences including conspiracy to pervert the course of justice, theft, and possessing drugs with intent to supply.
He was dismissed from the police in March 2016 and will be sentenced by the court next week.
His son, Ashley Boots, 30, of Weatherhouse Terrace, Halifax, was also found guilty of conspiracy to supply controlled drugs, conspiracy to steal and conspiracy to pervert the course of justice.
He admitted six charges of possessing drugs with intent to supply and one of possessing ammunition.
A third man, Ian Mitchell, 28, of no fixed address, was found guilty of conspiracy to pervert the course of justice.
That's United kingdom where the wheel of justice moves swiftly.
Back home in Nigeria, few years back we read of some middle level NDLEA officers been sacked for diverting exhibits but these days there's total silence regarding the state of seized hard drugs or have the NDLEA officers transformed to ANGELIC PERFECT NATURE that they no longer steal those hard drugs to resell?
This germane question must be asked and an evidence- based response obtained. Until then, we will continue to live in fools' paradise believing that the NDLEA officers are Angels and the streets of Nigeria will continue to witness phenomenal boom in the sale and consumption of hard drugs whose sources of supply are dubious and suspicious.
*Emmanuel Onwubiko is Head of HUMAN RIGHTS WRITERS ASSOCIATION OF NIGERIA (HURIWA) and blogs @ www.huriwa.blogspot.cim; www.emmanuelonwubiko.com .
Disclaimer:

"The views/contents expressed in this article are the sole responsibility of the author(s) and do not necessarily reflect those of The Nigerian Voice. The Nigerian Voice will not be responsible or liable for any inaccurate or incorrect statements contained in this article."