My song, 'The Other Room' not about Buhari — Cobhams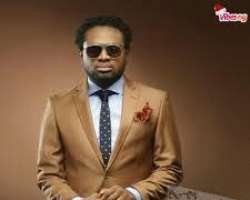 Cobhams Asuquo needs no introduction in the Nigerian music world.
The multiple award winning producer is known through-out the length and breathe of the Nigerian music genre for his towering contribution to the making of good music.
Having worked with almost every artiste of repute in his capacity as a producer for more than a decade, the Jos born has become one of the sought-after producers in the Nigerian music industry. Though physically blind, Cobhams, who abandoned his law career for music, is not deterred by limitations.
He has experimented with different sounds and genres and is currently transiting into a full-blown singer with the release of his first album, 'For You'.
In this interview, he speaks about his musical journey, experimentation and value systems.
Excerpts:
You are known for your inspiring gospel songs, but we see you doing other sounds. Most people would like to know what you have to say about this.
First of all, I don't agree with the opinion that I am known for a particular genre of music. My life as a producer has seen me experiment with different sounds. I think there might be a gospel or Christian undertone in my music, that is simply because that is my life. I am a Christian and I am proud of it. It comes through what I do. But as a producer, I work with people from different genres and from different musical expressions. I have a lot of Christian and gospel materials myself as I have materials on life and love and on human being and how we treat each other. Some of my sounds are socially as well as politically conscious. So for me that is how I have related with and use my music. Music is an art form that can be used to express different sensitive issues, but because I am a Christian, my religion comes through in what I do.
In retrospect, we first knew you as a gospel singer.
On many levels, that's who I am. I embraced who I am. So, I started in the space of being me. I didn't make a conscious choice, like, 'This is what I am going to do'. So, it was about being me. Christianity is the foundation of what I do.
What is your opinion about gospel music and its market?
I feel like gospel music has different purposes. On one level, it is an expression of God's heart; and, on another level, it is an expression of our worship to God. However, God remains at the centre of it at all times. I feel like there is still room for growth in the Nigerian space. People have done amazing work with it in the past, the likes of Dele Bamgbose, Dupe Solarin, Rooftop MC and Sinach, Nathaniel Bassey, Frank Edwards. I believe it is a genre of music that provides a moral compass of some sort, informing how we live our lives and how we can put God at the centre of things. So, it is a very important sound in our culture and something I associate very closely with and something that drives a big part of what I do. In terms of the market, I think it has the potential to become one of the most structured form of music in Nigeria. I believe that there will come a time when we need to harness the relationship and numbers that we have to drive that aspect of music.
Have you been in a position where people ask why you are experimenting with other genre of music instead of sticking to gospel?
I have not really been in that position. But I think it is important to know that as a Christian, you are a light and salt to the world. Salt gives taste. Light illuminates. When you find yourself in the position like that you go out and influence people. Some of the most influential people in the Bible, for instance, are people who thrived in foreign domain. Daniel held a position of importance and authority when the children of Zion were not in their own land. Joseph held a position of importance in Egypt. Moses, who was born a Jew, was raised in a palace and familiarised himself with the way of princes. I can go on and on. Queen Esther was a queen and a Jew at a very interesting time in the history of the Jew. So, you find that when God wants a shift, He uses people who will step out and reach out. It is not in our position to judge, but to show love. As a musician, I have a voice and that is what I continue to use to love and to make the statement that we have all sinned that we have all fallen short of the glory. That is my position and that is how I treat the work I do. For me it comes through in the quality of work that I do. And because of this position, I have been able to relate with a lot of artistes that I will not have otherwise related with if I stayed in my own little lane and tolled my own little path. I feel that, if anything, experimenting with different sounds has done a lot of good for me. It has given me the position to meet a lot of artistes, who don't necessarily do Christian music.
A lot of people have argued that it was because you have gotten famous that you abandoned your first love. What would you have to say about that?
First of all, I have not gotten that feeling from people. If anything, the feeling I get from people is that I am bold enough to venture into territories that a lot of people would not. I feel like I get a lot of love and support. When you think about it as a Christian or Muslim, you do not only get into a bus where only Christians or Muslims board. You don't only buy your petrol from stations owned by Christians or Muslims. And in interacting with people as you live life, you share the love that you believe in to everyone that comes around irrespective of these barriers. I feel like that is what people get from my association with them. I am very grateful that that is what they get. For instance, nobody knows the direction of my album, yet I have been getting a lot of love from it. I think that, by itself, is testament to the fact that people recognise what I am about. And for me, being a Christian is not what I need to shout about.  It is what you show in your action, it is about how you treat your family, how you treat people around you. Sometimes you have to come close to people to understand them. And when you don't, what a people's life exudes is important.
Talking about your debut album, what are we to expect from the collection in terms of genre spread?
The album is titled 'For You'. It is a fourteen-track compilation from my heart. It is a fourteen-track collection of truth. The sound is very true to character. It is a product of a lot of work. It is very organic in nature, very life. It is something I have looked forward to sharing.
You have been lending your voice to things happening around the society. How frequent would you continue to react to social issues in this regard?
I think I will continue to do it as often as it's necessary. The goal is to do it so that things can change. As things get better, obviously we will sing about other things. However, I don't know any country where things have gotten so better that people do not sing about politicians and politics. That is one of the reasons we have been gifted with this very powerful art form that is music, to represent the silent majority.
What informed the song, 'The Other Room?
First of all, we were just having a good time in the studio and we decided to create something. It is always an opportunity to share my take on topical issues. We decided to make a song titled, The Other Room. It is not in any way related to the statement that was made by the president. It was just a nice title and it was a good time to use it. And if you listen to the song you will realise that it chronicles a number of things that were happening at that time, but in a light hearted manner.
Growing up, what were the things that triggered your musical talent?
I think it was just the different sounds around me. People's conversations. The music I listened to. My father and my mother happen to be big music lovers. And they listened to a lot of music. I just borrowed from the various influences. I soaked up the sound and the soul and the heart and the knowledge from the music that we listened to. I grew up in Jos, a very musical city. A lot of great musical talents have come from that city. So when you are in that kind of environment, those influences begin to create a brand new musical persona of its own in you and you are able to express it either as an artiste or a producer.
Did you encounter any now-popular musician while growing up in Jos?
No, I didn't because I left Jos very early. I was about only five years when I left. So, I did not encounter any popular musician then. Although when we meet now, we share fun memories of the city even though we didn't know each other when we were there.
Which state did you grow up beside Jos?
I spent more time in Lagos than I have been anywhere else.
You won the HIPHOP World award as the Producer of the Year as early as 2008. How did that make you feel?
It was very humbling. I have had a great relationship also with the Headies and countless nominations. Any time I am appreciated in that manner, it is always a humbling experience. It means someone recognises what one is doing and that they recognise it enough to honour it by an award. But I work more out of passion than the need to win awards. And whenever the awards come I respect it. It is a good feedback.
Beside the piano, do you play any other instrument?
Yes. I play the guitar. I play drums. I play the percussion. There are also a number of other instruments I play. All of these instrument influence how I create my music. They have also influenced the kind of expression I have for my personal work (I mean, my album) and my love for sounds.
In bringing these sounds together from different instruments, as a producer, what is your abiding principle?
I always think that there is an art and science of music production. The art is the creative aspect, while the science is the technical knowledge of how it works, what role each instrument plays in completing a given sound or beat. I think it is the job of a music producer to figure out how to creatively merge these sounds while at the same time following the science that guides the rules and principles by which you should not combine certain sounds in a certain way. I think that understanding the art and the science of creating music is the first principle of music production.
Did you encounter any challenges while trying to learn both how to play the instruments and produce the beat?
Yes. I mean, I was trying to learn as a little boy. There were times I will make my way into the music room clandestinely, sit beside the piano and try to tune the guitar and all that. You break your back for what you love. Also when I started to get into music technology, learning the sequence and other stuff, were a bit of a challenge. However, I think the passion that kept me going then still drives me today. And that's why I am able to achieve transition from being a music producer to being a singer. I am still learning, I am still beating the challenges, I am still allowing myself grow in the space.
Were there times you tripped or strung your hand while learning?
It is not always that dramatic. I don't remember dramatic incidences like that. Maybe because I choose not to remember them. For me, the most important thing is to make music. I do what I have to do to make music. Every other thing for me comes secondary. For instance, I know that some of the challenges in making music in this sphere is having to deal with power and people who get it. This was a different experience when I worked on my first project. I did a lot of recording in the United States. I did not deal with power, even though there also had its own challenges like having to meet deadline.
You have produced songs for a number of artistes in Nigeria. What do you have to say about meeting and working with new talents?
Well, it's always a humbling experience meeting an artiste and being part of the process that shapes his career. I think everyone enjoys doing that. I mean, it could have been anybody. It just happened to be you. There is also a sense of responsibility because you are contributing to what this person says and how it is received. And I have done this with quite a number of artistes. I worked in this capacity for Banky W, Timi Dakolo, Omawunmi, Bez, Asa among others. And at every time, it is always humbling because you later see these artistes explode in ridiculous proportions. It is very exciting and encouraging. And if you are wise, you quickly learn that you are not the only one in the team that makes it happen, that you are part of an effort that includes great sacrifice, determination and drive. That is how I connect with them. I am definitely going to miss that as my new album progresses because it will mean that I will be on the road more and I will not have as much time for artistes as I had.
I was at Asa concert last year, when you both co-performed a song. One could notice the chemistry. How do you relate with Asa?
She is an extraordinarily talented musician. I love her dearly. We both have a lot of love and respect for our families. I have known her down to her family and she has known my family for a long time as well.
For how long?
Very long, maybe about twelve or thirteen years. She is definitely a talent that everyone respects. It is always a good experience to be able to create music with her and vibe with her any time. She is definitely one of Africa's biggest export to the world. She is someone I am proud to know as a Nigerian.
How is an ordinary day for you like?
I am in the studio almost always. I am always making music. But lately I am either putting finishing touches on my project or having strategy session with my team for the album projects. I am also checking on other music projects my colleagues are working on and giving feedback in the studio. A lot of my life, right now, has been revolving around my forthcoming album, just because of what it means to me, how it is just an expression of truth and what I hope it can do for people. So my typical day is spent around working on my forthcoming album.
When you are not working, what do you do with your time?
When I am not working, I am relaxing with family or friends. You know, having a good time, eating a good meal. I like fine dining. I do.
What kind of food interests you?
It depends: continental, African. I like different things. I am the kind of guy that experiments with different things.
Do you not have favourites?
I like a good steak, cooked well. I love edikangikong very much as well. My wife and I are both foodies. We love food very much. So, we experiment with all kinds of food.
In deciding who to marry how did you approach that?
I think it is to marry someone who you think can be kind to you and kind to other people especially when you sense that you are going to hold a position of influence in life. Because if you are in that space you are thrust with the responsibility of looking out for other people. You are very careful to find a spouse who shares your values. I think it is also very important that you find someone who is your friend.
How long have you known your wife?
I have known her for over sixteen years now.
In growing up and realising your physical challenge, how were you able to overcome the limitations?
For one, I realised that nobody owes me anything. I appreciate and respect everything I get from people.  This, kind of, encourages people to do more. And secondly, I recognise that if it is to be, then it is up to me. I work hard to make it happen. Thirdly, we all get to a place where we may want to lose hope and that is the place where GOD steps in. fourthly, there isn't any single human being who isn't struggling with one challenge or another. At the end of the day we are all equal. So, the sooner you understand that, the earlier to get to make your life better.
Tell us a few things people don't know about you?
I am from Cross River State. I started out studying Law, but veered off to music. I am now a full time musicians. I love friends. I love food. I love coffee. - Culled from Tribune.