Femi And I Can Never Be Enemies –Funke Kuti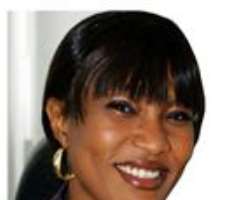 Funke Kuti, the delectable dancer and ex-wife of Afrobeat star, Femi Kuti, is one woman many find intriguing not only because of her brilliance or what she has been able to do but also her personality. Soft-spoken Funke, who is currently the image-maker of National Sports Lottery (NSL), wowed many people when she switched from being a dancer to getting a job in a top corporate organisation some years back and is still holding her head high in the sky. The University of Lagos (UNILAG) business administration graduate, however, still has a knack for the entertainment world. She recently began an entertainment management outfit, which has female rapper, Weird MC as one of her clients, even as she holds her position as the CEO of NSL Foundation and head of Corporate Affairs and Marketing.
In this interview with Reporter, Gbenga Bada, the fair-skinned and amiable Funke spoke on various issues ranging from her alleged arrest to her resolve to still dancing a chance as an instructor.
Where have you been all this while?
I have been around, at my place of work as a staff of the National Sports Lottery. I have been contributing my quota to the success of the company along with other good people at the place.
How is it like?
It is pretty hectic and time-consuming. I work as the head, Corporate Affairs and Marketing at the company so I am engaged in multiple tasks and this makes me to be involved in quite a number of tasks. But the truth is that in I am enjoying myself because I am engaged in something I believe in. I believe very soon we will showcase the best way to practice lotto and let the whole world see the benefits inherent in it.
How did you get into the corporate world in the first place?
When I stopped dancing, a friend of mine informed me of a job opening at Sahara Energy and I applied. I got the job and worked there for some time before joining the NSL five years ago. Crossing over from entertainment to the corporate world was 360 degrees for me because it was an entirely new territory different from what I was used to. For a couple of months after I started working, I was floating not knowing what to do particularly to break forth. I was struggling to find my feet as I did not have any working experience because as soon as I graduated, I got married. My husband didn't want me to work then, so it was straight from school to Femi's house and then, to dancing for his band. I love challenges, which made me start asking questions about the job and how to excel in it. I love asking questions, I actually learnt on the job.
You have a personal firm, Funke Kuti Management. Where does it fit into all this?
Funke Kuti Management is an artiste management company that I set up to fulfil my personal dream. I have always loved the entertainment industry, and after a clinical study of the terrain I believe with my experience both in and outside of the industry one of the best ways I can make a positive impact is via the artiste management terrain. I have viewed that particular area of the industry and I believe there are certain things that are lacking that I have what it takes to do a better job of.
What have you been able to achieve with your marketing company?
That is my trade secret. Actually, I prefer to act than say it. I want the world to see it and know the proper way to manage an artiste.
Weird MC is said to have signed up.
Yes, Weird MC is on the label and a couple of others acts, who are not yet as big as Weird. We are handling her affairs and we thank God that so far and so good, everything is working according to projection.
How do you combine F.K Management and your job at NSL?
Actually, it is all about planning. And mind you I have some people working for me as well, doing all the groundwork, for me it is just about creating more time and putting in more energy for my thing to work.
How comfortable are your employers about the arrangement?
There is no problem as regards the project and my employers being in the know, because even before I initiated the plans I informed them to let them know what was in the offing and we reached an accommodation, as long as it doesn't affect my work, everything is fine and we thank God everything is fine.
But naturally you would be looking forward to leaving the NSL and facing your personal business full time some day, how soon do you see yourself doing that?
Naturally, a time of stocktaking will come in everybody's life and certain decisions will have to be taken. But right now the answer to your question is not one of the things immediately on the horizon. For now I still have a job to perfect at NSL and also F.K Management to put on the ground in a way that the two missions will be accomplished in a manner that will not affect each other and until that is done, talks of time to quit take the back row in my projections for things.
What are the challenges that you face?
There are challenges with everything one sets out to achieve in life. Combining every aspect of my job can be very demanding. I could get mixed-up sometimes and the ability to distinguish the various duties I have stretches me. At different times, I have to determine what cap I am wearing, this is because my schedules can clash with each other. My job is also time-consuming and involves travelling a lot. I encourage myself and convince myself that I can do anything. When my duties clash, I break everything down and prioritise so as not to allow the weight get to me.
Did your projection for things at the NSL ever factor detention at the Economic and Financial Crimes Commission (EFCC) office?
Certainly not! Whoever prays for that kind of thing?
So, what actually happened?
In summary, it was a case of someone, Alhaji Olatunde Balogun. He claimed to have won N51 million in a N50m promo jackpot. Unfortunately for him he is doing it with numbers that did not register on our system! In the course of investigation into the matter he came up with another number that won N13,000 and a couple of naira but he insists his winning money is N51 million. He has gone to different law enforcement agencies before the EFCC, in fact, we were in court at the time of the EFCC arrest, but thank God we were able to prove our case beyond reasonable doubt and the EFCC let me go after spending a couple of hours in their store.
So what is the situation with the case now?
NSL has furnished the EFCC with all relevant documents about the case. All the documents they asked for we gave them and they told us they would investigate and come up with their own report, so they are investigating the matter.
How did your people feel with the way the matter was celebrated?
Naturally they didn't like the first report, 'Funke Kuti in N51 Million Fraud' or something and funny thing was that if you read that report you will see that it was apparent it was not Funke Kuti that was in the so-called fraud. And they didn't even try to contact my office or something to at least try to get our side of the story. The whole thing was really embarrassing; I got countless calls from people and all that. Some of my friends said, 'so you had so much money, oya come and borrow me N10,000', but seriously, it was not a funny thing at all. But when the other stories came out and people were able to discern what happened I was relieved and so were my people?
There is no way you talk about Funke without talking about Femi Kuti, what is the state of things between the two of you now?
Femi is the father of my child and naturally, we can never be enemies. With that said, I will adopt the no comment term on further question about us.
But do you plan to remarry as was speculated or reconcile with Femi for the sake of the child?
Like I said, no comment, whatever it is between Femi, myself and our child (made) is a private affair. And I will appreciate it if we treat it as such.
Was that why you went low profile all these years?
Yes, because I believe if you make your affair private people will respect it and make it so, if you flaunt it in their face they will help you to celebrate it far beyond your expectation.
What is your personal projection for yourself in the next 10 years?
To have taken my company, F.K Management, to such a level that it will be a parameter setter and relevant force in the entertainment industry in Nigeria and to have also actualised my dreams for other businesses I plan to unfold in the nearest future.
How do you look this good and keep fit?
I don't exercise but I dance a lot. I dance three times a week to keep fit. It is not the regular dance people do for a while and stop. I dance for two hours, sweating and doing it with all seriousness as if my whole life depends on it. For my skin, I don't use any particular product to keep it supple. I naturally have a beautiful skin, which I inherited from my mother.
How fulfilled are you as a person?
I am very fulfilled because I love everything I am doing now. Sometimes, my friends tell me I don't have a life that I need to slow down or suffer burn out. I don't like being in a place for too long because I am a very restless person. I am fulfilled carrying out every bit of my responsibility and contributing my quota to the organisation. For financial rewards, I would say I am satisfied. It pays my bills and I can survive on it.
What can you say about your life as an entertainment person?
That phase of my life was great and I enjoyed what I was doing then. Whatever I set out to do, I try to make the best of it. Naturally, I won't go for anything I don't enjoy and I love challenging jobs. Because I am naturally restless, I would describe myself as a great dancer because I don't see dancing as a job but as a hobby. I loved the tours, the energy we displayed on stage and the fulfilment I got then. I miss that aspect of my life because it was the most fascinating period of my existence.
Would you go back to dancing?
I don't think I would be energetic enough to go back to dancing like I did in the past. It is very tedious because we could dance for two to three hours. At times when we go on tour, we could dance everyday having little time to rest. We could travel for several hours, change our costumes in the bus and rush out on stage afterwards. Though I won't go back to dancing professionally, I have plans to open a dancing school in future. I would run the school as an instructor and not as a dancer.
Can you give us an insight into your growing up?
I shuttled between my mum and my dad. My dad was in the army, which made him travel a lot. I spent more time with my mum. Growing up was fun among my three sisters. I attended Federal Government Girl's College, Shagamu and studied business administration at the University of Lagos, Akoka. When I used to dance, people had this assumption that people who dance on stage have no future and no history. You are either seen as a school dropout or a loser. I am from Oyo State, Ogbomosho to be precise. Some are amazed when I tell them I am a graduate and wonder what I was doing dancing on stage.