Big Lie! I'm not dating Gov Ohakim – Ella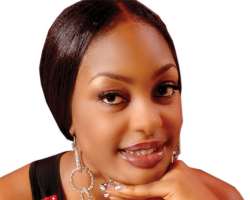 Nuella Njubigbo, fondly called Ella by friends and family, is an actress and script writer that is fast making waves in her career. Recently, she bagged an Outstanding Achievement in Nollywood Award at the recently concluded Nigeria Movie Initiative Program powered by City People held in Ghana.
In this interview with Aramide Pius, the actress speaks on the award, her experiences in South Africa where she also recently visited and her alleged romance with the Imo State Governor, Ikedi Ohakim.
Excerpt:
Recently, you won the outstanding achievement in Nollywood award. How do you feel?
I feel honoured and I thank the organisers of the award for considering me worthy. I also say a big thank you to my fans who have been there for me. I love them all.
You were in South Africa. What was the experience like?
Nothing much really. I only went there for a wedding and that was all.
How would you compare South Africa to Nigeria?
I would really not like to compare both countries because there is no room for comparison at all. South Africa is South Africa and Nigeria is Nigeria.
What did you find there that we can emulate?
South Africa is a beautiful place. I just don't know where to start but I know we really have a lot of work to do here. I don't want to compare anything because if I start, I will not stop and If I start, you will have to stop me by force.
What is the latest from your movie career?
I have been working and recording. I have a lot of movies that are yet to be released, so many of them. I have about 17 movies that have not entered the market.
And how is the acting business treating you?
Yes, the jobs have been coming and I thank God. But I am still looking forward to having more jobs. God has really been good to me, I must say and my profession has done me well too.
What's your plan for the year?
Funny enough, I always make new year resolutions and by the third month into the new year, I derail on the resolution. So, I just want to be a better person this year. I want to better some of those things I could not do well last year.
I have many plans for this year and I have a lot in stock for my fans. They should just watch out because they have not even seen anything near the real stuff I am made of. But I promise them something really good this year.
As a star, how do you handle scandalous publications on you?
People will always talk and tongues must wag. So, I just deal with each day as it comes. I have not really had much of a negative scandal but the little I have had, I laughed them off. I might be on my own and somebody will just call me up and ask me, have you seen this journal? This is what they said about you and all that.
When I see it, I just laugh. But sometimes, it may be annoying but what can I do, or say? I just overlook it and move on with my life. As long as I know that those things said about me are not true, I don't dwell on them.
What is your mother's position on your choice of career?
My mother is my mentor, my backbone. Without my mother, there will be no me. I am not talking about me physically but the Ella you know. Without my mother, there will not be an Ella. She was there for me. She stood by me. She has just been so wonderful to me.
She gave me all the support that I needed and she always made me believe in myself. She has been more than a mother. Even when I started this job, she never said no; she just gave me advice on how to do things and always keeps reminding me of where I'm coming from and that I should not lose focus or go out of good moral training in the name of a career.
What about your dad?
Initially, my father was not finding the decision of her only daughter being an actress funny but when my first, second, third, fourth, movies came out and a lot of people were calling him that 'I saw your daughter, I saw your daughter in a movie' and those calls were coming from different parts of the world, then he sort of started enjoying it.
But at times, when he sees someone on screen dressed half nude or exposing too much, he will come out and say come here, 'you see this, I don't want to see you in this type of dress. The day I see you dress like this, you will just have to stop'.
I will just laugh. But now, he is enjoying the whole thing. Everybody is happy with what I do.
How about your siblings? I learnt one of them is into music?
Yes, my younger brother is into music. His stage name is Suprano. His album will be out very soon. It is going to be a hit.
Has that impacted on you and your career?
My brother actually started doing this before I even went into the movie industry. He has been there all along, although at a time, we had to stop him because of school so that he could get to a certain extent in school before he could come out.
But he is doing fine now. I give him all the support I can and I know that he is going to get there someday soon. If you listen to his songs, you will understand why I'm saying this. It is just a matter of time.
Most of your colleagues are moving into other aspects of the arts, especially music? Are you also thinking of towing that line, as your brother is into music?
Although, I know that I have a very good voice, I think I will leave the music aspect for my brother and I will do my job of acting and script writing. Besides, there are lots of things I can still do.
Like what…?
You don't worry about that for now. When I'm ready, I will let you know.
How many of your scripts have been produced?
I have written not less than 20 scripts that have been produced and are in the market. Among them is Lord of marriage, Excess money, Inspired and a host of them like that.
What inspires your writing?
Everything inspires me. My mood, where I am, who I see, everything inspires me, everything. My experience, people's experiences all inspire me into writing. I also get inspired when I watch a good movie and I add my part to it.
Of all the roles you have played, have you found one particularly challenging?
Every movie I have done is challenging, one way or the other. I do things I have not done in several movies. I'm a diversified actress, call it being versatile if you like. I have played several roles. I have been here and there. I have had to shoot guns.
I have had to be a wayward girl. I have had to be a good girl. I have played various roles. All the jobs I have done have been quite challenging. When I started out, there was this job I did in 'Lord of marriage.' They needed a young girl and I was very young in the industry and I had to play that role and it was a lead role.
I was scared because, nobody knew me then. I was so afraid because it was my first lead role. So, I had to work extra hard but at the end of it, God sailed me through. It was that film that actually launched me into the limelight.
How is the industry today?
I think it moved on. We do good stories now.
With all the crisis?
Yes, the crises are there and because of the crises, people are trying to do whatever they are doing well and better. So I think the crisis actually helped the producers and directors better. Well, may be, I am talking for myself, but each time I want to write a story, I do a lot of research and thinking because I always want the movie to do well. So I put in my all to achieve that.
There is this talk going on around that you are dating the Imo State Governor. What do you have to say on that?
I don't know why people take delight in scandalising others. I have never met the Imo State Governor, let alone having an affair with him. I wonder where they get those stories from.
When will the wedding bells ring?
I am going to get married at the right time whenever God says I should. But for now, I love my job and I want to be the best I can be.
Are you searching?
I am not searching but it does not mean when the right man comes along, I will not give it a thought. But right now, I am not searching. When the wedding bells ring, I will let you know