YOU CAN'T BANISH CITIZEN ILOMUANYA: HURIWA TELLS OKOROCHA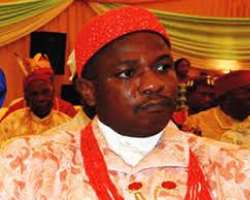 A pro-democracy and Non-Governmental Organization- HUMAN RIGHTS WRITERS ASSOCIATION OF NIGERIA (HURIWA)has upbraided the Imo State governor Mr. Rochas Anayo Okorocha for threatening to banish the embattled traditional ruler of Obinugwu Autonomous Community, Eze Cletus Ilomuanya.

In a statement by the National Coordinator Comrade Emmanuel Onwubiko and the National Media Director Miss. Zainab Yusuf, HURIWA described the threat of banishment as made by the Imo State governor as primitive, illegal, unconstitutional and absolutely unacceptable just as the group demanded that the governor immediately stop uttering public statements that offend the principle and tenets of the constitution which he swore to uphold.

The Rights group reminded governor Okorocha that under the Chapter four of the Constitution, a citizen of Nigeria cannot be banished going by the import of Section 41 (1) which states that: "Every citizen of Nigeria is entitled to move freely throughout Nigeria and to reside in any part thereof and no citizen of Nigeria shall be expelled from Nigeria or refused entry thereto or exit therefrom."

HURIWAwhich criticized the Imo State Governor for assuming powers beyond those assigned to his office by the Constitution by making an open threat to expel a Nigerian Citizen from his community or Imo State, further stated that under Article 9 of the Universal Declarations of Human Rights "No one shall be subjected to arbitrary arrest, detention or exile."

The Rights group has also advised Governor Rochas Okorocha to adhere strictly to the principle of Rule of Law by complying with all extant decisions of the competent courts of law in accordance with Section 6 of the Constitution.

"The Imo State governor must be told in black and white that as a public office holder who derives his authority and legitimacy from the people, he cannot be seen speaking or behaving like an emperor given that he was sworn in to respect and abide by the provisions of the Nigerian Constitution. We are shocked to read the public threat the Imo State Governor made against a citizen only because Eze Ilomuanya had proceeded to the court to challenge his removal as the traditional ruler of his community."

"Whilst not dabbling into the merits or demerits of the legal challenges between Governor Okorocha and the embattled Eze Ilomuanya, may we affirm that as a human rights organization, we consider it an abomination against the Constitution in a very damaging way that a public office holder can issue an illegal threat to expel a citizen from his community only because he decided to use the Court system to challenge his removal from office."

HURIWArecalled that Governor Rochas Okorocha of Imo State threatened to banish the traditional ruler of Obinugwu Autonomous Community, Eze Cletus Ilomuanya if he continued to parade himself as the monarch of the town.

Okorocha, who issued the threat recently at a media interaction with journalists, accused security agents of aiding the embattled monarch.

He said: "I have warned security agencies to stop going about with him and he should stop parading himself as the traditional ruler of Obinugwu or he would be banished; I have told security agencies to arrest him when they see him going about with coat of arms; Ilomuanya is no longer an Eze and will no longer be, he is now Mr. Ilomuanya."

But HURIWA said Nigeria as an entity governed by law must not not be turned in an empire for those wielding temporary political power just as it remindex governor Okorocha to remember that political power is transient and the trappings of power are ephemeral.