Buhari lacks coherent proposals to rescue Nigeria's economy: Financial Times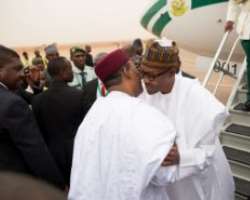 – President Muhammadu Buhari resumed back to work on Monday, March 13 after a long medical vacation in London
– International finance newspaper, Financial Times seem unhappy about the president's return
– They expressed doubt about his ability to govern effectively because of his ill-health
Financial Times has weighed in on President Buhari's return to work, expressing doubts about the 74-year old leader's ability to govern effectively because of his ill-health.
President Buhari disembarking from the plane on his return to Nigeria on March 10
Although FT admitted that President Buhari is honest and humble, traits in short supply in the self-enriching world of Nigerian politics, the newspaper however added that the Buhari's presidency so far has been a triumph of reality over spin.
That has been brutally underlined in the past two months as the Nigerian president has languished in London receiving treatment for a mystery illness. While in London, Buhari received senior government officials
After seven weeks and one day out of action, Buhari stepped gingerly down the steps of his aircraft and back on to Nigerian soil on Friday, March 10.
He had the good humour to joke that he had arrived that day so he could continue to rest over the weekend before restarting his presidential duties on Monday.
Yet such are the complexities of Nigerian politics — not to mention the seeming, if undisclosed, gravity of Buhari's condition — that it is not clear how much governing he will be able to do.
Only hours before he arrived back from his lengthy absence, the electoral commission fired the starting gun on the next election by announcing the date of the 2019 presidential poll, already less than two years away.
There are still doubts about Buhari's fitness to lead Africa's most populated nation
After a ponderous period in office and with the as-yet-unacknowledged reality that Buhari is unlikely to run for a second term, the danger is that the next weeks and months will be consumed by political intrigue rather than the business of running the country. And Nigeria is in desperate need of being run.
It faces its worst economic crisis in 25 years as weak oil prices expose the reality of politicians' utter dependence on oil revenue — both to govern and to line their own pockets.
Buhari has struggled to make sense of the economy, partly because his ideas were formed in a different era when the enemy was the International Monetary Fund and partly because he lacks coherent proposals. The irony is that the president's extended London sojourn has revealed what can be done.
In his absence, the self-effacing vice-president, Yemi Osinbajo, has injected real energy into policymaking. During his time in charge, some progress was made towards a coherent foreign exchange policy, without which nothing much else can get started.
Vice President Yemi Osinbajo held sway in Buhari's absence
Under him, too, the government issued a promising — if necessarily wish-list-heavy — economic recovery document. Osinbajo has held lengthy cabinet meetings, something to which Buhari has displayed scant interest, as well as showing his face around the country, including in the troubled Delta region.
Credit: Naij