Relocation Of Oil Companies In Nigeria To Their Areas Of Operation.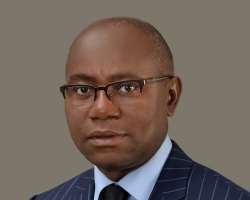 DR. EMI MEMBERE-OTAJI FNIM
The Port Harcourt Chamber of Commerce, Industry, Mines & Agriculture (PHCCIMA) has added its voice to the call by the Vice President, Prof. Yemi Osinbajo for Oil Companies to relocate their headquarters to their areas of operations.
It's going to be a major step in quelling the under development, poverty and associated social vices of militancy and insecurity in the areas. Doing otherwise will tantamount to playing the ostrich game.
Just as the management of international oil companies like, Shell, Chevron, Total, etc. reside in warn torn but oil producing countries like Iraq and Libya to work and produce their oil instead of running to safe havens, the fastest way to curbing the insecurity in the oil producing Niger Delta is for these oil companies management to "take the bull by the horn", to work and reside in their areas of operations. That way they will lobby and support the government to show strong political will in not only churning out good policies, but in developing the area especially in infrastructure, education, health, enterprenual skills and maintaining security. Then there will be increased economic activities and the youths will be gainfully engaged instead of doing unlawful and illegal things.
Also, because most of the key oil producing states of the country are coastal states, with moribund seaports, re-awaking the Eastern ports in Port Harcourt, Warri, Sapele and Calabar, will not only activate massive economic activities in the South-South and South-Eastern ports of the country through ports and shipping services but will also put most of the youths in gainful employment and not criminality.
Today, the Eastern ports barely function because of obsolete infrastructure and undredged channels. Most people in the area import and export their goods through the Western ports of Lagos. When we imagine that Singapore, without any natural resources but just a shipping hub is a first world country and that Port Harcourt founded in 1912 by the then colonial government as a port city and economic Mecca for all, at the time, then one can add up and realize the socio-economic importance of revival of the Eastern ports as panacea to the nation's current socio-economic dilemma.
It's time for government to in reality 'walk the talk" to rejig the economies of the oil producing area states.
DR. EMI MEMBERE-OTAJI FNIM
President, Port Harcourt Chamber
of Commerce, Industry, Mines &
Agriculture (PHCCIMA)