IBB's Woes Pile On As Prominent Nigerians Shun Book Launch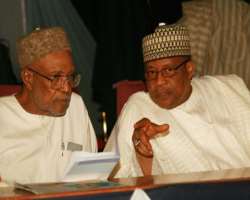 PHOTO: R-L: FORMER MILITARY HEAD OF STATE, GENERAL IBRAHIM BADAMASI BABANGIDA AND FORMER POLICE IG, ALHAJI MD YUSUF AT THE BABANGIDA BOOK LAUNCH IN ABUJA.
San Francisco, May 21, (THEWILL) – The hyped book launch which Nigeria's discredited former military leader, General Ibrahim Babangida had hoped to use as a platform to launch his presidential bid gave the former leader a taste of what to expect at the polls next year as the event was shunned by governors, influential politicians, top businessmen and notable traditional rulers.
The book in question is titled: "Impression and Facts: Nigeria under General Ibrahim Badamasi Babangida, 1985-1993."
The nine-chapter, 342-page book, which is a product of some renowned academics and civil societies was launched on Friday at the International Conference Center in Abuja.
THEWILL sources at the event confirmed that the only notables names in attendance were the former Inspector General of Police, and Chairman Board of Trustees of CEDDERT, Alhaji M.D. Yusuf, Chief Tony Eze, who shelled out N10 million naira as the chief launcher and a former minister of information during Babangida's administration, Chief Alex Akinyele.
The venue was packed with Babangida's less influential friends and loyalists who have little no influence in securing the Peoples Democratic Party (PDP) ticket or the presidential election proper for the gap-toothed soldier who has been accused of institutionalizing corruption and graft in the country.
The editor of the book, Mr. Abubakar Siddique Mohammed, the Director, Centre for Democratic Development, Research and Training, Zaria described the book as an attempt to analyze and re-examine the entire Babangida years as military head of state with a view to understanding certain aspects of his rule.
"With such warped impressions, a rational review and assessment to establish exactly where we are coming from, and why, and where we are going, and why, is just impossible. With the political leadership of the past reduced to either demons, or angels, saints or sinners, the good and the evil, a balanced, rational and realistic assessment of this past is made very difficult".
"Society just flounders around and sinks into recriminations and denunciations, which serve no useful purpose in grasping what actually happened in the past, in mastering the present and developing the capacity for determining the future," he explained.
A few weeks ago, General Babangida declared his intention to run for President under the Peoples Democratic party or any other party if he fails at the PDP primaries.
The Attorney General and Minister of Justice, Mr. Mohammed Adoki on Thursday promised to examine the request of a coalition of civil right groups in the country under the umbrella called SERAP to prosecute the former leader for mismanaging Nigeria's $12.6 Billion dollars gulf war windfall.