DR. DEMUREN'S ATTACK OF ENGR. ITA AWAK (DIRECTOR OF AIRWORTHINESS STANDARDS): DECONSTRUCTING THE LIES.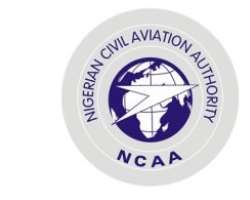 I am surprised that a man like Dr. Demuren would come out like this in the media and spew lies aimed at disputing the qualifications of a man whom, in accordance with a document he signed when he was the DG of NCAA in 2010, is qualified in every way to be the Director of Airworthiness Standards. It is evident that he has an ulterior motive for coming out like this to inject fear in the general public who obviously do not have much knowledge in aviation, and to use this ignorance-based fear as a tool to garner supporters who would help him remove a man who is determined to flush out the garbage men like Demuren left behind in our aviation industry. I wish to use this medium to educate men like Demuren and others who may have been questioning the qualifications of the recently appointed Director of Airworthiness Standards.
No assessment should be made on anything without having in place a measuring standard which states how things should be. On this note, if we must examine the qualifications of Director of Airworthiness Standards, we are obligated to use a legal document that defines the requirements for anybody to occupy that position, and which also states the duties and responsibilities of that office. There is only one document in our aviation industry that clearly mentions these requirements, and Nigeria copied it from the documents of International Civil Aviation Organization (ICAO) and called it "Directorate of Airworthiness Standards (DAWS) Policy and Procedures Manual(PPM)".
This document was first adopted by Nigeria under Dr. Demuren's regime as DG of NCAA, and he personally legalized the first issue dated 26-04-2010 by appending his signature to it. It is from issue 2 of this document dated 15-12-2015 whose content has not changed from those of the first issue that we are going to use as our measuring standard, and the fact that Dr. Demuren dared to dispute the qualification of the current DAWS without referencing this book either tells us that he has an ulterior motive for spewing lies or he is the type that signed such a vital document in 2010 without ever reading its content.
Here is what applicable sections of the document says:
"1.3.4.1 QUALIFICATIONS OF DIRECTOR, AIRWORTHINESS STANDARDS
In addition to the qualification requirements for an Airworthiness Inspector, (Airworthiness or Avionics) detailed below, the Head of the Directorate of Airworthiness Standards should possess management
experience. Training on management techniques would also be an asset. The candidate should also
possess superior interpersonal skills and the ability to deal effectively with situations requiring tact and
diplomacy. Experience with internal bureaucracy of the NCAA would also be an asset."
From this section, we can deduce that the Director of Airworthiness Standards is required to poses two main skills :( 1) Management and (2) Technical skills required of an Airworthiness Inspector. With this in mind, let us examine the qualifications of the presently appointed Director of Airworthiness.
He possess more than enough managerial skill as required via the various political positions he has occupied in the country where he managed more numerical number of staff than there are in his present appointment, and handled quite a number of difficult tasks. Secondly, he has an Aircraft Maintenance Engineer License that was not issued to him as an honorary award but issued after he went through an aviation school (Nigerian College of Aviation Technology Zaria), demonstrated through series of theoretical and practical examinations that he possessed the required knowledge to work as Engineer on an aircraft. Afterwards, between 1987 and 1998, he worked in SkyPower Express Airline, Bristow Helicopters,and City Link Airline where he reinforced his knowledge and skills in the field, and garnered so much experience. This credential enabled him meet the initial qualification to be an Airworthiness Inspector because according to DAWS PPM:
"1.3.1.4 The Airworthiness Aviation Safety Inspectors are either:
1.3.1.5 Experienced Licensed maintenance engineers with a high level of practical experience on the job, and/or
1.3.1.6 University graduates who have passed a recognized engineering degree in the required discipline and have undergone stipulated training and OJT in the Directorate in accordance with the ITS programme".
These clearly show that he is qualified to be Director of Airworthiness. Just like employees of the Authority appointed into management positions, he will grow on the job and get to learn all the Directorate's specific responsibilities.
I would also like to quote one of the statements made by Dr. Demuren during the media chat where he tried to inject fear on the general public while trying to convince them on the need to have a qualified person as Airworthiness Director; and to use that quote to show you the lies he spewed to deceive the public.
He said "The man who is going to issue a certificate of Airworthiness that says aero plane can fly in this country for goodness sake must know what he is doing, he must be qualified, here professionalism, competence, integrity, experience, background crucial for that position, you don't learn on the table there."
In order to point out to you where he is wrong, we should examine what DAWS PPM says about the duties and responsibilities of Airworthiness Director.
"1.2.5.1 Duties and Responsibilities – Director of Directorate of Airworthiness Standards
(a) Develop annual Surveillance Programs of AOC holders and AMOs
(b) Appoint Principal Inspectors
(c) Aircraft registration and other registration matters
(d) Propose working teams to the Director of Operations and Training(DOT) for specialized tasks such as
initial AOC approvals
(e) Distribute work-load among staff
(f) Assign tasks and delegate authority to inspectors
(g) Perform annual staff reviews
(h) Supervise the staff training program(i) Act as advisor to the Director General on technical matters
(j) Act as a point of contact for industry representatives wishing to address issues to NCAA's management
(k) Perform surveillance/evaluation of reports generated by his Directorate
(l) Ensure efficient operation of his respective Directorate
(m) Providing administrative support to the Director General and assisting in the discharge of functions
related to his respective Directorate
(n) Other associated tasks as assigned by the Director General"
My friends, there is no where it is stated in the duties and responsibilities of Airworthiness Director that he directly issues Certificate of Airworthiness to airplanes as alleged by Dr. Demuren. Instead, among his job functions, he distributes works to Inspectors, assigns tasks to Inspectors, and delegate Authority to Inspectors. It is these qualified Inspectors that now issue Certificate of Airworthiness(C of A) after carrying out airplane inspections and using standard documents in line with their Inspectors' Training System (ITS) to decide whether to issue/renew the C of A or not. This is where Dr.Demuren got it wrong. The Airworthiness Director is not required to carry out inspection and issue Certificate of Airworthiness, but Qualified Inspectors whom he has assigned and given the Authority to carry out such job functions do so.
NCAA DAWS internal structure is made in such a way that even the Director of Airworthiness would not interfere with the decisions of an Inspector who has seen the need not to issue C of A to an airplane that does not merit the requirement to have the C of A. It is one of the biggest power delegated to an Airworthiness Inspector, for he is obligated to defend his decisions with his own life, and to bear the negative consequences arising from any negative decision he/she has made. Therefore, as long as NCAA still has a standard procedure for Qualifying Inspectors which they follow religiously, and the job of conducting inspections for the purpose of issuing C of As has never been given to unqualified Inspectors, then there would not be any need for the general public to panic. Moreover, the responsibility for ensuring that an aircraft remains airworthy at all times through maintenance/repairs lies with the operator and not with the NCAA.
Men like Dr. Demuren know all these, and that is why he should explain to us his motive for spewing lies. If Dr. Demuren is a man that really loves safety, why did he, as the then DG of NCAA, ensure that a standard building is erected in NCAA regional offices in Lagos, Abuja, Kaduna and Kano, to house Inspectors whose surveillance activities ensure our skies remain safe; yet, he refused to erect a single NCAA structure in Portharcourt and Enugu to house Inspectors. He, instead, brought few porter cabins to the NCAA regional offices in South East and South South, and left Inspectors who should see that our skies are safe in these regions to stay in uncomfortable porter cabins like those occupied by barbers in Barbing Saloons. And the status has remained the same even till date. Does this not show you that he is the type of man who has the propensity to make decisions based on ethnic sentiments?
Secondly, I would like you to get your facts first before you begin to argue. It has never been the duty of Director of Airworthiness Standards to represent Nigeria in ICAO meetings. There are persons nominated and paid to handle such roles. If you must know,Dr. Olumuyiwa Bernard who is the current President of ICAO was once ICAO Council's Nigeria representative for eight(8) years until Nov 18, 2013 when he became the President. Due to the vacuum created in the office of a representative,Mr. Nwafor Emeka Martins became the next Nigerian representative. Currently, since 2016, Capt.Musa Nuhu is Nigeria's ICAO representative till date.
You do not expect the Director of Airworthiness to leave his job functions of ensuring that our skies are safe and then travel out to represent Nigeria in ICAO (even though the currently appointed Director has all it takes to accomplish that task).
Last year, during the 38th ICAO Assembly held in Montreal which had the present Minister of State for Aviation and others in attendance, have you ever wondered why the former Director of Airworthiness Standards( a Yoruba like Dr. Demuren) was never asked to attend the meeting despite the knowledge he had garnered while on sit(for none of you here dared to question his competence then)? The answer is simple: he was expected to remain at home to ensure NCAA Airworthiness Inspectors carried out effective certification and oversight of operators and service providers.
The DG of NCAA, if NCAA presence is actually required in ICAO in addition to the representative, is the person that would be required to attend such meetings. Dr. Demuren, when he was the DG of NCAA attended such meetings regularly and he was once elected to preside over one of the meetings. Why did he, as the DG, attend such meeting instead of delegating it to the Director of Airworthiness during his regime to do so?
This is another clear indication that Dr. Demuren, who knows how these things go, is deliberately spewing lies for reasons which are not far from being tribal in nature. Would he have come out to speak these lies if it were a Yoruba that was recently appointed to be the Director of Airworthiness Standards?
NCAA needs men that cannot bend the rules to favour operators that have blinded them with bribes. Our Aviation industry is in this sorry state because the past leaders kept bending the rules even at the detriment of safety. Within few days in office, the new Director of Airworthiness has already taken bold decisions to stop operations of the so-called "untouchable airlines" by stopping them from flying until they have put in place those things required of them to operate safely. He has already shown that he is determined to rewire safety into the DNA of Nigerian Aviation Industry. And it is such a man that men like Dr. Demuren is fighting to stop?
I would implore Dr. Demuren to channel his influence towards speaking against the worst problem NCAA still faces today. There is too much political influence in NCAA that thwart decisions made by the Authority in the interest of safety, and this political influence threatens to remove any appointed person in management position who refuses to "play the ball". Fight such kind of course to sustain the good reputation you made in Nigerian Aviation Industry, and stop fighting a man who is focused on diligently removing the threats we have on safety.