FULANI HERDSMEN: PERHAPS, IT'S TIME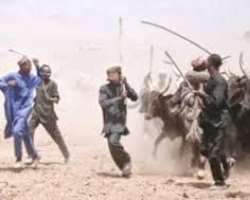 A few years ago, a church had reason to change its doctrine concerning marriage and divorce. For decades, the church had upheld and taught that marriage was "for better, for worse" and enjoined members to endure the ups and downs of marriage however bad. All these changed when a church member killed his wife.
After years of marriage and a few children, things became sore between a couple. They became incompatible as their quarrels and fights increased in frequency. The man, an elder in the church, would beat his wife for every little reason. A few times, the woman who was also a church leader, would reported her situation to the church council, but the Pastor would always encouraged her from the scriptures, reminding her of her status as women leader and the church marriage doctrine of "for better, for worse". She endured to make the marriage work; to be a good example to young couples never to give up in marriage; to keep her status as leader amongst women and to keep her husband's high-ranking portfolio in the church, all these to her detriment.
On that fateful morning, as her corpse was being wheeled to the mortuary, the entire community, immediate family, and children were surprised and devastated. The church members wondered how this could ever happen to such a "spirit-filled, tongue speaking and lovable" couple. The Pastor felt very guilty because unlike other mourners, he had a chance to save the woman but rather opted otherwise, to preserve the image of the church. However, with this incident, the church council decided to revise its stands and amend the church policy concerning marriage and divorce. Even though the church encouraged members to remain in their marriages, spouses who were under persistent physical abuse were now allowed to "separate" (not divorce), in the interest of their safety, and also that of their children.
Bringing it home...
Communities across Benue State have endured a topsy turvy relationship with nomadic Fulani herdsmen since time immemorial. What began on a peaceful note has become very sore. Amongst many efforts to restore peace, Benue State Governor, Samuel Ortom and his Nasarawa state counterpart, Alhaji Tanko Al-makura had entered into an agreement to allow Fulani herdsmen and their cattle access to Benue State provided they maintained peaceful coexistence with the indigenes and didn't graze on farmlands. That agreement failed woefully as last year recorded the heaviest onslaught on Benue communities by Herdsmen resulting in the death of over 1000 people.
That notwithstanding, we pushed our goodwill yet again this year by signing another agreement with Governor Al-makura and Fulani herdsmen. This time, it awarded indigenous status to them and demarcated portions of land for their use. This also hasn't worked as the herdsmen have continued to attack communities across the state, each time leaving a trial of blood, bodies and tears. In the last three days, it has been hell in communities in Tombu Mbalagh of Buruku local government.
Many married people will tell you that the challenge of married is not love, but living together; sharing the same space with your spouse, and one of the best advice my mother ever gave me is that "friends must not live together". It has become abundantly clear that our marriage and friendship with Fulani herdsmen is not working. It may have worked out in the distant past but as it stands now, we cannot live together. Our quarrels and fights have become too frequent, we are incompatible at the moment and perhaps, it's time to live separately. We can be friends without necessarily living together.
It's no more advantageous to endure and play "the peaceful host" for whatever reason, to preserve our outward integrity or our political fortunes in a terrain dominated by the northern elite. It's now a fight for the basics, a fight for survival where the first and only consideration and interest should be the safety of lives and property.
To this end and in view of the current situation, I'd suggest that Benue State Governor, Samuel Ortom roll back whatever agreement reached with Fulani herdsmen, both those indigenous and alien, in the interest of the safety of our communities. Indeed, the world have seen the uncommon patience of our Governor even sometimes against the wishes of his people. It's time to roll back and nobody will blame us for taking this decision.
I'd also urge the state assembly to show responsibility by passing the bill for the prohibition of open grazing of livestock and establishment of ranches across the state. For God's sake, it has been nine (9) solid months since this bill was put before them and considering the caliber of bills passed within this period, including that establishing a Sports Marketing and Lottery Board for the state, this one that concerns the life and death of the electorate should have been taken far more seriously. It'll be important to pass this bill without any further delay.
May God help us!
Usha Anenga is a Medical Doctor and Social Activist, writes from Makurdi, Benue State.